Jack departs the house he built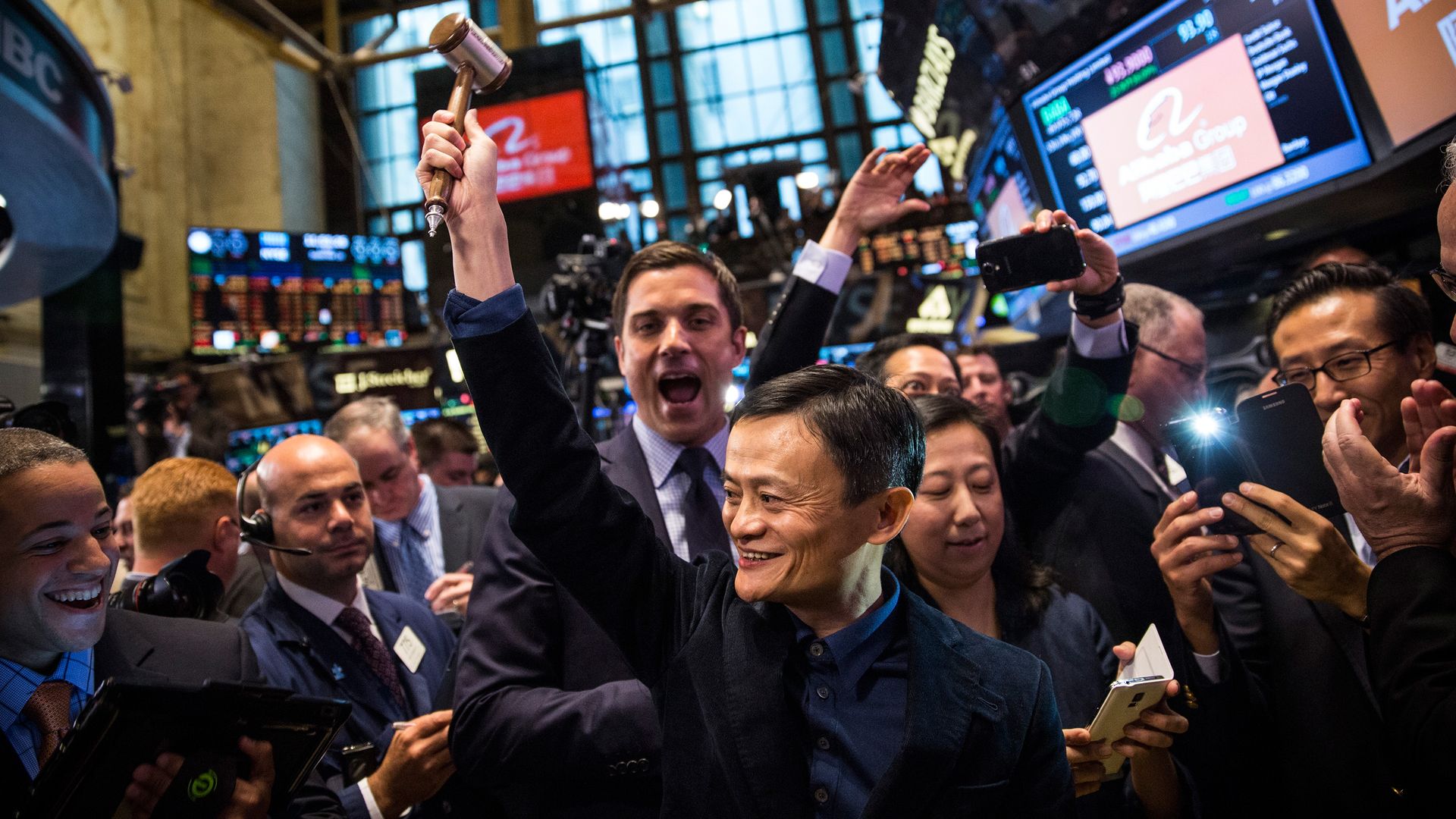 When Jack Ma co-founded e-commerce behemoth Alibaba in 1999, China's internet culture barely existed. Now, his company is worth $500 billion — and, next to China's president, Ma himself may be the most recognized Chinese celebrity on the planet.
What's happening now: Today is Ma's 54th birthday as well as the 19th anniversary of Alibaba's founding, and he marked it by setting in motion his retirement. In a letter to shareholders and employees, Ma said he will step down in a year and be succeeded by company CEO Daniel Zhang.
It will be hard to define Ma's most important legacy, but one has been normalizing China's commercial internationalization, a crucial achievement for a country whose rise is viewed with suspicion by much of the world. As the ambassador from China's best-known brand, he also has been central to the latest stage of the country's meteoric economic rise.
"He's the first Chinese tech executive to realize that the Chinese model can work in other developing countries."
— Hans Tung, managing partner, GGV Capital
Ma is at once China's richest businessman, with a $40 billion fortune, and head of a vast empire:
Alibaba bestrides e-commerce, online payments, cloud computing, media, entertainment, and social networks.
This past quarter, Alibaba announced it has 552 million active online buyers. It's not clear how that precisely stacks up to Amazon, which last revealed its user base in 2016, when it was 310 million. This year, Amazon said it has 100 million Prime members.
In 2017, Alibaba rang up $25 billion in sales in just 24 hours on "Singles Day," almost eight times the estimated $3.5 billion by Amazon on Prime Day in February.
In terms of street cred, Ma is not in the mold of Bill Gates or Elon Musk — he is a former English teacher, not an engineer or a computer scientist. (In retirement, Ma plans to return to his roots and focus on education through his philanthropic foundation.)
But Tung, an early Alibaba investor, said Silicon Valley accepts him in its ranks because "he openly said, 'I don't code.' He never tried to be someone he is not."
Ma made up for his lack of a technical background with a universal charm that won over state leaders and celebrities.
He got laughs with an origin story about how, right after college, he was one of 24 people to apply for a job at KFC. Twenty-three were hired — all except him.
Between the lines: "There was something special that he brought to diplomacy that will be difficult to replace," said Samm Sacks of the Center for Strategic and International Studies.
Go deeper