Hurricane Florence poses extreme risks for East Coast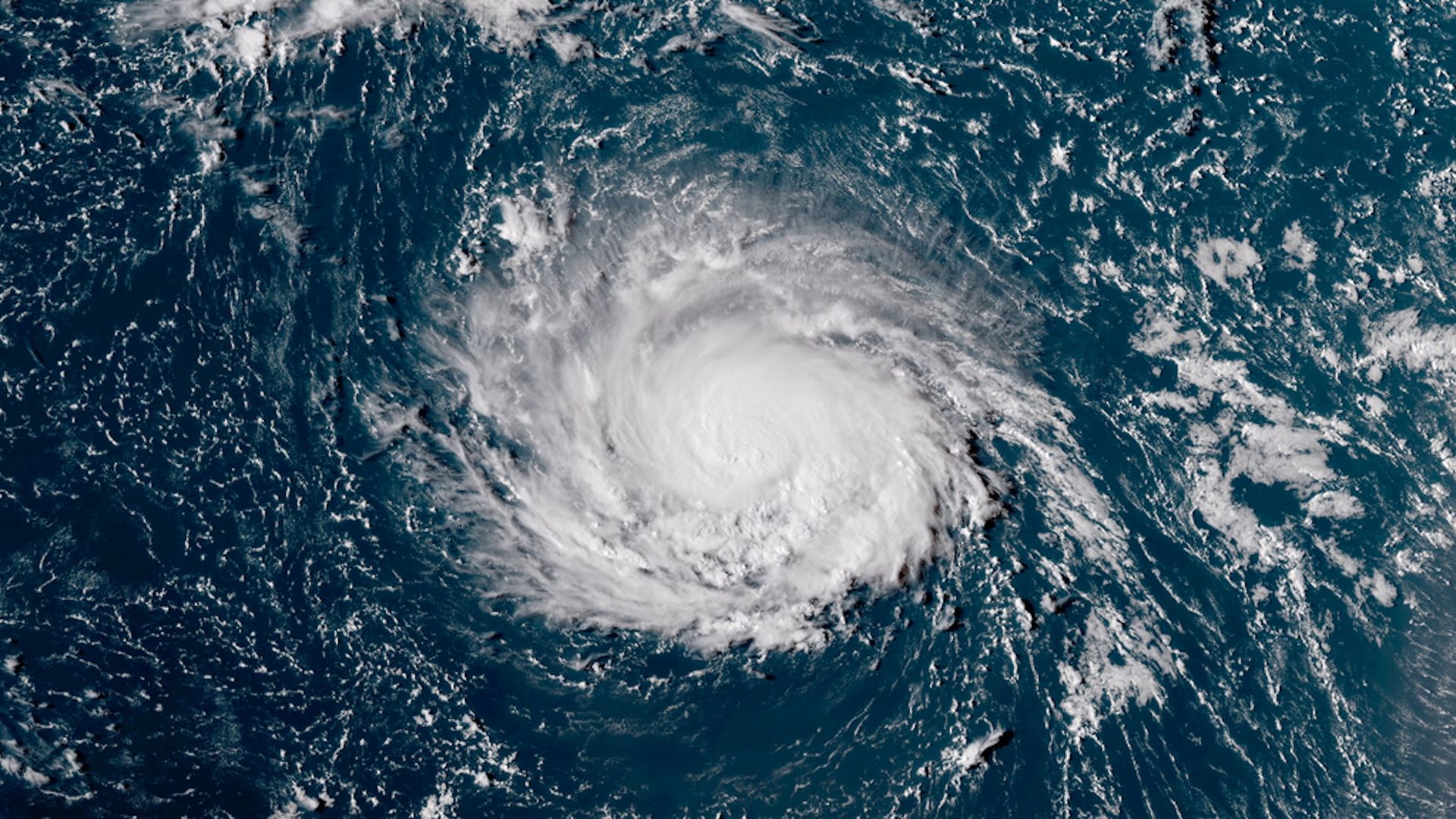 Hurricane Florence has the potential to be a devastating storm for tens of millions along the East Coast later this week, when it is forecast to come close to or cross over the coastline of the Carolinas or mid-Atlantic region. It can possibly come to a complete stall as a major hurricane of Category 3 intensity or greater, which would be a potential nightmare scenario if it plays out.
The big picture: Computer model projections are unanimous in showing the storm will be unusually intense and slow-moving — two attributes that indicate its destructive potential. While Florence was a Category 1 storm Sunday afternoon, it's forecast to take advantage of warm sea surface temperatures, the absence of wind shear and other inhibiting factors to rapidly intensify to a Category 4 or possibly even Category 5 hurricane as it moves toward the East Coast.
The threat: Hurricane Florence appears likely to bring a combination of high-impact — and potentially deadly — threats to the U.S. by late in the week. While wind speeds get most of the attention, water kills the most people in hurricanes, both in the form of storm surge flooding at the coast and inland flooding from heavy rainfall.
On the inland flooding side, the scenario portrayed by many computer models best resembles an East Coast version of Hurricane Harvey, which dumped more than 60 inches of rain on Houston last year.
Yes, but: No two storms are ever exactly alike, and the threats posed by a landfalling, Category 4 or 5 storm that crosses the coast and comes to a dead stop, spinning over land for days while dumping several feet of rain far inland, cannot be overstated.
Driving the storm: Hurricane Florence will take an unusual path toward the U.S., with its escape route out to sea blocked by a building area of high pressure to its north. By the end of the week, that high pressure area, known as a "blocking high," is forecast to halt the storm's northward progress almost completely. The big question facing forecasters — and those in the storm's path — is where Hurricane Florence will be at that point.
The impact: This storm will bring a wide array of hazards to the East Coast, and residents of the Carolinas and mid-Atlantic region, including the Washington, D.C., area, are being urged to prepare for a potentially life-threatening event featuring damaging winds that could last for a long duration along with coastal and inland flooding. Florence has the potential to be a large hurricane, with impacts felt hundreds of miles from the landfall location.
The bottom line: Hurricane Florence is the real deal of storm threats to the East Coast. Anyone with interests from Washington, D.C., south to Charleston, South Carolina, should be paying close attention to the latest guidance from emergency managers and relying most closely on the official forecasts from the National Hurricane Center.
Go deeper