The Syrian displacement crisis is about to get worse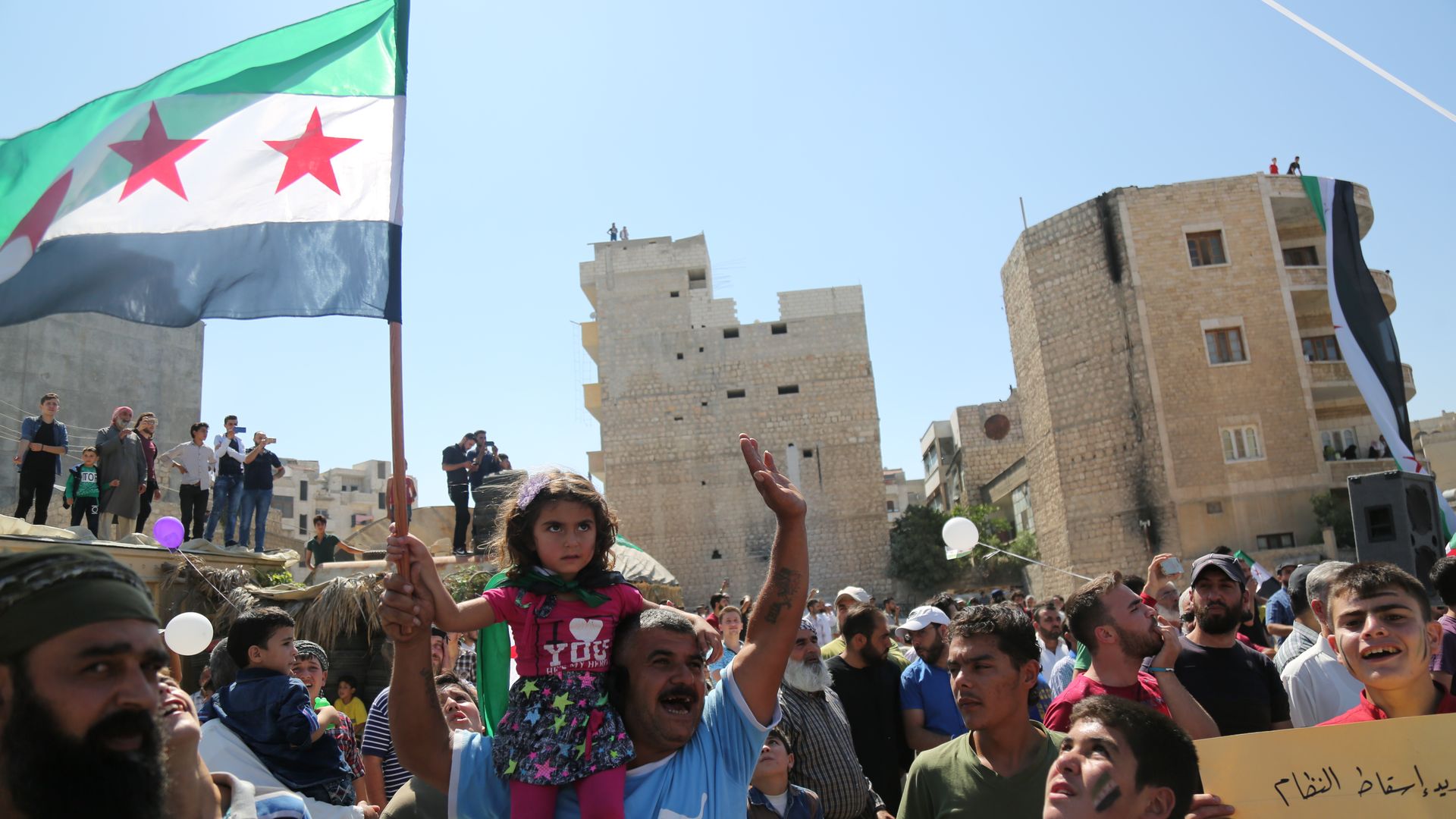 In Idlib, Syria's last opposition-held province, millions are bracing for what could be a catastrophic government assault. UN Special Envoy for Syria Staffan de Mistura called the looming offensive a "perfect storm" that threatens the wellbeing of large numbers of already vulnerable civilians. Secretary of State Mike Pompeo echoed that concern, remarking that many "will suffer from this aggression," while President Trump cautioned that "hundreds of thousands of people could be killed."
Why it matters: The warnings are justified. An estimated 3 million civilians reside in the province, many of whom have already been displaced from other parts of Syria by seven years of violence and surrender deals with the government. According to Mistura, more than 2 million people in Idlib are already in need of humanitarian assistance, and the brunt of the expected assault has yet to begin.
The assault could be brutal. Russian officials have claimed knowledge of a plan by "militants" to stage a false chemical weapons attack in Idlib, with the goal of framing Assad's forces. But Secretary of Defense Mattis has said there is "zero intelligence" to support that claim: It is Assad's government that has a record of using chemical weapons against civilians, and Mattis noted that the Pentagon is "very alert" to the grisly possibility that it could do so again. "There is lots of evidence that chemical weapons are being prepared," said the new U.S. adviser for Syria on Thursday.
If violence intensifies, hundreds of thousands could try to flee across the border into Turkey. That country already hosts more than 3.5 million Syrian refugees, the world's largest share. Particularly against the backdrop of a deepening economic crisis, a spate of new arrivals would likely exacerbate inter-communal tensions, which have been on the rise. Turkish President Erdogan has pledged "to facilitate the return home of all our guests," referring to Syrians already in Turkey. Not least in light of the coming assault, those returns hardly seem safe. As more Syrians arrive, those calls could escalate.
The bottom line: For more than seven years, displaced Syrians have endured a wrenching plight. It seems likely to get worse.
Jessica Brandt is a fellow in the foreign policy program at the Brookings Institution.
Go deeper