Trump responds to Woodward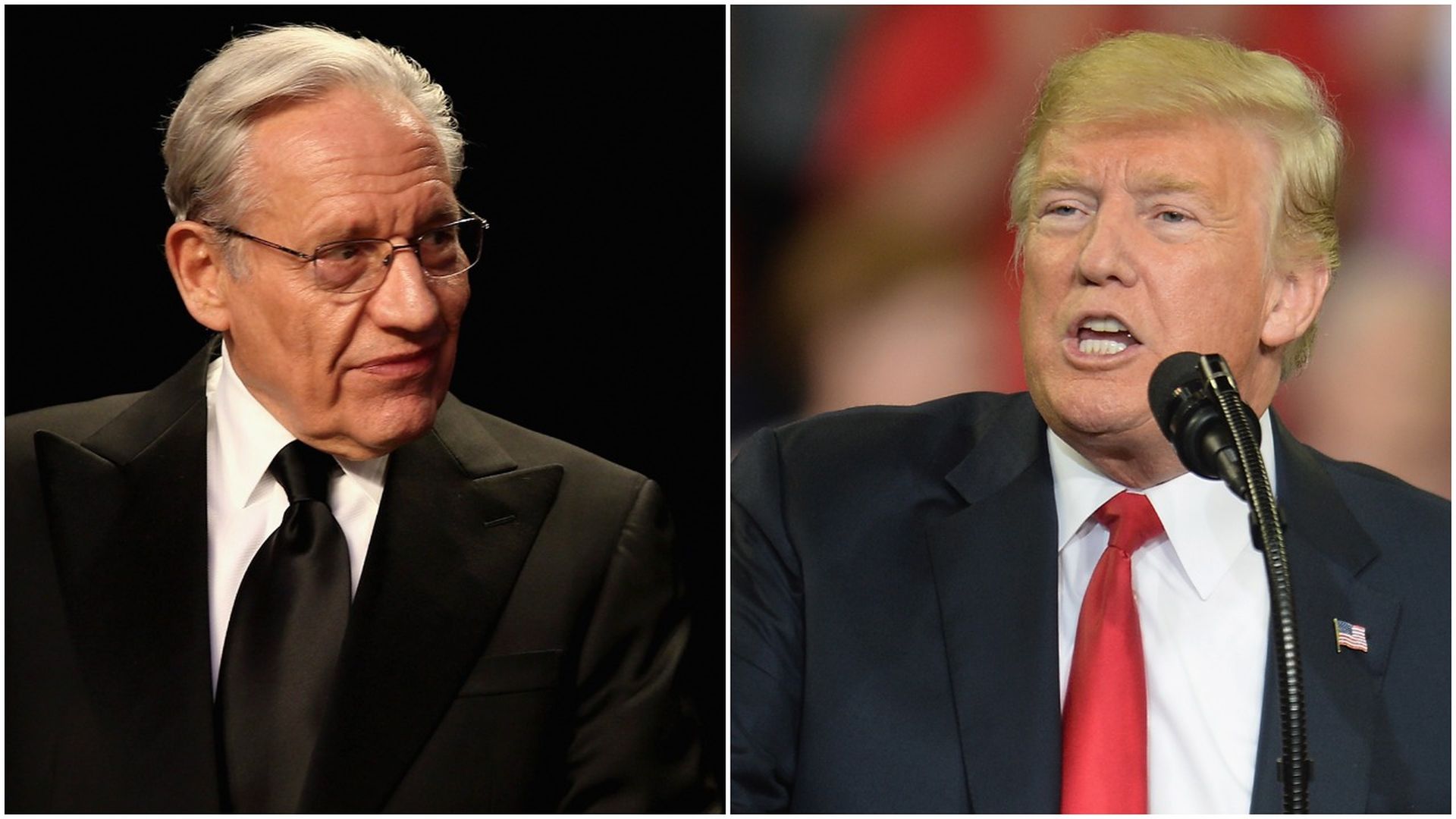 The latest book on the White House will be harder to shake off, even as President Trump claims parts of it "could be just made up by the author."
Why it matters: It's not normal for a president's team to fear he's a national security risk, as Bob Woodward's book claims — or to keep information from his desk and ignore his orders.
Among Woodward's reported revelations:
Gary Cohn and Rob Porter stole or hid documents from Trump's desk, including a draft letter that would have withdrawn the U.S. from a trade agreement with South Korea.
James Mattis ignored Trump's request to kill Bashar al-Assad in April of 2017. (In a statement, Mattis denied Woodward's claims about him, calling them "a product of someone's rich imagination.")
John Dowd told Trump he'd be wearing an "orange jump suit" if he dared testify to Mueller. (Dowd told Axios he didn't call Trump a "fucking liar," as Woodward reported.)
Trump called Jeff Sessions "mentally retarded" and "a dumb Southerner" who "couldn't even be a one-person country lawyer down in Alabama."
John Kelly called Trump "an idiot" who had "gone off the rails... This is the worst job I've ever had." (In a statement, Kelly denied calling Trump an idiot.)
The White House response, via Sarah Sanders: "This book is nothing more than fabricated stories, many by former disgruntled employees, told to make the President look bad. ... Sometimes it is unconventional, but he always gets results."
Trump told The Daily Caller's Saagar Enjeti: "It's just another bad book. He's had a lot of credibility problems... I probably would have preferred to speak to him, but maybe not. I think it probably wouldn't have made a difference in the book. He wanted to write the book a certain way."
Between the lines, from Axios' Jonathan Swan:
The response is slow and muted compared to their thermonuclear response to the Michael Wolff book (though there's still time, of course!)
The fact they explicitly say that Trump's style is unconventional and often isn't pretty reads as a tacit acknowledgement that at least some of the key stories are true.
Be smart, via Swan: The White House's core problem is that Woodward is a serious reporter with decades of thorough reporting under his belt.
Unlike the very sloppy Michael Wolff, you can trust that Woodward has gone to inordinate lengths to get to the best obtainable version of the truth. It will be hard to credibly dismiss this as "fake news."
The bottom line: There's a reason the White House hasn't gone all in on Woodward. They can't.
Editor's note: This story has been updated to reflect the statement released by Secretary Mattis.
Go deeper