Donald Trump Jr. to hit the trail ahead of the midterms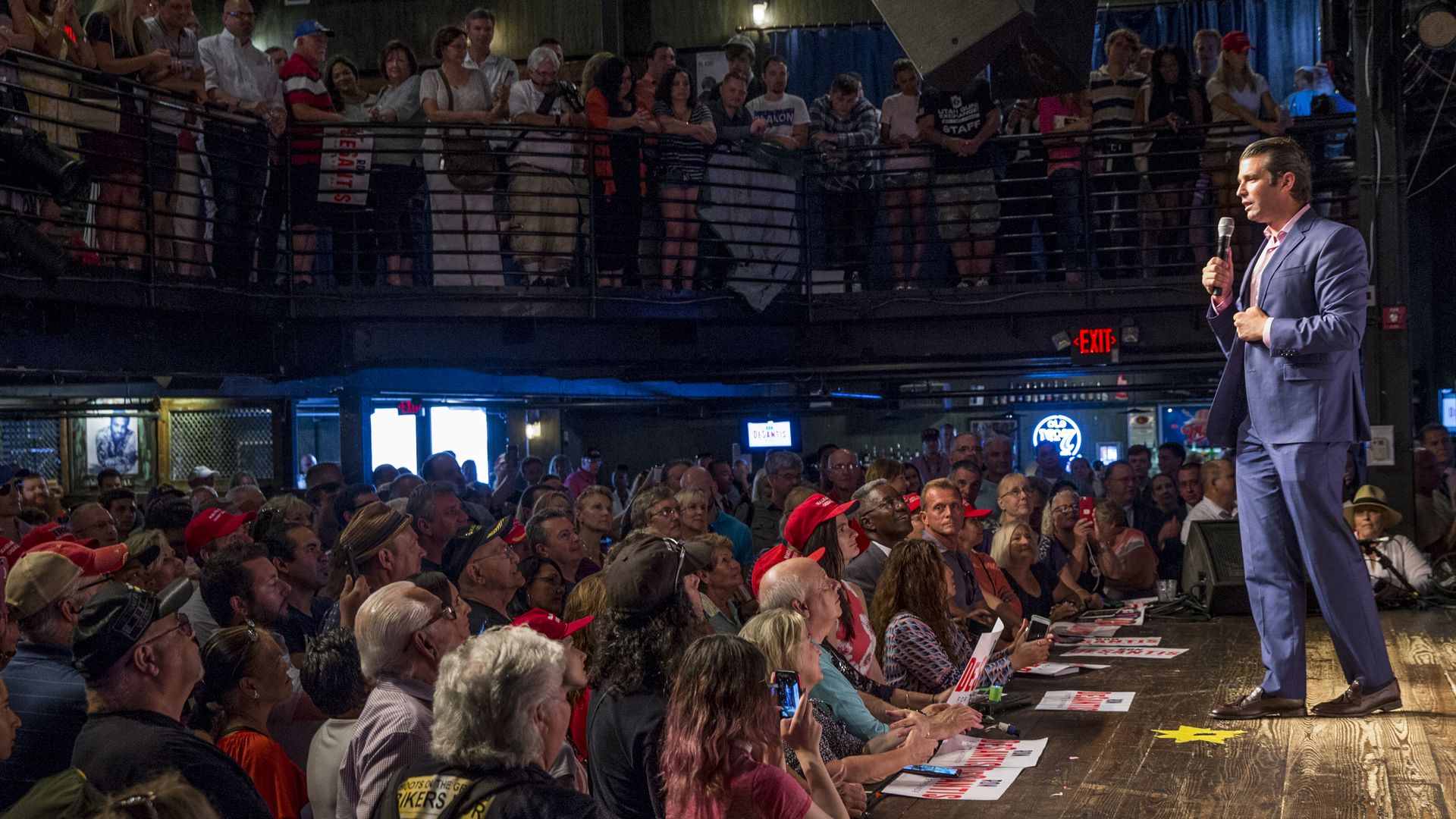 Donald Trump Jr. is about to embark on a fall fundraising push for midterm candidates in what he calls "regular America ... you know, everywhere between New York and Malibu." But first he played the Hamptons.
What's happening: He and his girlfriend, former Fox News anchor Kimberly Guilfoyle, posed for endless selfies at a pair of August events for Rep. Lee Zeldin, including a $300-a-person dinner party in Nissequogue where the attire was: "Comfortable Causal. Shorts are acceptable."
The pair of events set a record for Zeldin: 800 people donated $500,000.
"I see him on TV — he's fighting for us," Don Jr. said of Zeldin, sounding very much like his father's son.
Trump — whose blunt, occasionally profane style made him a popular guest on conservative talk radio during his dad's campaign — introduces Guilfoyle as "K.G.," and calls her "one of the original true believers in the cause."
Guilfoyle, a former prosecutor in California, has been named vice chairwoman of the Trump-allied America First PAC and plans to be a regular at Don Jr.'s side throughout the fall.
She'll also headline a few events of her own: "I tried all my cases without notes, so I'm good to go."
Don Jr.'s participation in the notorious Trump Tower meeting with Russians, of keen interest to Robert Mueller, hangs over the new road show. But Don Jr. told me he's "not worried about any of that stuff."
"You look at one of the largest investigative forces the country has ever assembled looking for something for two years, and we're still talking about the same thing."
"Regular people see that every bombshell turns out to be B.S."
With Instagram and Twitter followings in the millions, Don Jr. adds a rugged note to the Trump brand. He's currently hunting for mountain goats in the northern Yukon, just outside the Arctic Circle.
"When we set up these hunts, we tell the outfitters, 'We want you to take us where you can't take your other clients because they can't handle the terrain.'"
"It means we take a beating, but we end up in some pretty awesome shots."
Don Jr. said he's going to spend much of September and most of October on the road, with invitations triaged according to where he can move the needle:
"My job is not to help someone who's going to lose by 20 points only lose by 10 ... I want to help someone who's going to lose by two, win by four."
"I'm there to help people who have been good to me, or become friends and loyal to me and the family."
So in coming weeks, Don Jr. and K.G. are hitting Ohio, Louisiana, Pennsylvania, North Dakota, Montana, Louisiana — and Texas for a day with Sen. Ted Cruz.
Go deeper