The music industry's 9-figure war for Taylor Swift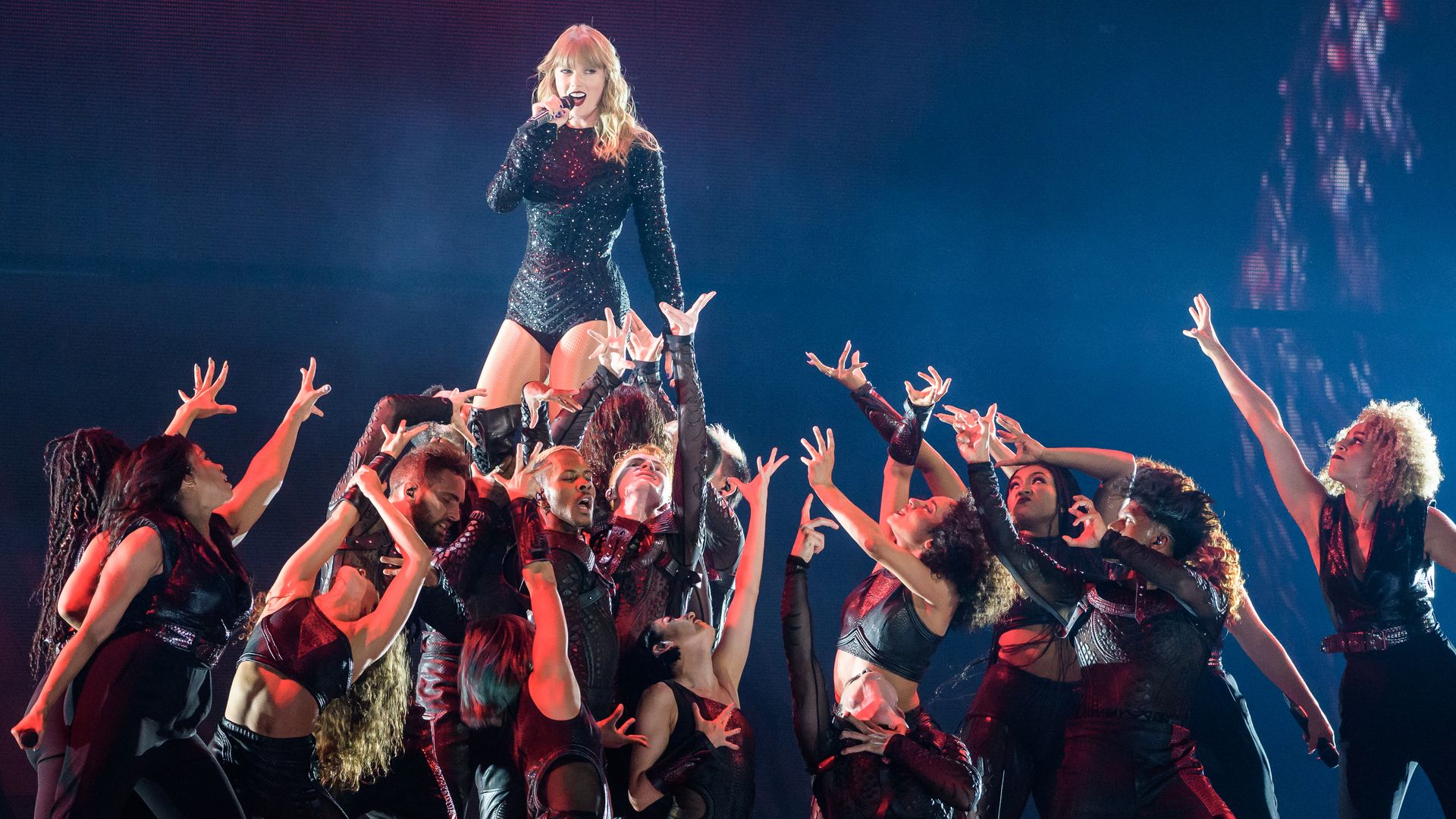 Taylor Swift's contract with Big Machine Records is set to expire in November, likely thrusting the world's biggest artist into an industry bidding war with hundreds of millions of dollars at stake.
The big picture: Major recording labels are hungry for a win — and Swift is one of music's only sure things. But a deal won't just involve her future earnings, it'll have to consider the eye-watering value of her past recordings, too. Given that she's at the top of her game, she's in position to pull off "the biggest artist deal of the century," per Variety.
It's easy to see why everyone in the music industry wants Swift: she sells — a lot.
2017's "Reputation" sold 1.216 million copies in its first week, despite the fact that it was withheld from streaming services. The other 199 albums on the Billboard 200 that week sold 863,000 copies combined, per USA Today.
21 albums have sold 1 million copies in their first week, and Swift has four of them. All of her albums have sold at least 2 million copies — and "Reputation" is the only album to do so in the last two years, per Billboard.
The first five cities on the "Reputation" stadium tour brought in $54 million, according to Billboard, and the gross for the full tour could top $400 million.
Between the lines: The biggest issue with Swift's next deal is the rights to the master recordings of her first six albums.
Big Machine owns them — and wants to keep them, but Swift wants them for herself.
Variety's sources think that each of Swift's past albums could be worth $20 million.
The closest analog to Swift's conundrum is country superstar Garth Brooks, who, per the Los Angeles Times, renegotiated his record contact with Liberty Records at the height of his popularity in 1993 to record and tour at his convenience — all while guaranteeing that he'd eventually end up with the complete rights to his masters.
Here are the four most likely scenarios, according to Variety's industry experts:
Staying with Big Machine: Swift wants her masters, Big Machine doesn't want to give them up. So any future with the indie label she made famous is set to come down to a fight over her past.
No to Big Machine, yes to Universal: Universal wants to sell — and they already distribute and promote Swift's music for Big Machine — so it's in their best financial interests to keep Swift around. And she's probably pretty happy with the work they've done so far.
A non-Universal major: Swift could jump to another one of the big labels, but they'd most likely want to get her masters in the deal as well.
Going it alone: Swift already handles her promotional work with an in-house team, so now that she's reached the music industry's zenith, she's arguably post-label and could set up her own distribution deals.
The bottom line: When it comes to Swift's next contract, she'll hold all the power to fill in the "blank space" on her paychecks for years to come.
Correction: This post has been updated to remove a line about Swift's masters accounting for 80% of her label's revenue. It is actually her total music that accounts for that figure.
Go deeper