Trump's tight, lonely corner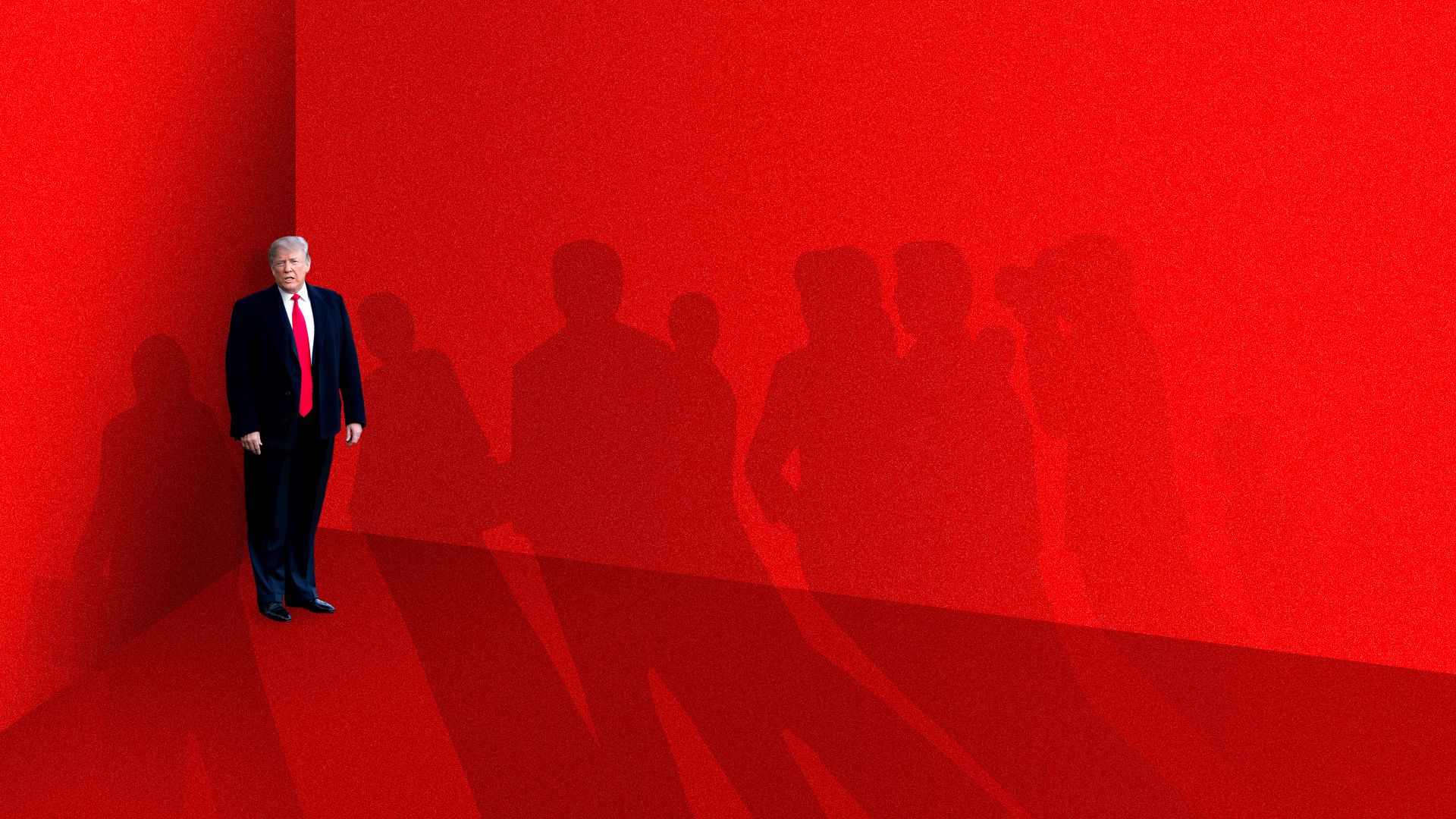 You're president of the United States, running the most powerful nation on earth — stock markets soaring, joblessness sinking, the world in a season of relative peace and prosperity.
The bottom line: But President Trump has never been more isolated from allies he needs most.
The public is against him: A new Washington Post/ABC News poll found a record 60% of Americans view him unfavorably.
Guess who those same people like a lot better: Robert Mueller (63% support his investigation) and Attorney General Jeff Sessions (64% say he shouldn't be fired; 62% side with him on the Mueller probe). 
His legal team is shrinking. Not only is top White House lawyer Don McGahn leaving soon, but McGahn deputy counsel Annie Donaldson is expected to leave soon after. "[T]he White House Counsel's Office has dwindled to about 25 lawyers, down from roughly 35," per the WashPost.
His allies are buckling, with embarrassing admissions in the plea deal by personal lawyer Michael Cohen.
Immunity has been granted to his gossip shield, David Pecker, CEO of the National Enquirer's publisher; and Trump Organization CFO Allen Weisselberg.
Tensions with staff run high as ever. He has never been close to many of his top staffers, and this is more true than ever. 
The N.Y. Times' Maggie Haberman tweets: "His aides say he is behaving as if he is cornered."
Be smart ... Everything in Trump's life has been about going big: The buildings got bigger, the deals got bigger, the bankruptcies got bigger —which only made the comebacks bigger, which made winning the presidency all the bigger.
The corner feels small, and he keeps being told the one big move he fantasizes about making — staring down Mueller under the bright lights, one on one — could destroy it all. 
Go deeper