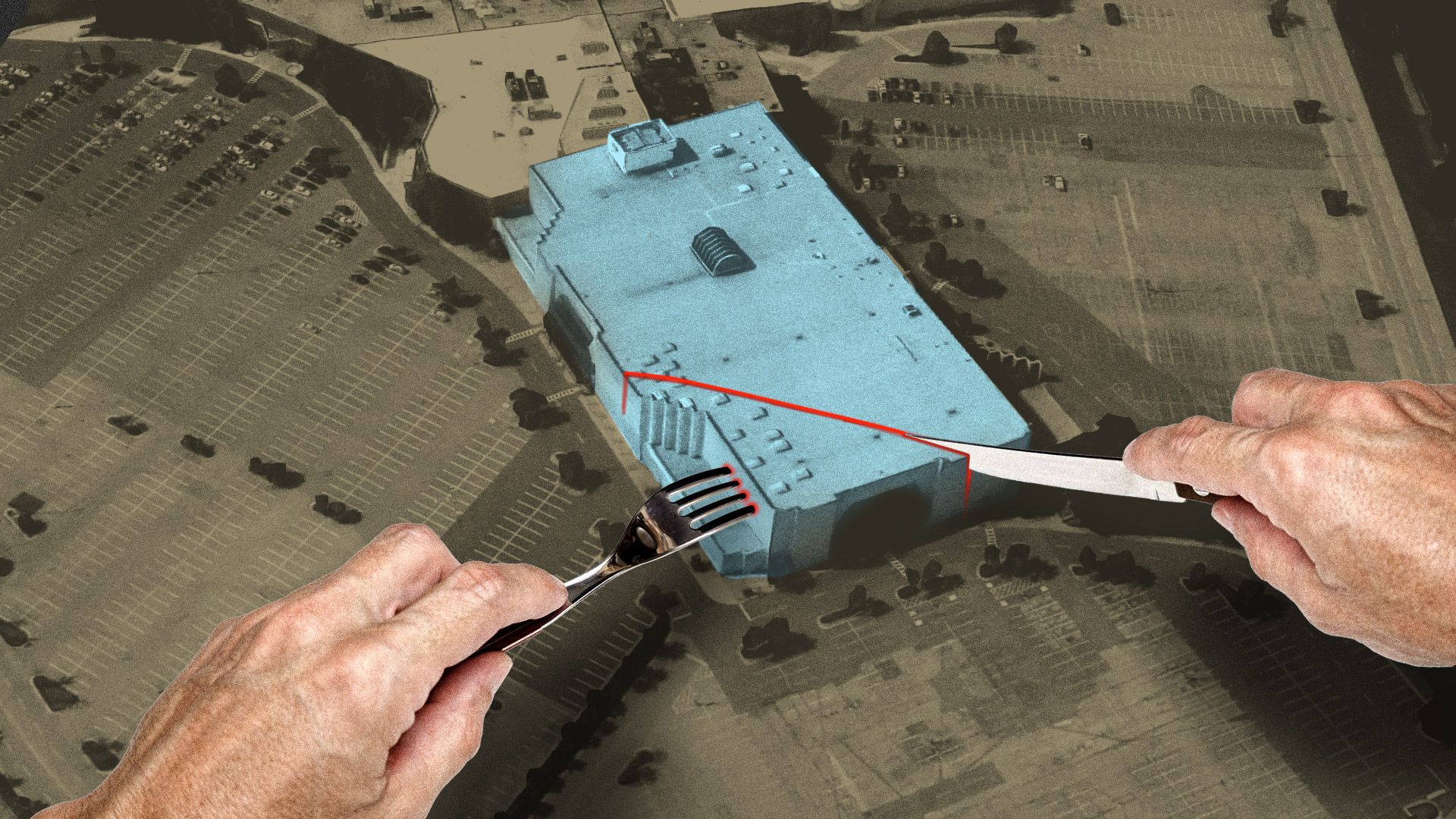 Eddie Lampert, a billionaire Connecticut hedge fund manager, has been dismantling Sears piece by piece for 13 years.
Driving the news: Now, critics say Lampert is on the verge of inflicting a death blow to the once-iconic, 125-year-old department store chain. He's proposing to personally buy Sears' last consequential piece — Kenmore appliances. Kenmore is a "final, egregious act to remove an asset from an estate that will eventually go bankrupt," Mark Cohen, a former CEO of Sears Canada, tells Axios.
Why it matters: "In some towns, [Sears is] arguably the only viable department store ... In many malls, they are the anchors," says Herb Kleinberger, a professor of retail at NYU's Stern.
The big story
In 2003, Lampert, a former Goldman Sachs analyst who roomed with Treasury Secretary Steven Mnuchin at Yale, bought a then-bankrupt Kmart through his hedge fund, ESL Investments. Two years later, he combined Kmart and Sears, creating a retail empire of about 3,500 stores in the U.S. and Canada and employing some 350,000 workers.
Today, after a bloodletting amid an implosion of mostly private equity-led retail malls, the two chains are just one-quarter the size, at 900 stores and 175,000 employees, per the New York Times.
Sears' share price, about $33 in 2013, when Lampert became CEO, closed at $1.25 yesterday.
Just last week, Sears said it would close another 46 U.S. stores in the fall. "He's destroyed the fabric of the company," Cohen says.
In a statement, Sears disputed the assertion by some critics that Lampert is picking apart the company for personal profit. "We look at investments in our business and stores through a broader lens than simply that which is represented by capital expenditures," said Howard Riefs, a company spokesperson. Lampert's hedge fund did not return a phone call seeking comment.
Numerous storied department store chains have fallen in the last two decades — including Montgomery Ward and Woolworth's — but Sears has had the longest, and arguably most agonizing, fall of all. It has also been among the most chronicled.
All along, analysts have said Sears is not a viable business and predicted its imminent end. But Lampert's critics say the last chapter of Sears' story is finally here.
How we got here
Sears brands have been the lifeblood of its business — and features of American culture — for a century. In 1927, Sears created Kenmore for appliances and Craftsman for hardware and gardening tools. Then in 1967, it launched DieHard batteries. All three brands brought in big dollars for the company.
By the 1980s, the decline of retail was underway, and Sears was one of the biggest casualties. Two years ago, a firesale began.
In 2016, Sears sold Craftsman and used the profits to pay off private equity debt to a series of lenders brought together by Lampert to bail out the company, including his own ESL.
The next year, he put DieHard up for sale.
But two weeks ago, Lampert turned heads when he offered to buy Kenmore for $400 million. The Sears board has said it is reviewing his proposal. The same day, he offered to pay $80 million in cash for Sears Home Improvement, another key business, per company SEC filings.
On Tuesday, The New York Times reported that Seritage Growth Properties, which Lampert chairs, has bought 235 Sears stores for redevelopment into swanky shops and offices, and rent. Yesterday, Seritage's share price closed at $51.19, up from about $37 in 2015.
The bottom line: Yesterday, Sears' shares popped by 12.6% when it announced a partnership with Amazon in tire installation. But people who watch the chain remain skeptical. "I don't see a game plan here," says NYU's Kleinberger.
Says Cohen: "Sears is a cadaver that's being propped up on a chair and made to look like it's still breathing."
Go deeper