Tech giants tighten their act ahead of testimony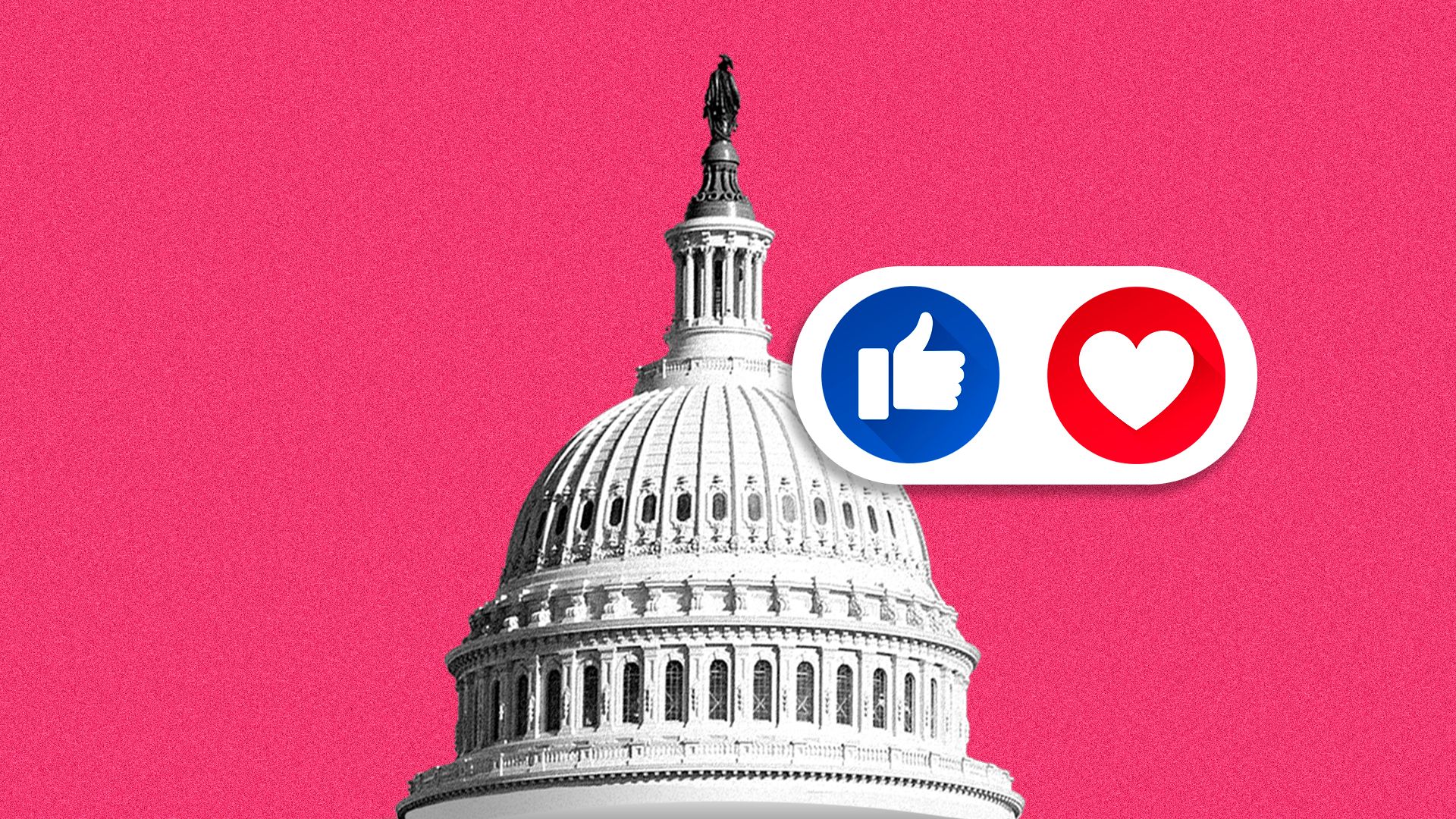 Almost a year after Facebook, Google and Twitter first testified together in front of Congress for Russian meddling, the three social media giants will be returning to Capitol Hill Sept. 5 to talk about censorship and election interference. But this time, they're better prepared.
Why it matters: Many recall Mark Zuckerberg's positive performance during televised Facebook hearings in April following the Cambridge Analytica scandal, but the last time these three companies faced Congress together, the reviews were brutal.
Flashback, Nov. 1, 2017:
"I'm disappointed that you're here but not your CEOs. We would appreciate seeing the top people actually making the decisions," said Sen. Angus King (I-ME).
"I went home last night with profound disappointment. I asked specific questions and I got vague answers," said Sen. Dianne Feinstein (D-CA).
"That may well be a distinction that is lost on most of us, that you're just a platform for other people to express their views as opposed to being a publisher in their own right of those views," said Sen. John Cornyn (R-TX).
"The presentation that the Twitter team made to the Senate Intel staff was deeply disappointing," said Sen. Mark Warner (D-VA). He called it "inadequate on every level."
Flash forward, August 2018:
The tech companies are bringing in higher level staffers to testify. Twitter said Friday, after House Committee members pressured the company, that it would send CEO Jack Dorsey to the Hill. Facebook has committed COO Sheryl Sandberg, who although not a CEO, is a higher-level staffer than its general counsel, whom the company sent last time around. Google has so far only committed to bringing SVP and general counsel Kent Walker, which Senate Intel Chairman Richard Burr rejected.
The companies have also been much more proactive and open about revealing election interference. Last week Facebook, Google and Twitter all announced that they had found what Facebook called "coordinated inauthentic activity" stemming from Iran on their platforms. The three companies said they've been working closely with outside cyber firms and intelligence officials to be more proactive about assessing these threats.
They've taken stricter positions on hate content. Google, Facebook and Twitter have all updated and clarified their hate speech policies to address allegations of censorship over the past year, mainly by conservatives and highlighted by the controversy surrounding InfoWars and its head, Alex Jones.
They're better media trained. Twitter CEO Jack Dorsey is coming off of a lengthy media tour, where he sat down with radio hosts, cable news outlets and digital and print publications over a two-week period. Facebook's Sheryl Sandberg, no stranger to the press, became a vocal spokesperson for Facebook following last year's hearing. Google has been more quiet than its counterparts.
In anticipation of the hearings, the companies are also making greater efforts to work together on some of these issues. Representatives from some of the biggest tech platforms met last Friday to discuss their election strategy, Buzzfeed reports. The meeting comes amid increased efforts to work together on a variety of policy issues, like privacy.
Bottom line: These companies will be more buttoned up and prepared than the first time they sat before Congress together. But that might not be enough to reverse the tide against them in the legislature.
Go deeper