Go deeper: The EU-Italy migrant standoff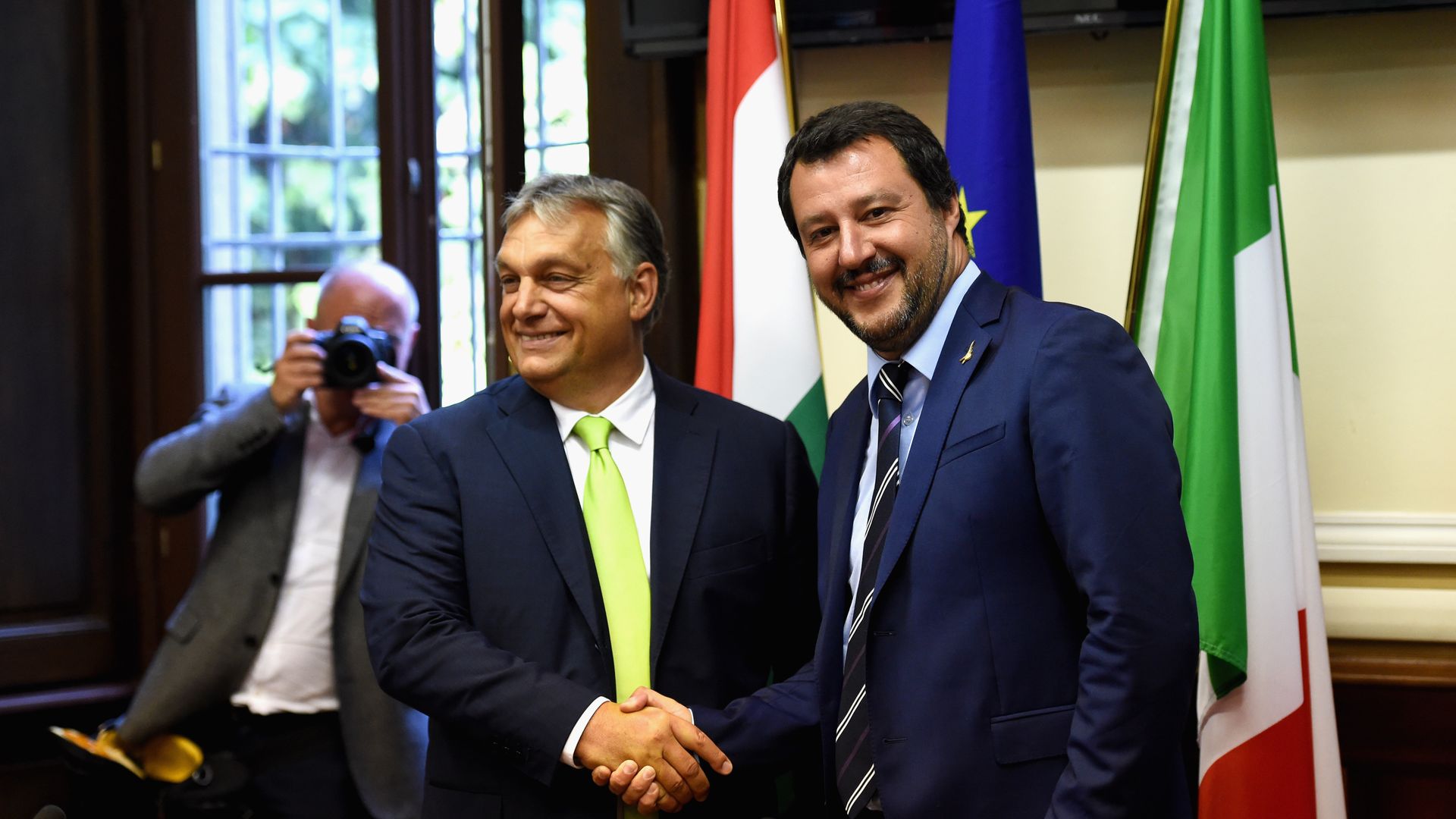 Italian Deputy Prime Minister Matteo Salvini met with Hungarian Prime Minister Viktor Orbán Tuesday to discuss a migration plan the two immigration hardliners can present to the European Union, reports The Guardian.
Why it matters: The meeting followed an intense weekend standoff in which Salvini, who also serves as Italy's interior minister, refused to let more than 150 migrants disembark a rescue ship unless the EU agreed to distribute them across other countries. He's now facing potential charges for abuse of office, kidnapping, and illegal arrest. Salvini's meeting with the virulently anti-immigrant Orbán — whom he has called his political role model — indicates that Italy and its populist government have no intention of yielding to the EU's migration demands.
The backdrop: The coalition government of Salvini's far-right League party and the Five-Star Movement, led by Luigi Di Maio, has cracked down on the number of migrants Italy will accept. Tensions came to a head on Monday, when Di Maio threatened to veto the EU's seven-year budget plan for not complying with Italy's demands during the weekend crisis.
"In Europe the music will change ... There's no dogma over the approval of the multi-year budget for the next seven years, which they would like to rush to approve before the European elections. We won't let them do it, and if the immigration situation does not change between now and the near future, the veto will be certain."
— Deputy Prime Minister Luigi Di Maio
Italy's Foreign Minister Enzo Moavero Milanesi later added that while contributing to the EU's budget is a legal obligation, the burden of accepting migrants "cannot be based purely on the geography of the continent," per the FT.
In 2017, Italy received 16,577 migrants, the third-most in Europe next to Greece (22,899) and Spain (17,950), according to the International Organization on Migration. Figures have dropped significantly since the new government decided to close all seaports to rescue boats in the Mediterranean.
What's next: Per The Guardian, some Italian media have speculated that Salvini's meeting with Hungary's Orbán could be a prelude to a populist alliance ahead of the 2019 European parliamentary elections.
Go deeper: Europe's growing anti-immigration backlash.
Go deeper