Colorado grapples with underfunded schools beneath a booming economy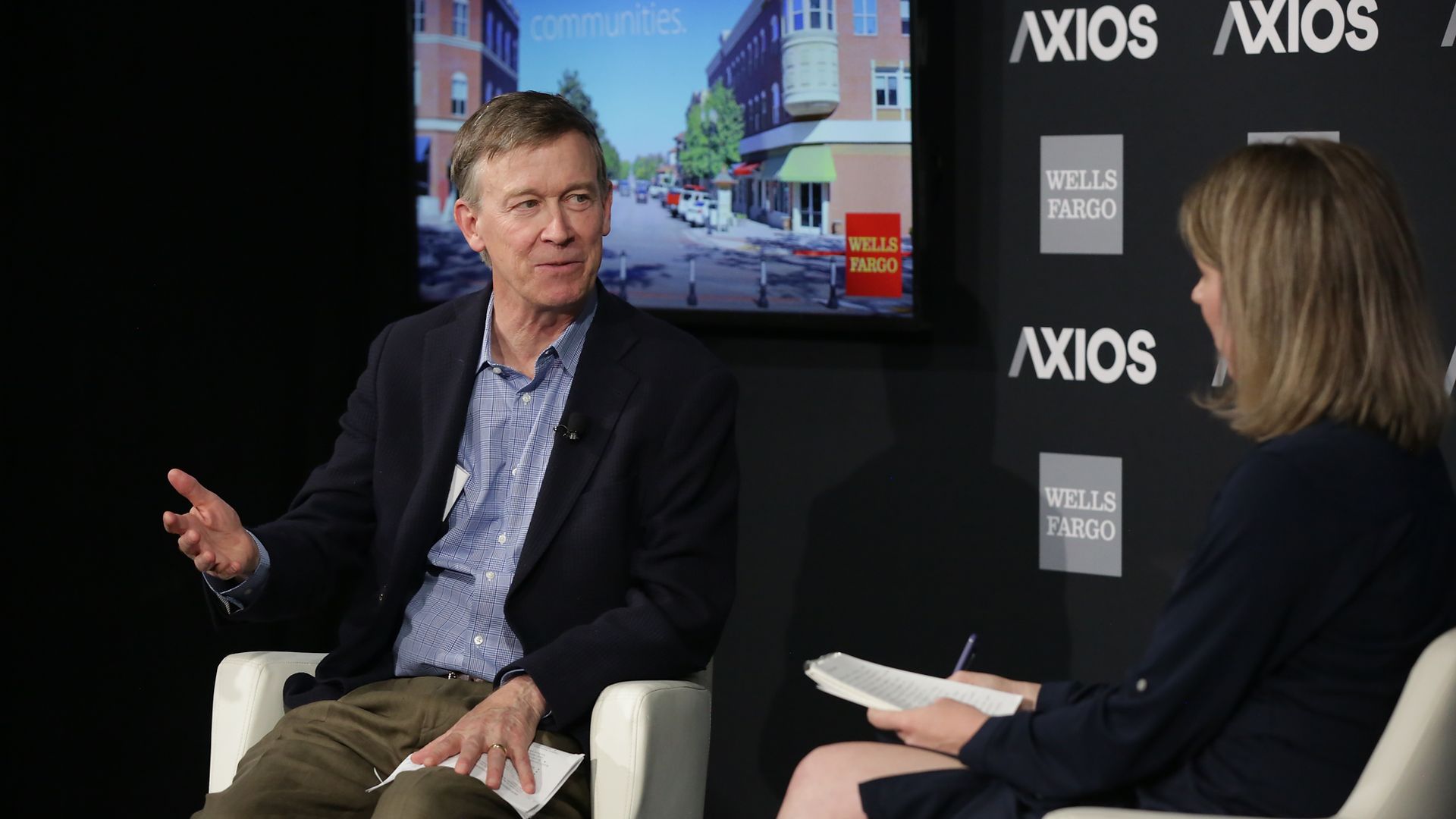 Thanks for visiting Axios — sign up for our morning newsletter, Axios AM, to get the 10 biggest stories from the world's most wired reporter.
DENVER — Speakers at a recent Axios event, including Colorado Governor John Hickenlooper, all agreed that the state is importing too much of its talent from other states and needs to get better at building a home-grown, skilled workforce.
By the numbers: Colorado has a humming tech scene, a highly educated population, and an unemployment rate under 3% — a study from U.S. News and World Report ranks the state as the No. 1 economy in the nation. Yet, it ranks 46th in teacher pay (the $46,155 average salary is $7,000 shy of the national average) and 42nd in spending per student.
Funding shortfall: In some Colorado communities, schools are so strapped for cash that they have gone to four-day weeks because they cannot afford to keep school buildings open, pay teachers, and bus kids back and forth for all five days.
Addressing the talent gap: Three Colorado leaders offered their thoughts on how the state can use available resources to help ensure residents aren't excluded from the booming economy.
Hickenlooper, who is mulling a presidential run in 2020, singled out Skillful.com, a platform built by Microsoft in partnership with the state, as a way to keep Coloradans nimble in the age of automation.

The site keeps a profile of the skills workers have acquired throughout their lives. If they need to move to a new profession, the platform tells them what skills they have for it, what skills are needed and the cost.

Karen Riley, the dean of University of Denver's Morgridge College of Education, emphasized the need to get rural communities access to the same kind of tools that Denverites have. Underfunded communities, she said, will lead to struggling schools and smaller towns will not be able to attract businesses.

She suggests using online courses to extend resources enjoyed in the cities to rural areas, allowing residents of small towns to add skills without needing to uproot their lives to move to bigger cities.
J.J. Ament, CEO of the Metro Denver Economic Development Corporation, pointed to the state's apprenticeship program, as a way to serve workers who aren't pursuing a college degree.

It puts the onus on businesses to take responsibility for developing necessary skills, he says, and "it means you're engaged in skills-based learning from a much earlier age."
What to watch: In November, Colorado residents will get to vote on a ballot initiative that would raise state income tax for people earning more than $150,000 a year. The revenue could increase state public school funding by about $1.6 billion, per the Ft. Collins Coloradoan.
Go deeper