The endless GOP pre-existing conditions headache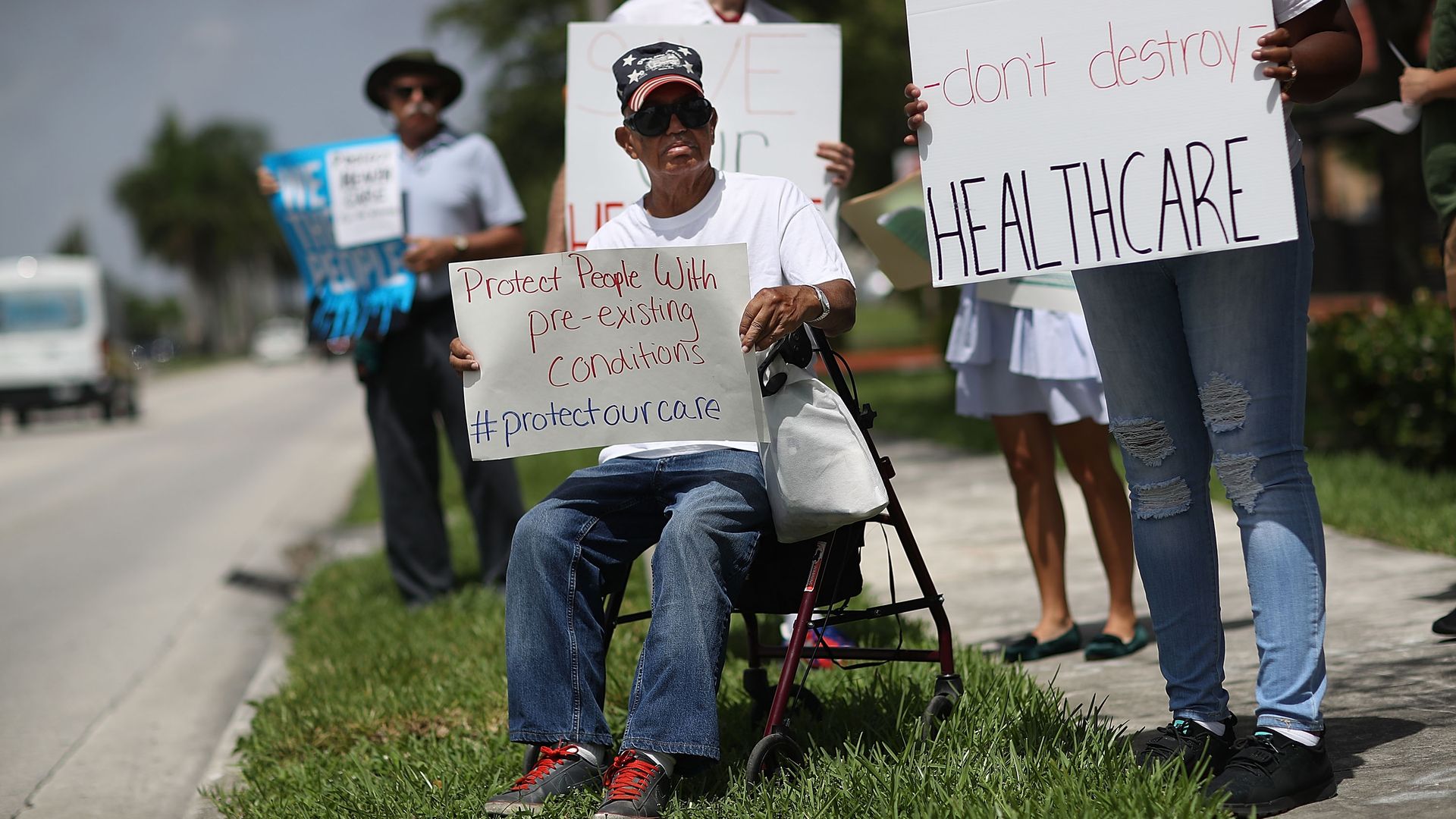 A group of Senate Republicans are responding to the latest Affordable Care Act lawsuit with a bill that would replace the pre-existing conditions protections the lawsuit would throw out.
Why it matters: While likely to be good politics heading into midterms, the GOP bill would both lower premiums and leave sick people less protected than they currently are. This is the circle that the party has been unable to square for a year and a half now.
Driving the news: The bill, led by Sen. Thom Tillis, reaffirms some of the pre-existing conditions regulations that would be gutted if the Justice Department's argument prevails in court. Oral arguments for the case begin Sept. 5.
The bill requires insurers to provide coverage to people with pre-existing conditions and prohibits insurers on the individual market (but not the small group market) from charging those people higher premiums.
But unlike under the ACA, insurers could exclude coverage of the services associated with pre-existing conditions. The Justice brief argues all three ACA provisions should be invalidated.
"It's a very imperfect replacement for the ACA provisions that would be thrown out in the Texas case if you're goal is to protect people with pre-existing conditions," said Kaiser's Larry Levitt.
Between the lines: While this bill doesn't need to be perfectly written to work as a political statement, it does illustrate the tension that the party has faced since it began its ACA replacement work last year: Pre-existing conditions protections are both the most expensive and the most popular part of the ACA.
"It's an intelligent political response to the continued criticism that Democrats are charging — that Republicans are not supportive of pre-existing conditions," said Chris Condeluci, a Republican health care lawyer.
Yet time and again, Republicans have put forward ideas that would keep pre-existing conditions protections in name but weaken them compared to current law, usually in an attempt to get costs down.
What they're saying: The bill has already drawn criticism from Democrats. "If you still doubted that the issue of the cycle is health care, look no further than the panicked GOP effort to cover up their tracks on the defining issue of the cycle," said Democratic Senatorial Campaign Committee spokesman David Bergstein.
Tillis spokesman Adam Webb responds: "This twenty page bill is not comprehensive health care legislation...This legislation protects Americans with pre-existing conditions so that they cannot be denied coverage or charged more based on health status – two of the central protections contested in Texas vs. United States."
Go deeper