What they're saying: Reactions to McCain's passing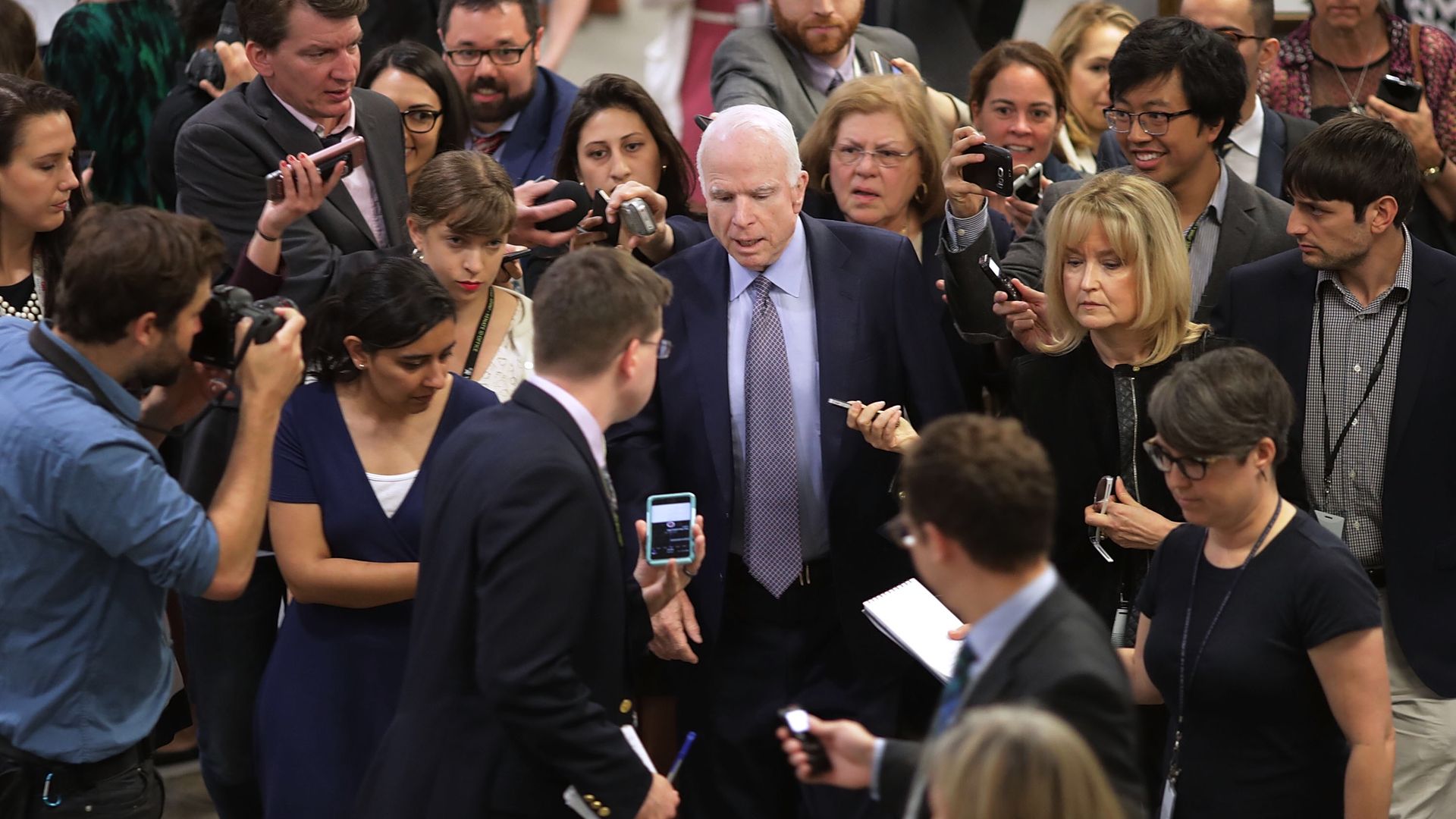 Following the passing of Sen. John McCain, reactions, statements, and memories have been pouring in recounting the senator's influential life.
President Trump, who had publicly feuded with McCain, tweeted condolences: "My deepest sympathies and respect go out to the family of Senator John McCain. Our hearts and prayers are with you!"
His wife, Cindy McCain, said in a statement shortly after her husband's death:
"My heart is broken. I am so lucky to have lived the adventure of loving this incredible man for 38 years. He passed the way he lived, on his own terms, surrounded by the people he loved, in the the place he loved best."
Former President Barack Obama, who defeated McCain in the 2008 presidential race, reflected on their differences but ultimately their shared love of the county:
"John McCain and I were members of different generations, came from completely different backgrounds, and competed at the highest level of politics. But we shared, for all our differences, a fidelity to something higher – the ideals for which generations of Americans and immigrants alike have fought, marched, and sacrificed. We saw our political battles, even, as a privilege, something noble, an opportunity to serve as stewards of those high ideals at home, and to advance them around the world. We saw this country as a place where anything is possible – and citizenship as our patriotic obligation to ensure it forever remains that way."
Former President George W. Bush, who defeated McCain in the 2000 Republican primaries, remembered him as a patriot:
"Some lives are so vivid, it is difficult to imagine them ended. Some voices are so vibrant, it is hard to think of them stilled. John McCain was a man of deep conviction and a patriot of the highest order. He was a public servant in the finest traditions of our country. And to me, he was a friend whom I'll deeply miss. Laura and I send our heartfelt sympathies to Cindy and the entire McCain family, and our thanks to God for the life of John McCain."
Hillary Clinton told Chuck Todd on NBC's "Meet the Press" about how she'll remember McCain:
"He leaves a legacy of service and courage. The courage, of course, we all came to know because of his time as a POW. But getting up every day and working as hard as he did for the people of Arizona and for the values he cherished was not easy."
Attorney General Jeff Sessions:
"To me, having served with him in the Senate for 20 years, his support for President Bush's surge in Iraq at a time when things had been going badly and public support had eroded, was one of the most dramatic, important, patriotic, and selfless actions I had the honor to witness in that body. His presidential aspirations were entirely set aside. He totally deployed his considerable strength and energy to what he believed was best for his country—and in service to those then fighting valiantly for the mission the nation had given them. It was a very contentious debate. His personal dedication and leadership moved a very uncertain decision to a  favorable outcome. His ferocious tenacity for his country was unmatched. America has lost one of its greatest patriots."
Former Vice President Joe Biden:
"McCain will cast a long shadow. His impact on America hasn't ended. Not even close. It will go on for many years to come."
Sen. Lindsey Graham, one of McCain's closest friends in the Senate, tweeted:
"America and Freedom have lost one of her greatest champions. ... And I've lost one of my dearest friends and mentor.
Senate Majority Leader Mitch McConnell:
"It's an understatement to say the Senate will not be the same without our friend John."
Senate Minority Leader Chuck Schumer announced he wants to rename one of the Senate office buildings after McCain:
"Nothing will overcome the loss of Senator McCain, but so that generations remember him I will be introducing a resolution to rename the Russell building after him."
Rep. Nancy Pelosi discussed McCain's legacy on ABC's "This Week":
"I'll remember John McCain as a source of great strength to our country, his personal strength and his strength of his love of our country and his love of peace. Right now, I'm just heartbroken. I think America's in tears about the loss of this great man. ... It all gives us a chance to identify with something so very special, a life of courage, sacrifice and reaching out to others."
Sen. Jeff Flake, McCain's compatriot from Arizona, discussed his passing Sunday on CNN's "State of the Union":
" I have admired him, like I said, my entire life. It's tough to imagine a Senate without him. It's tough to imagine politics without John McCain."
Russian state media refused to honor McCain during a broadcast Sunday, per the BBC's Steve Rosenberg:
"He was an implacable opponent of Russia, who supported even tougher sanctions..."
Go deeper