Fresh signs that Democrats won't be able to stop Kavanaugh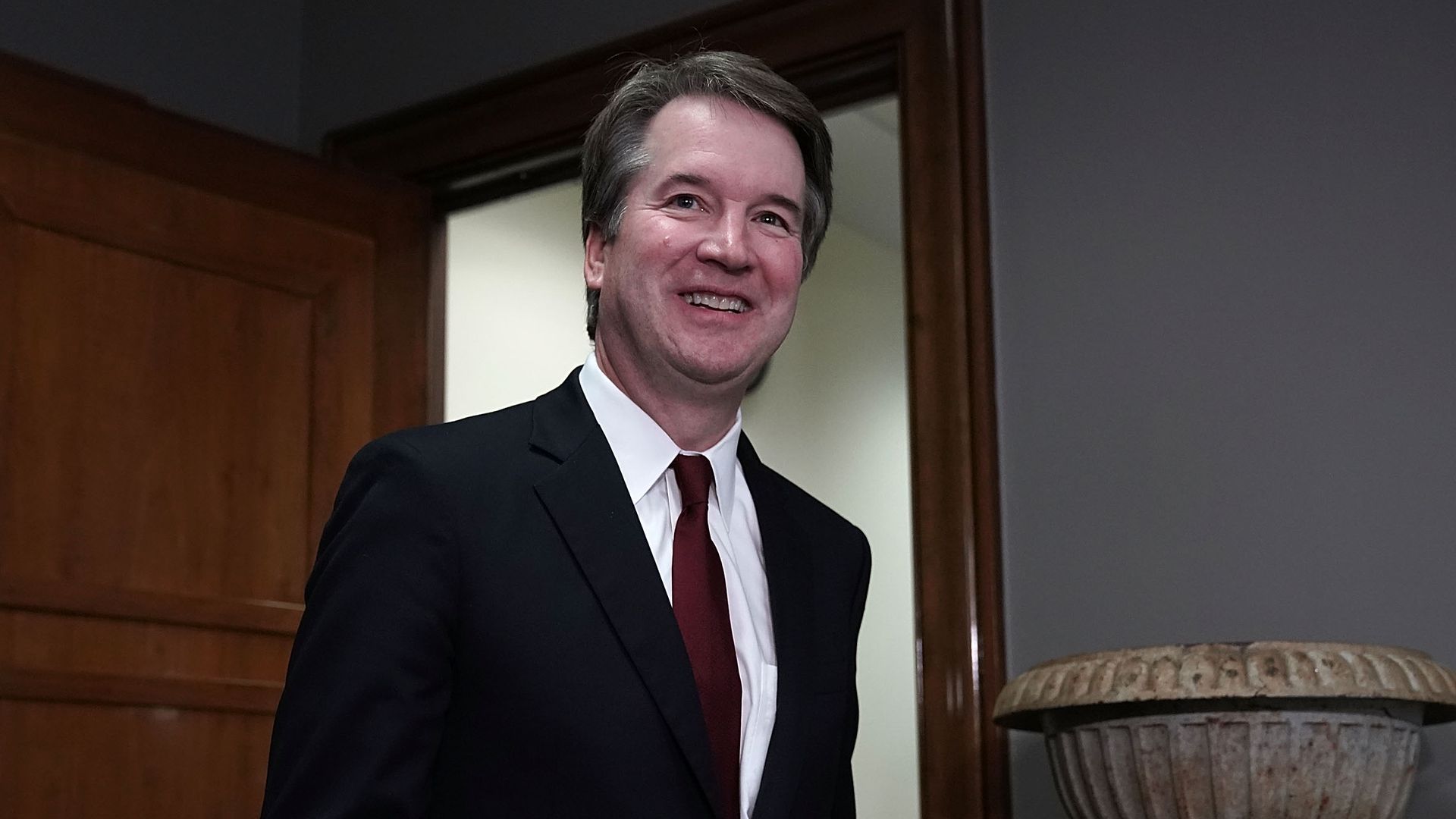 We saw fresh signs this week that Democrats won't be able to stop the confirmation of Brett Kavanaugh. Axios spoke to the offices of the senators that the White House considers potential swing votes for the next Supreme Court Justice, and they're saying all the things Team Kavanaugh would want to hear.
The bottom line: Even Democrats involved in the effort to oppose Kavanaugh's nomination privately admitted to Axios that there will have to be a major new development for them to have any chance of killing his confirmation. They say they need an explosive document, or a trainwreck during the confirmation hearings.
What they're saying:
Sen. Susan Collins (R-Maine), a centrist who supports abortion rights, met with Kavanaugh for over two hours and said the two discussed abortion "at length." Kavanaugh told her that, like Chief Justice John Roberts who was confirmed in 2005, he believes Roe v. Wade is "settled law." Collins later was complimentary of Kavanaugh, saying the meeting was excellent and that she was very pleased with his answers.
Sen. Lisa Murkowski's (R-Alaska) communications director Karina Petersen told Axios that Murkowski, a moderate who also feels very strongly about Roe v. Wade, focused many of her questions on the fate of the case. Petersen says Kavanaugh confirmed to Murkowski what he told Collins, that the case was settled precedent.
Sen. Joe Manchin's (D-W.Va.) communications director, Jonathan Kott, told Axios that Kavanaugh repeatedly stressed "his independence as a jurist" during their meeting, and emphasized that he "takes into account the human impact of his rulings." Kott said most of their conversation centered on how Kavanaugh's rulings would affect health care, especially for West Virginians.
Sen. Heidi Heitkamp (D-N.D.) emphasized the importance of shielding the court from politics following her meeting with Kavanaugh, and said the meeting helped her learn more about his judicial record and temperament.
What to watch: Everything can still change during the confirmation process. Several Democrats have indicated they plan to aggressively grill Kavanaugh over whether he'd be willing to override precedent, and his feelings toward Special Counsel Robert Mueller's investigation — more specifically, whether President Trump could face prosecution while still in office.
What's next? A source working to confirm Kavanaugh told Axios they're spending this week on practice hearings — mimicking what his week will be like during his confirmation hearing in early September. "Similar cycles/times/hearings, etc.," the source said. "Very lifelike rounds of questions..."
Go deeper