McConnell commits to moving forward on criminal justice bill after midterms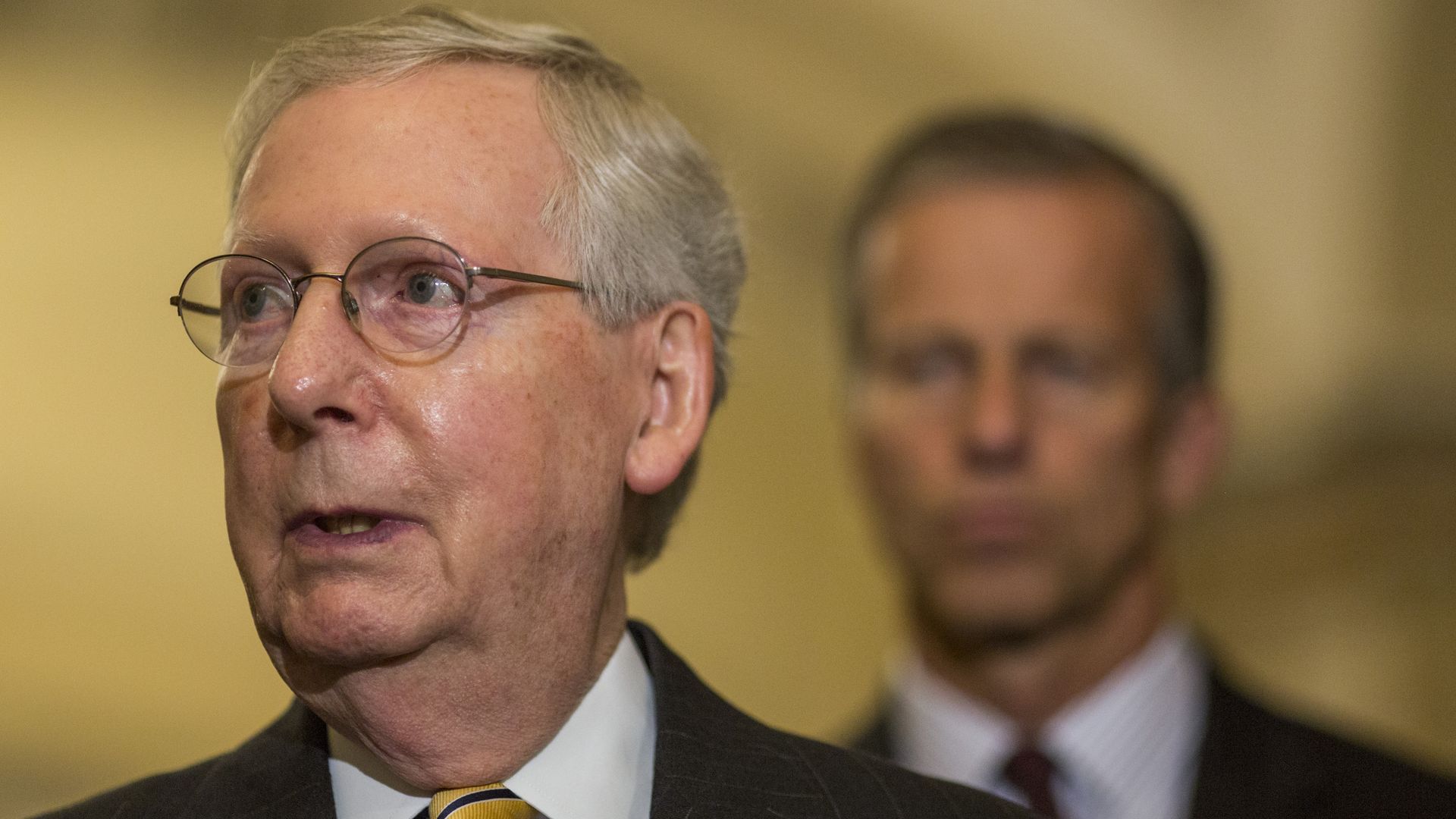 Senate Majority Leader Mitch McConnell has agreed to a whip vote for the prison and sentencing reform bill after midterms, his spokesperson confirmed to Axios. Sen. McConnell made the commitment in a meeting with Jared Kushner and Sens. Chuck Grassley, John Cornyn and Mike Lee.
What to watch: Although Sen. McConnell's spokesperson said a commitment to a vote had not been made, a source familiar told Axios the Majority Leader came just shy of promising a vote. Sen. Lee's spokesperson Conn Carroll told Axios that Sen. McConnell had committed to a vote if the whip count reached more than 60.
While President Trump said earlier today he will not endorse the bill before the midterms, he has privately expressed openness to the compromise currently being negotiated, according to a senior administration official and Sen. Lee. The bill includes reductions of sentences for certain low-level crimes.
Trump's support will be key to uniting Republicans and getting the bill passed, although it will likely face tough opposition from Sen. Tom Cotton and Attorney General Jeff Sessions, who oppose any efforts to reduce sentences.
However, Sen. Lee told Axios he's confident the bill will have enough support to merit a vote, and that it could easily pass. Although he wishes the vote would happen sooner, "today's events are a victory because we now have a high degree of confidence that we'll have vote between now and the end of the year," he said.
What they're saying: The White House explained in a statement "the President remains committed to meaningful prison reform and will continue working with the Senate on their proposed additions to the bill."
A spokesperson for Sen. McConnell told Axios there will be no vote before the upcoming elections, and no commitments have been made for a vote after midterms, "but proponents of the legislation will continue to discuss the issue with their colleagues, followed by a whip count after the October session to accurately assess the Conference's view on the issue."
Grassley released a statement, saying "I'm very encouraged by the leadership shown today by President Trump to make prison and sentencing reform a priority soon after the election and Leader McConnell's openness to bring it up this year. And I'm confident with the President's continued backing, we'll have more than enough votes to pass a bill overwhelmingly."
Go deeper