Hurricane Lane is lashing Hawaiian Islands: Live updates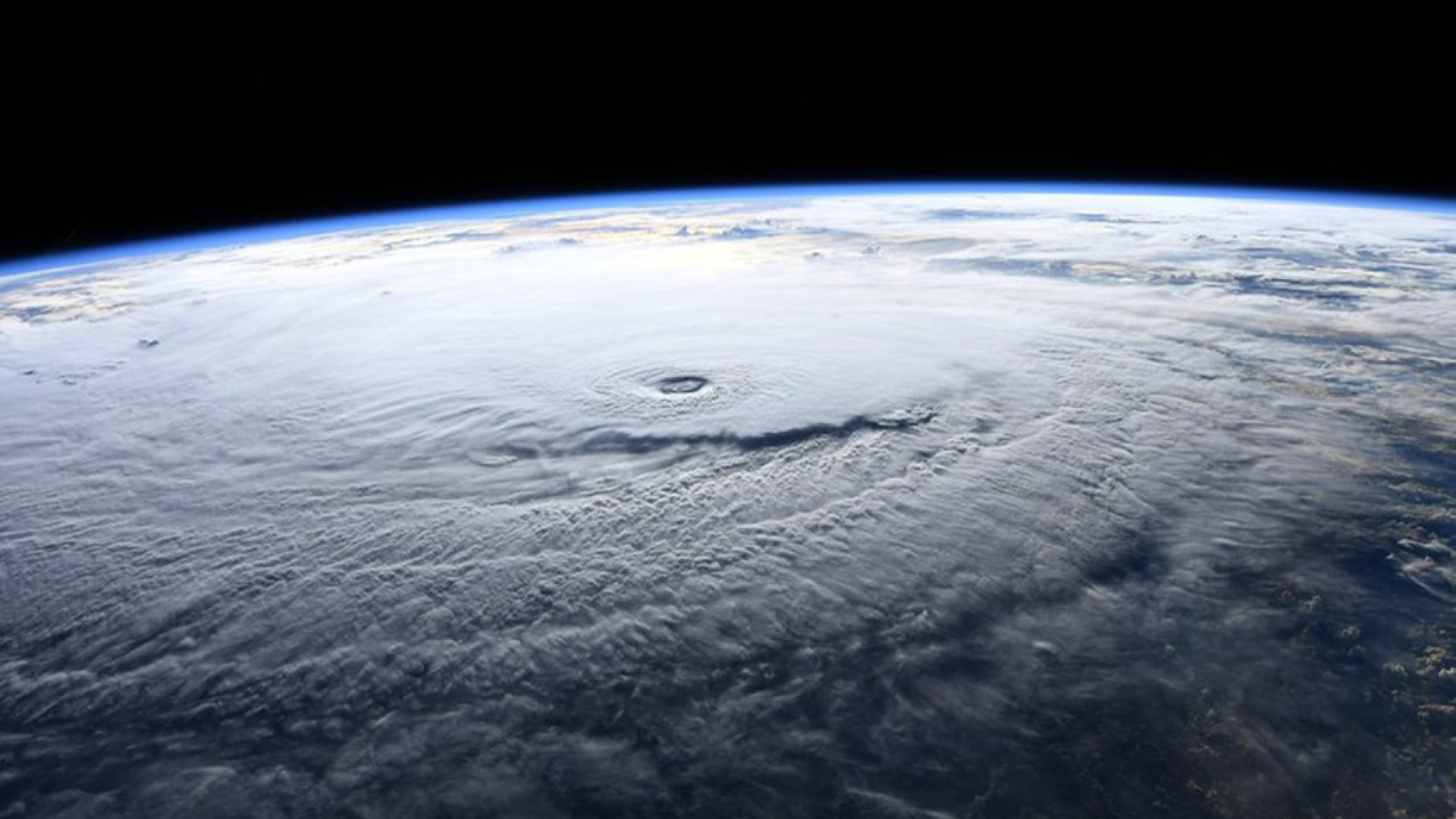 Editor's note: For live updates on Friday, August 24, see our current story here.
Category 3 Hurricane Lane is slowly churning northward toward Hawaii, affecting the Big Island and Maui on Thursday before lumbering toward Oahu and Kauai in coming days.
Why it matters: This storm is the most intense hurricane ever to come so close to Hawaii. The storm threatens the islands with upwards of 2 feet of rain, deadly surf of 20 feet or higher, and intense hurricane force winds.
The latest
As of 9 pm ET, Hurricane Lane was centered 260 miles due south of Honolulu, and packed maximum sustained winds of 125 miles per hour. Lane is a Category 3 hurricane, and is expected to slowly weaken but remain a hurricane during its closest pass with the islands of Maui, Oahu and Kauai.
Heavy rainfall is the biggest story so far, with more than 20 inches already recorded in the Big Island, and reports of significant flooding there. Water, both in the form of torrential rains worsened by the islands' high peaks, as well as ocean swells greater than 20 feet will be the most damaging impacts from this storm.
As for the winds, the Central Pacific Hurricane Center in Honolulu predicts:
Tropical storm conditions are expected on portions of the Big Island Thursday, with hurricane conditions expected in some areas by Thursday night local time.
Tropical storm conditions are expected to begin over portions of Maui County later Thursday, with hurricane conditions expected in some areas by Friday.
Tropical storm conditions are expected to begin on Oahu late Thursday night, with hurricane conditions expected Friday into Friday night.
Tropical storm or hurricane conditions are possible on Kauai on Saturday.
Although the official forecast keeps the center of Hurricane Lane offshore of the Hawaiian islands, this is not a sure bet, and it also doesn't spare them from major impacts. The Central Pacific Hurricane Center explains, "It is vital that you do not focus on the exact forecast track or intensity of Lane, and be prepared for adjustments to the forecast."
Editor's note: Live updates will resume on Friday morning, eastern time. For updates overnight, turn to Honolulu Civil Beat, the NWS Honolulu and weather.com. See you on Friday morning.
Previous coverage below.
A video shows the dramatic impact of heavy rainfall from the hurricane on a Hawaiian river.
A location near Hilo, Hawaii has seen 18.82" of rainfall in the last 24 hours.
A NOAA buoy appears to be located directly in the eye of Hurricane Lane and recorded a high wind gust of about 107 mph.
The National Weather Service is predicting nearly 2 feet of rain in Hilo by Saturday afternoon, with more falling at higher elevations on the Big Island.
"Hurricane Lane continues to pose a rare and historic threat to all of the Hawaiian Islands," explains Rick Knabb, hurricane expert at The Weather Channel, and former director of the National Hurricane Center.
"It is water, however, that poses the greatest threat to life and property, as heavy rains from this slow-moving hurricane are likely to lead to life-threatening and potentially disastrous flooding on any of the islands, and coastal areas including portions of Honolulu and Waikiki could experience life-threatening and damaging waves and storm surge."
— Rick Knabb
A car appears stuck partially submerged in floodwaters from Hurricane Lane rainfall on the Big Island in Hilo, Hawaii.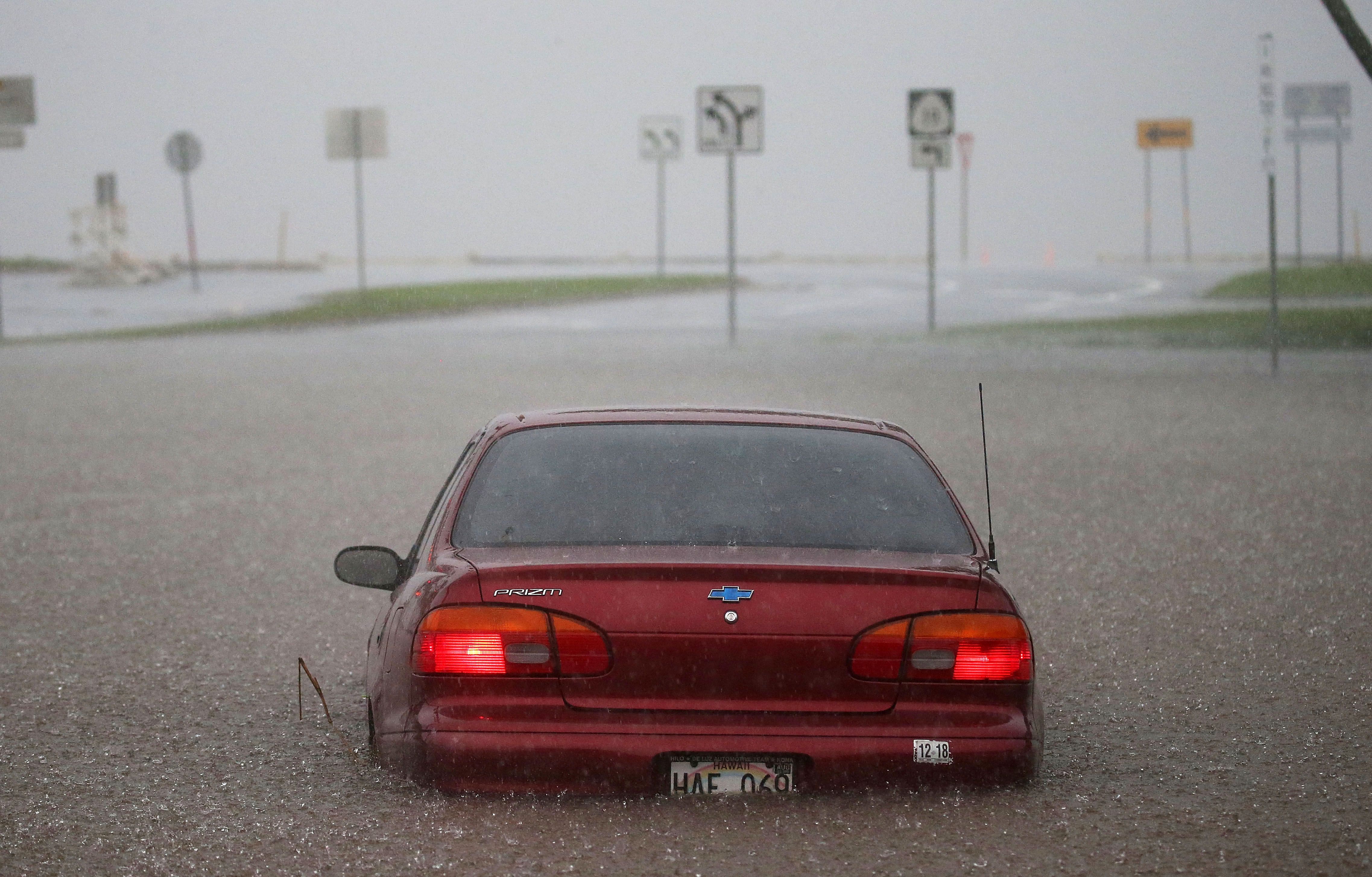 5 miles south of Hilo, on the Big Island, has seen 16.81 inches of rain, according to National Weather Service data.
A NOAA buoy located just outside Big Island is reporting sustained winds of 71 mph and a gust of 94 mph, according to the National Hurricane Center.
A plume of heavy rain associated with Hurricane Lane is aimed squarely at the Big Island, which is a clear recipe for staggering rainfall totals, flooding and possible landslides.
Hurricane Lane has weakened slightly, but remains a Category 4 storm as of 5 am local time. Even though the storm has not yet made its closest pass to the Big Island, more a foot of rain has already fallen there, according to NOAA. The heavy rains may lead to disastrous flooding.
The details: Hurricane Lane is not currently expected to make landfall, but that's not needed to bring life-threatening impacts to all of the islands. Lane is already moving close enough to the Big Island to dump more than 8 inches of rain.
Hurricane Lane is slowly weakening, and is likely to be downgraded from a Category 4 storm to a Category 3 sometime on Thursday or Thursday night. However, this would still make it a major hurricane, capable of causing widespread, significant damage.
Hawaii is typically protected from intense hurricanes by relatively cool ocean waters. This year, sea surface temperatures are elevated, related in part to a developing El Niño event.
What we're watching: Maui, Oahu and Kauai run the biggest risk of a close pass with the storm's fiercest winds and heaviest rains, depending on when the storm turns northward and then westward.
The high rises along Waikiki Beach would be vulnerable to damage if hurricane force winds move onshore.
Rainfall totals in some areas could be near or over 30 inches, which could cause life-threatening flash flooding and landslides.
Depending on the storm's intensity and angle of approach to Honolulu, it could cause flooding at Honolulu International Airport, the oil refinery at Barbers Point, and several large military installations, including Joint Base Pearl Harbor-Hickam.
The bottom line: This storm, even with a weakening trend, is a serious threat to Hawaii. It's not just media hype. Only two hurricanes in modern history have made landfall here, making these islands less familiar with preparing for such storms.
Go deeper: Category 4 Hurricane Lane poses rare direct threat to Hawaii
Editor's note: This is an ongoing story and will continue to be updated as we receive the latest developments.
Go deeper