White House downplays Trump's "higher price" comment on Israel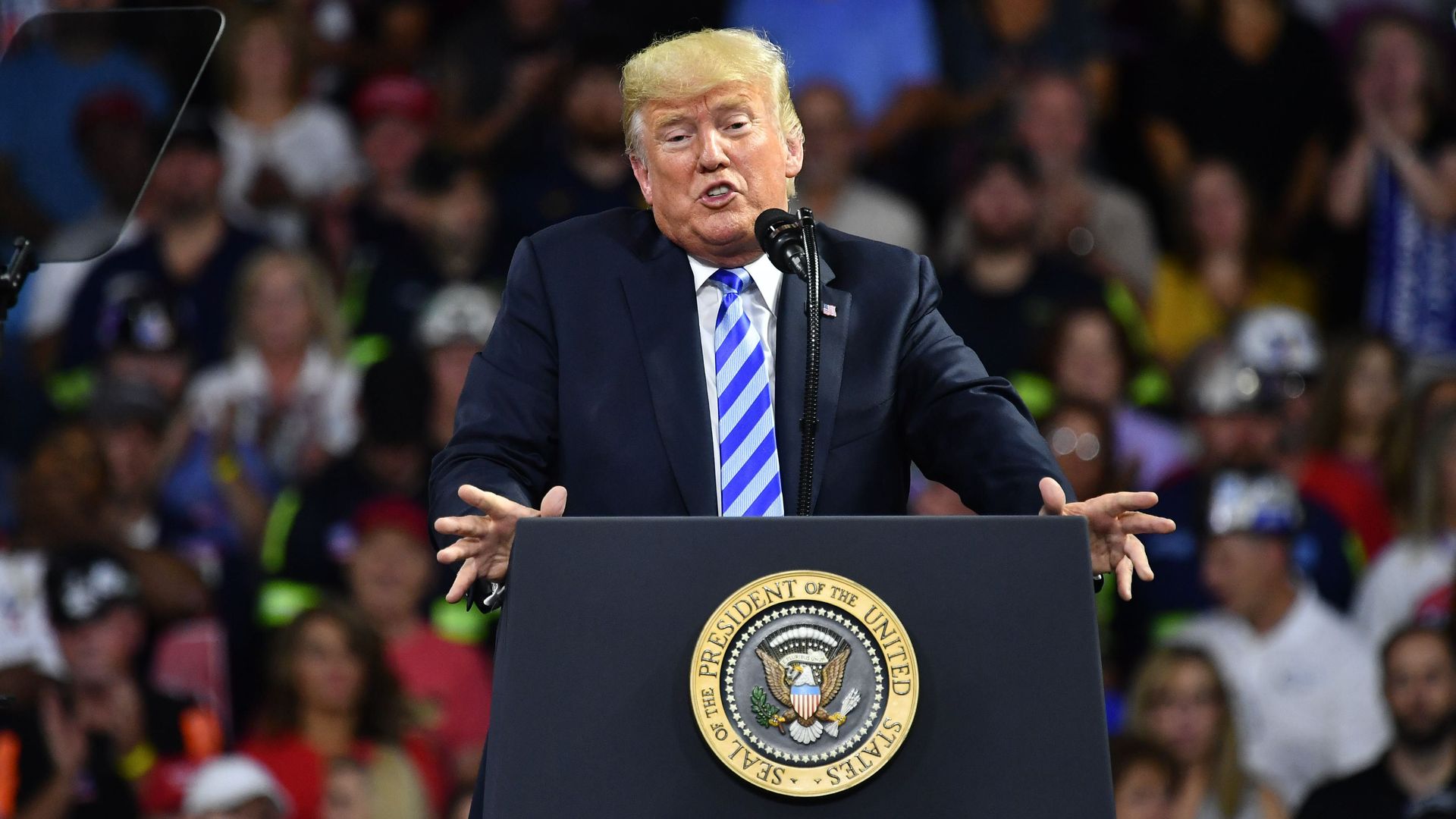 U.S officials are trying to extinguish a mini-political fire in Israel after President Trump's speech last night at a political rally in West Virginia during which he said Israel "will have to pay a higher price" in future negotiations with the Palestinians because of his decision to recognize Jerusalem as Israel's capital.
The big picture: While Trump hasn't spoken publicly for several months about the White House's efforts to draft and launch an Israeli-Palestinian peace plan, his statements yesterday — although not choreographed — showed the issue is still on his agenda.
"And you know what? In the negotiation, Israel will have to pay a higher price because they want a very big thing, but I took it off the table. ... There's nothing to negotiate but [the Palestinians will] get something very good because it's their turn next. Let's see what happens. It's very interesting. I've always heard that's the toughest deal of all deals — it's called peace between Israel and the Palestinians."
— Trump at the rally
The fallout: Trump's statements got extensive media coverage in Israel and amongst Palestinians. Israeli politicians started issuing statements, quoting Trump as saying Israel "will have to pay a heavy price." On the other hand, Palestinian officials started issuing statements attacking Trump for stating again he has taken Jerusalem off the negotiating table.
Trump's national security adviser, John Bolton, who is visiting Israel this week, saw Trump's statements at his hotel room in Jerusalem several hours before a planned press conference. When asked about Trump's statements at the press conference, he tried to play them down by saying that Trump is a dealmaker who hoped the Palestinians would ask to get something from the U.S. after the Jerusalem announcement — instead of disengaging.
What we're hearing: Senior U.S. officials told me it was important to listen carefully to Trump's words because, unlike what some Israeli politicians said, the president didn't say Israel would have to pay a "high price" — a phrase they said has a very negative implication in the Middle East — but instead "a higher price."
They added: "The president's words that Israel would pay 'a higher price' simply reflects a desire that our good faith initiatives would be reciprocated. And, just to be absolutely clear, the U.S. will not impose terms upon Israel that are unacceptable."
Israeli officials told me they got clarifications from senior U.S. officials who explained what Trump meant, saying: "National security adviser John Bolton clarified things in his press conference. We are very satisfied by Bolton's excellent visit which further strengthens the U.S.-Israeli relationship."
Go deeper