Trump sees China trade as a war he can win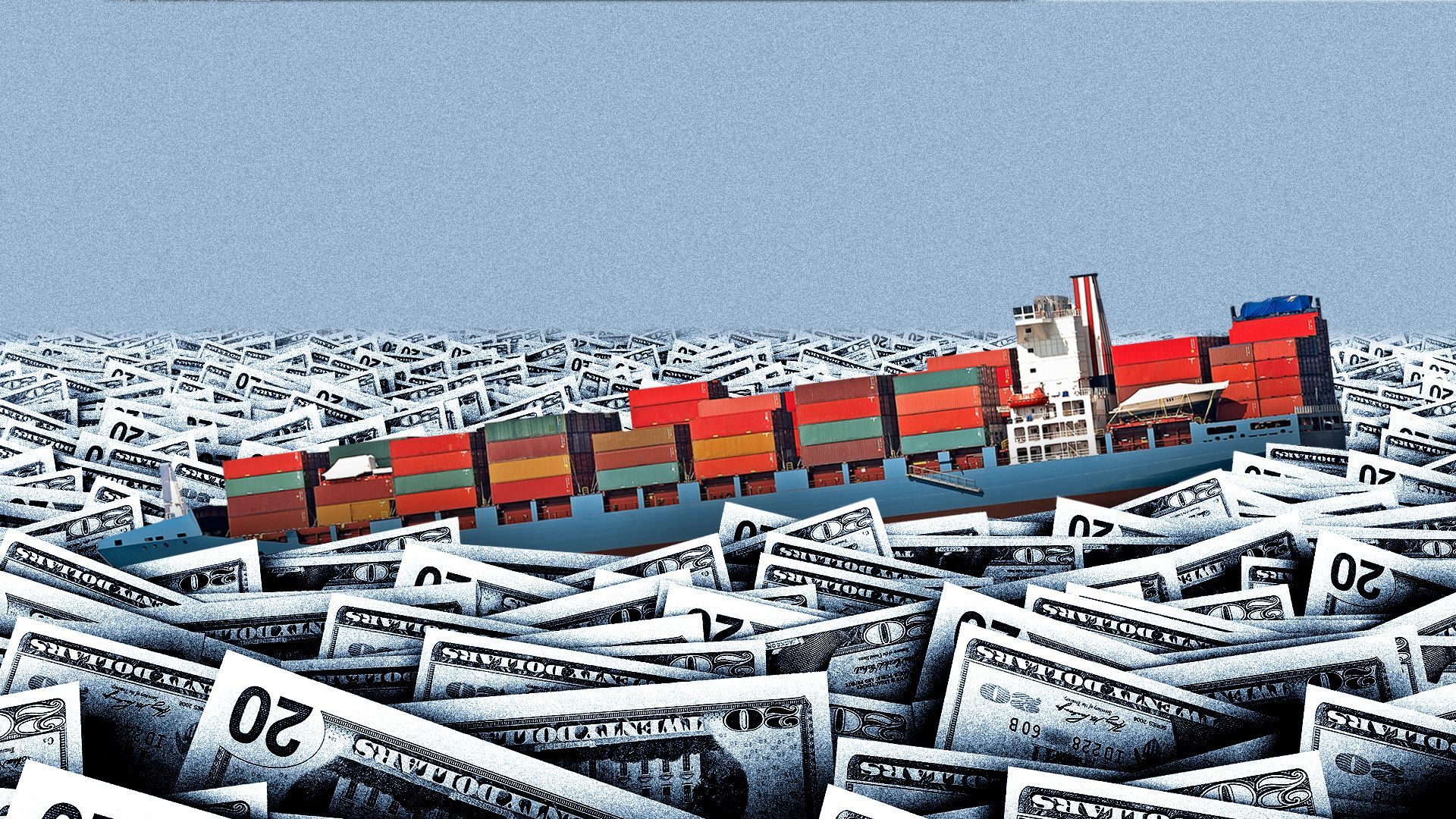 With China's economy cooling, President Trump and his aides are emboldened on the hardline tariffs strategy that they increasingly believe is jamming President Xi Jinping, officials tell Axios.
Why it matters: For West Wing policy advisers, China has become a rare unifying issue, while deep rifts remain on other trade issues, especially the wisdom of Trump's plan to impose massive tariffs on car imports.
The Wall Street Journal reports in today's lead story: "The Trump administration is moving closer ... to levying tariffs on nearly half of Chinese imports despite broad opposition from U.S. business."
Here's why:
A member of Congress who recently spoke at length with Trump about trade said: "He thinks he's right and he thinks he's winning."
"He's resolved to be the guy that changes the world trading system. ... He's willing to take some pain to do it."
"Trade is the one policy issue he feels comfortable with: He owns it, and he's 100 percent convinced he's right."
Most administration aides and congressional Republicans oppose the imposition of auto tariffs, although Trump remains warm to the idea.
But no one is pushing back on China.
Based on news reports out of China (Wall Street Journal, Aug. 14, from Beijing: "China's Growth Engine Sputters as It Battles U.S. Over Trade"), some administration officials believe Trump is winning his fight with Beijing.
"They're shaken up," one senior official told us.
Sources who have spoken to White House economic adviser Larry Kudlow marvel that the famous free-trader is an unapologetic "China hawk" (although he has been confrontational with China going back to his CNBC days).
A senior administration official said: "The president is all-in, 100 percent on China."
After an administration negotiating trip to China, there was internal speculation that there might be what the hawks called "an appeasement deal" where China bought off Trump with an agreement to buy more soybeans and other American products.
But that's now off the table, in part because the White House feels China has made no changes in practices the U.S. objects to, including its theft and heavy-handed acquisition of American companies' intellectual property and technology.
The member of Congress said: "They think internally that because China sells so much more to the U.S. than the U.S. sells to China, this is a war they can win."
However, many economists remain skeptical. And the administration has little true visibility into what Xi thinks.
One Trump adviser told us that they urged the president to limit the number of trade fights he picks around the world: "The goal is to isolate China."
So fights over NAFTA and Europe become a distraction.
Most of Trump's top economic and trade officials adamantly oppose these auto tariffs. Trade adviser Peter Navarro is a lonely internal advocate alongside the president.
Two sources who recently spoke to Defense Secretary Jim Mattis came away thinking that he would not support a national security argument for the imposition of auto tariffs.
Be smart: If Trump carries out his threats on auto tariffs, it could be the act that provokes a Republican rebellion on Capitol Hill.
Go deeper