All the president's guilty men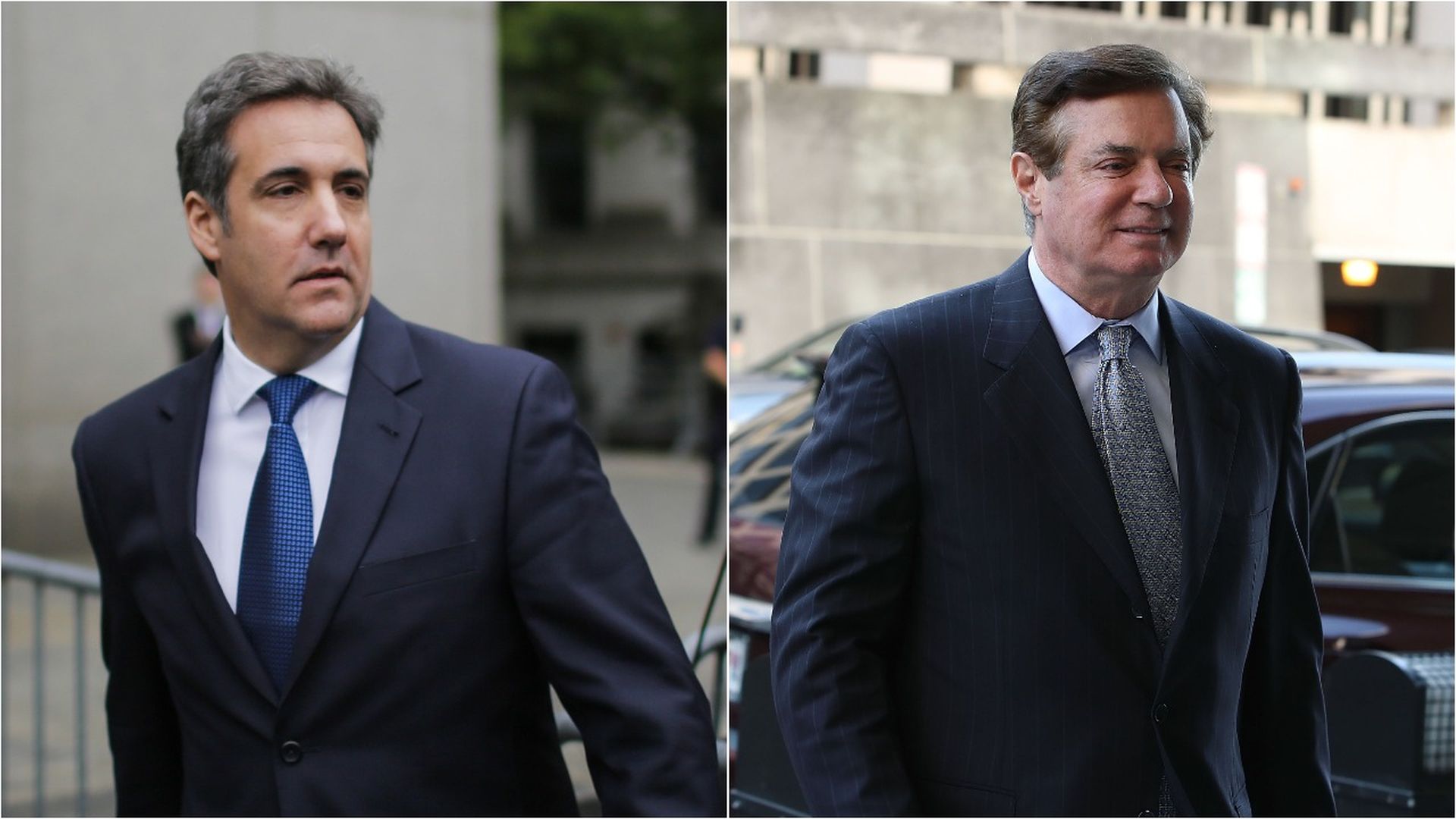 Longtime Trump lawyer Michael Cohen and 2016 Trump campaign chairman Paul Manafort each became felons during the 4pm hour this afternoon.
The bottom line: Former Trump allies are going to jail, with no end in sight for the Mueller probe.
In New York, Michael Cohen accepted a plea deal to charges that include campaign finance violations, tax and bank fraud. His sentencing hearing will be on December 12.
"The plea agreement does not call for Mr. Cohen to cooperate with federal prosecutors in Manhattan, but it does not preclude him from providing information to the special counsel, Robert S. Mueller III," the N.Y. Times reports.
Reuters: "Cohen says at direction of 'candidate for federal office' he arranged to make payments 'for principal purpose of influencing election.'"
Go deeper: What Michael Cohen knows (Axios)
In Virginia, a jury found Paul Manafort guilty on eight counts of fraud.
WashPost: "Manafort was convicted on five counts of filing false tax returns, one count of not filing a required IRS form, and two bank fraud counts."
Why it matters: "Manafort's guilty verdict may strengthen Mueller's hand as he continues to investigate possible conspiracy and seeks an interview with the president; an acquittal could have led to a broader effort by conservatives to shut down the special counsel's office."
Senate Intel Committee ranking Democrat Mark Warner in a statement: "Any attempt by the President to pardon Mr. Manafort or interfere in the investigation into his campaign would be a gross abuse of power and require immediate action by Congress."
Go deeper... Mueller's map: What 35 indictments and pleas tell us
Go deeper