2 typhoons aim for Korea and Japan
Typhoons Soulik and Cimaron are both on collision courses with highly populated areas of Southeast Asia, including Southwest Japan and the Korean Peninsula. The storms will hit one after the other, possibly battering two massive Asian economies on the same day.
What to expect: Typhoon Soulik is up first and is forecast to deliver a fierce blow to Japan's Rykyu Islands in the next two days, before curving north-northwestward to make landfall in South Korea on August 22 or 23. The storm is the equivalent of a Category 3 hurricane with maximum sustained winds estimated at 115 miles per hour, according to the Joint Typhoon Warning Center.
Soulik is forecast to maintain its intensity through its close encounter with the Rykyu Islands, where it could deliver a punishing combination of strong winds, heavy rains, and storm surge flooding to Kagoshima Prefecture. It is then forecast to weaken to a Category 2 storm as it nears its second landfall in southwest South Korea.
By August 23, the storm should be delivering a windswept rainstorm to Seoul.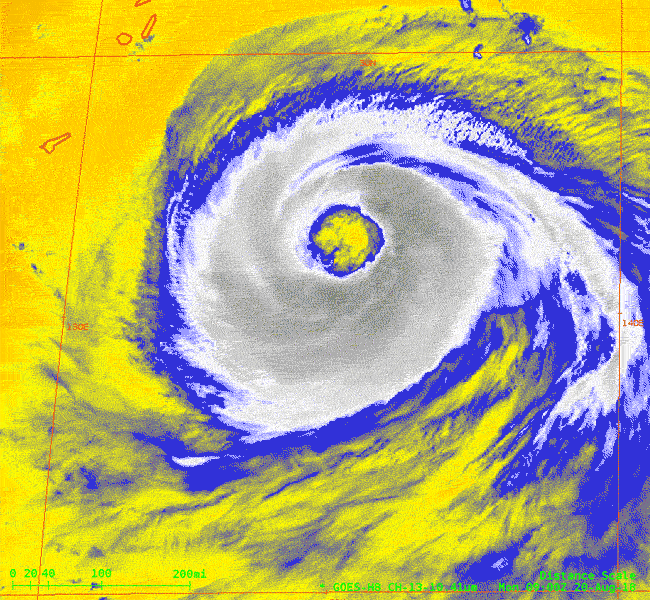 The details: Typhoon Soulik has an unusually large eye that is 86 miles (75 nautical miles, according to JTWC) across. Typically, such intense storms have eyes that are closer to 20 to 40 miles across, which is where the minimum central pressure is located. In contrast to the violent motions of air within the areas of showers and thunderstorms surrounding the eye, the air within the eye sinks, scouring out any cloudiness.
From the vantage point of the International Space Station, astronaut Ricky Arnold snapped a photo of Soulik with its large eye on Monday:
What we're watching: The storm track forecast for Typhoon Cimaron is uncertain, since it is forecast to move west-northwest for the next few days before turning more toward the north, possibly making landfall near Tokyo on August 23. The exact point where it makes its turn is a key uncertainty facing forecasters for this event, and it could make the difference between a direct hit to Tokyo and a landfall in a less highly populated region.
Be smart: When typhoons curve northward out of the northwest Pacific basin during the late summer and fall, they can add juice to the jet stream winds blowing west-to-east across the North Pacific. This can result in a wavier jet stream across North America several days later, which could yield a fall preview for some and a renewed blast of heat for others.
Go deeper