Sports stars dive into tech investing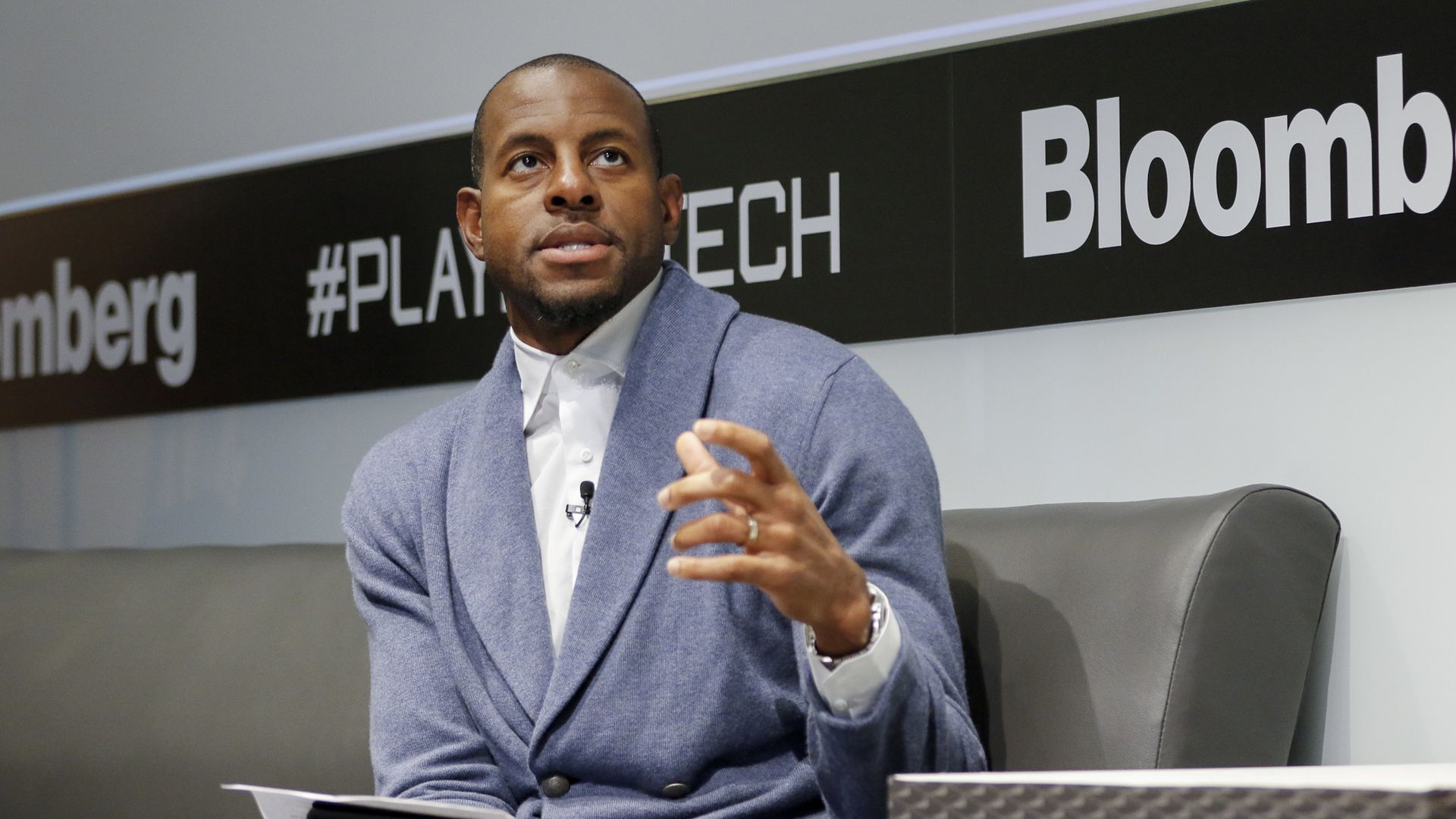 There's no question that technology is transforming professional sports, but less obvious are the ways in which star athletes are changing the tech industry through their involvement and dollars.
The bottom line: Sports players have a big pull and can bring more than dollars when they back a company. And both athletes and startups are finding new ways to take advantage of such star power.
What's happening: A number of athlete-investors gathered in San Francisco last week for Bloomberg's Players Technology Summit, rubbing elbows with VCs and startup executives.
The crowd at the daylong event was more racially diverse — and a lot taller — than your typical tech conference. However, the topics were familiar ones, including how to invest in the right startups, making sense of cryptocurrencies, and the opportunities and pitfalls of social media.
Who was there: NBA athletes were far more prevalent than those from other sports, but also on hand were Joe Montana and son Nate, along with pro volleyball legend Kerri Walsh Jennings.
While many of the moderators were Bloomberg journalists, also taking a turn as interviewer was Golden State Warriors star Andre Iguodala, who's a prolific tech investor in addition to three-time NBA champ.
Be smart: Interviewed by Iguodala, Andreessen Horowitz partner Jeff Jordan told the athletes to start small as they are learning the ins and outs.
"Early on, only invest money you can stand to lose," Jordan said.
"Say that again," Iguodala said, wanting to make sure the crowd had caught the point.
Iguodala shared his own ups and downs as an investor, in an interview with Axios.
Highlight: Pulling out his iPhone, Iguodala pulls up info on Trumid, a fintech startup that focuses on bond trading. "That's one of my favorite ones," he said. "It wasn't crazy sexy that people would have jumped on, but something I understood."
Lowlight: Investing in a gas delivery service seemed like a good idea, Iguodala said, noting how much he hates waiting at the pump. But the entrenched players turned out to wield a significant home court advantage.
Celtics guard/forward Jaylen Brown also shared his advice. Brown, who attended Cal, has more financial industry experience than most NBA players, having spent a summer interning at Base Ventures in Berkeley.
The biggest thing Brown learned: "You don't get paid for ideas. You get paid for execution," he told Axios.
Brown said his main objective is trying to win a championship and make the most of his basketball playing days. At the same time, he wants to use the opportunities he has now to "build a brand and also, you know, build a paper trail, so when I do step back from the game, it's not like I've got to start over from the start."
Iguodala had similar advice for the younger players:
"You've got to grow up really fast, and you know, you've got to cut out the Fortnite. You've got to cut out the — the hour you might spend on social media just browsing and, you know, you've got to make the most of your time, because before you know it, it's all over."
Correction: An earlier version of the story said Jaylen Brown graduated from Cal. He played for Cal in 2015, but joined the NBA after his freshman season.
Go deeper