Scoop: Trump said one-state solution would lead to Israeli PM named Mohammed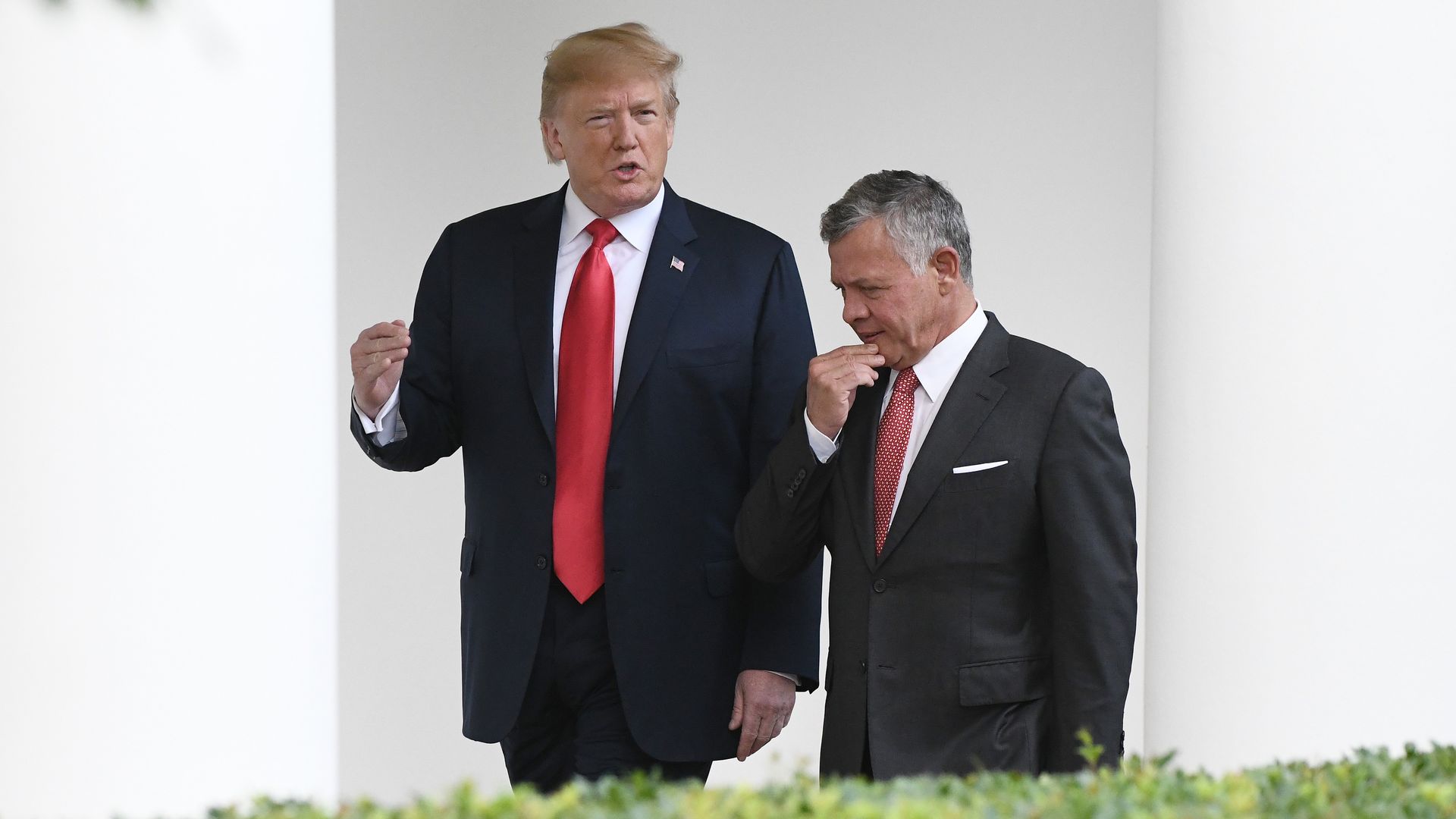 President Trump told King Abdullah of Jordan that a one-state solution to the Israeli-Palestinian conflict might lead in a few years to someone named Mohammed becoming prime minister of Israel, according to several sources briefed on the meeting.
Why it matters: The White House "peace team" is still discussing when and how to launch the Trump administration's peace plan. It's still unclear whether the plan is based on a two-state solution or on a different paradigm. Trump has said he would support whatever solution the parties can agree to. His remarks to the King of Jordan, made in their White House meeting on June 25, might suggest he thinks a one-state solution is a threat to the future of Israel as a Jewish state.
Behind the scenes: On August 2nd, King Abdullah hosted French Foreign Minister Jean-Yves Le Drian in Amman. During the meeting, the king briefed the French minister on his meeting with Trump a month earlier. French diplomats told me about the king's description of that meeting.
The king said he warned Trump during their meeting in June that "many young Palestinians don't want the two-state solution anymore, but would rather live together with the Israelis in one state with equal rights for all." The king added he told Trump: "The result will be that Israel will lose its Jewish character".
The king told the French foreign minister Trump answered sarcastically — half joking, half serious: "What you say makes sense. … [In a one-state scenario,] the prime minister of Israel in a few years will be called Mohammed".
The king said he stressed to Trump that, in order for the peace plan to be acceptable, it must be presented first to the relevant European and Arab states in order to get their input, and complained that this still hasn't happened.
According to the French diplomats, King Abdullah said he asked Trump not to rush to present his peace plan "because there are too many difficulties at the moment."
The king said Trump's answer was that he still wants to pursue Middle East peace and remains committed to the issue.
The king added that Trump stressed that, if his administration can't get a deal between Israel and the Palestinians, then no U.S. administration ever will.  
An Israeli source and a former U.S. official who were both briefed on the meeting between Trump and the Jordanian king confirmed this account. The Jordanian embassy in Washington declined to comment. The White House also declined to comment, saying it will not disclose private diplomatic conversations between the president and foreign leaders.
Get more stories like this by signing up for our global newsletter, Axios World. 
Go deeper