Kerala floods kill hundreds as relentless Indian monsoon continues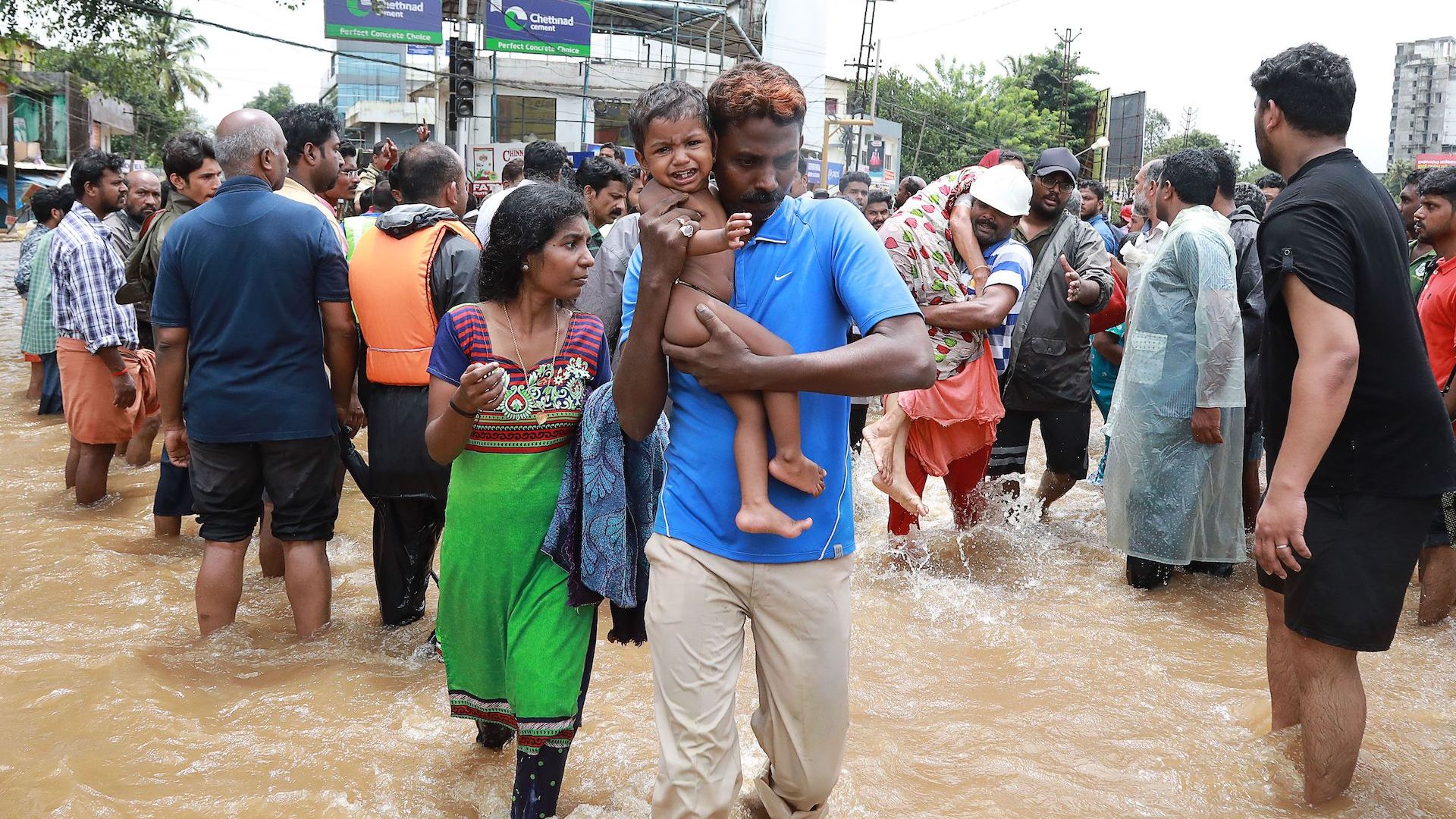 Hundreds are dead, and more than 150,000 have reportedly fled historic flooding in the southern Indian state of Kerala. The rains are the result of a relentless, seemingly stuck monsoon, which is causing the worst flooding the state has seen in decades, if not longer.
Why it matters: The Indian Monsoon is one of the most important climate cycles on the planet, responsible for feeding one of the world's most populous nations. But the downpours that sweep in from the Indian Ocean can be ruinous when they repeatedly pelt one area. In this case, Kerala has received 41% more rainfall than average for the year so far, much of it coming in the past few weeks.
The big picture: The Indian Monsoon is powered by the temperature and air pressure contrast between the mild ocean waters of the Indian Ocean and the cold, dry air over the Himalayas. Each year, a wall of towering showers and thunderstorms forms at sea, before creeping slowly northward over India, dumping beneficial rains used to grow rice and other crops. However, these rains can also cause devastating flooding, as occurred in Chennai in 2015, killing more than 500.
The details: Kerala has been inundated with extraordinary amounts of rainfall in recent weeks. For the period of June 1 through August 17, the state had received 2,306 mm of rain, which is well above the average of 1,634 mm during that period, according to the India Meteorological Department. On August 17 alone, 76 mm of rain fell in Kerala, compared to the daily average of 14.5 mm.
"We're witnessing something that has never happened before in the history of Kerala... Almost all dams are now opened. Most of our water treatment plants are submerged. Motors are damaged."
— Chief Minister Pinarayi Vijayan to reporters,
according to the BBC
.
Kerala's main airport is closed due to flooding, and more than 150,000 people have been displaced into camps as the rain and flooding continue. India's national government has sent resources to help the state.
Go deeper