July 2018 was third-warmest such month on Earth, NASA finds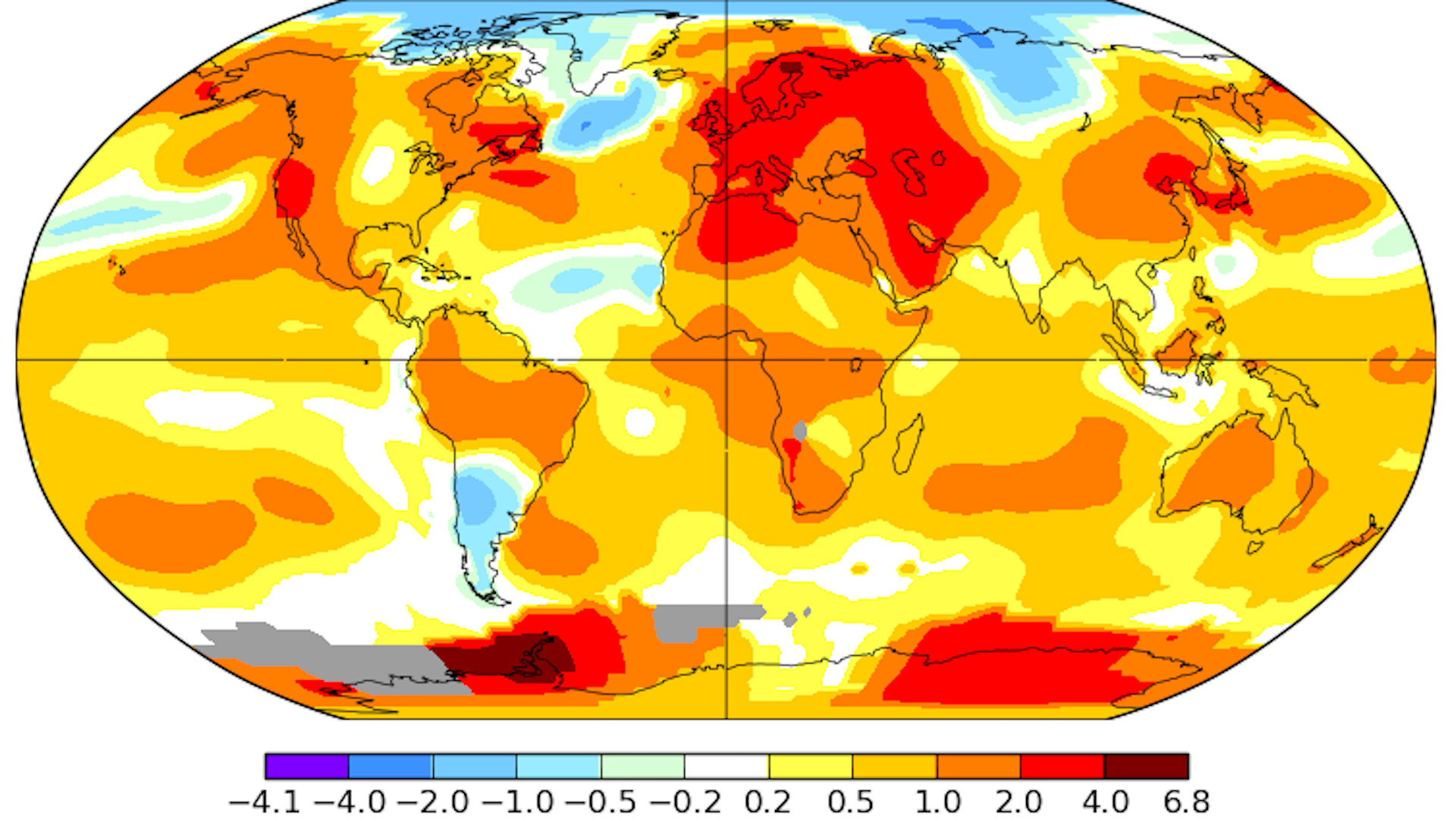 July 2018 was the planet's third-warmest such month since reliable measurements began in 1880, with a global average surface temperature of 1.4°F warmer than the 20th century average — this means the top 3 warmest Julys have occurred in 2016, 2017, and 2018, respectively.
Why this matters: July saw a spate of extreme heat events around the world, from all-time record heat and wildfires in Scandinavia, to the warmest month in California history. The July 2018 ranking, while preliminary, is significant since unlike in 2016, there was no El Niño present to add more heat to the climate system.
The big picture: July's historic temperatures brought heat waves to a large portion of the northern hemisphere and set the stage for deadly and devastating wildfires in California and Sweden, and massive fires have been burning in Siberia as well. All-time national heat records fell in Japan, North and South Korea, Algeria and Taiwan, along with numerous all-time records for individual cities.
The unusually hot conditions in the western U.S., along with the U.K., Scandinavia, parts of Eurasia and southeast Asia are clear from NASA's July temperature anomaly map. Interestingly, much of the Arctic — which is the fastest-warming area on Earth — has been cooler than average this summer, including in July.
What we're watching: Other global temperature monitoring agencies have now weighed in with their rankings, and they differ slightly from NASA's. NOAA, for example, found that July was the fourth-warmest such month on record for the globe, and that the year-to-date is also running in the fourth-warmest spot.
NOAA's temperature report, released Monday, found that July was the hottest such month on record in Scandinavia and the surrounding Arctic Ocean, northwest Africa, parts of southern Asia and southwest United States. Europe had its second-warmest July on record, the report found. "No land or ocean areas had record cold July temperatures," the report said.
According to NOAA's Daily Weather Records Tool, as of July 31, there were 183 stations across the globe that recorded new high maximum temperatures for July, and 232 that set all-time high low temperature records.
There were 69 stations across the globe that set new all-time high maximum temperatures, as well, along with 96 stations that set new all-time high minimum temperatures.
Go deeper:
Go deeper