Ex-FCC chief: Big Tech should seize the chance to shape regulation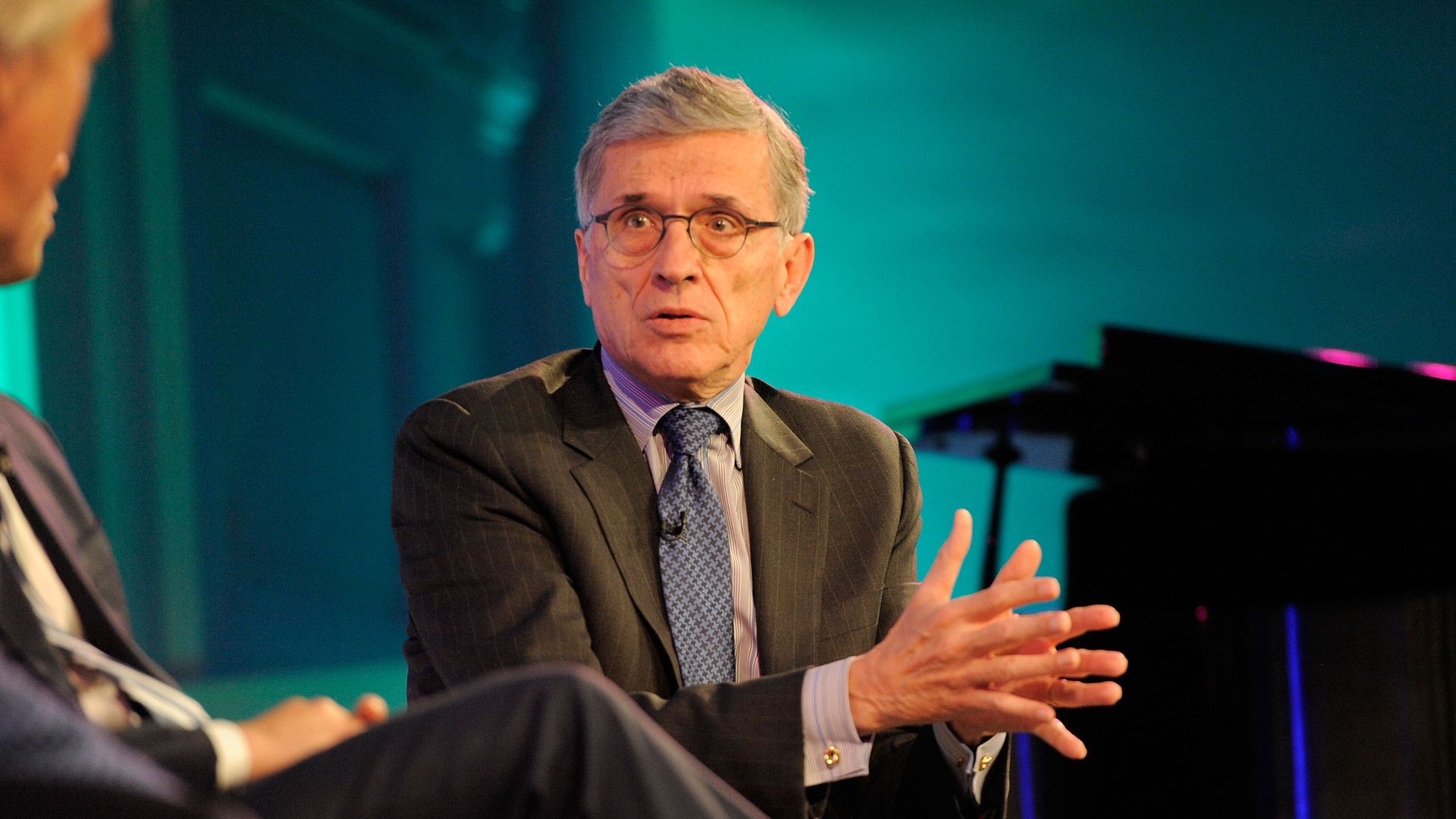 Silicon Valley's move-fast-and-break-things model has succeeded, and former FCC Chairman Tom Wheeler says it's Big Tech's responsibility — and opportunity — to work with policymakers to pick up the pieces.
Why it matters: Before his FCC tenure, Wheeler spent years as the top lobbyist for the cable and wireless industries as they made peace with federal rules. He's encouraging Big Tech to follow the same game plan — or else face messier policy regimes set by states and regulators abroad.
What he's saying: In a new paper to be released Thursday for the newly created Platform Accountability Project at Harvard's Kennedy School of Government, Wheeler argues that it's time for the technology industry to compromise on regulations — specifically around privacy, competition and operational openness.
"Responsible corporate action must now extend beyond the voluntary commitments that have governed the first decades of the digital era," Wheeler writes, citing Facebook's Cambridge Analytica scandal as a prime example of how self-regulation failed.
"Since the earliest days of the internet, policy makers have been afraid to touch it, subscribing to the mythology that somehow they could break the magic. But the effects of digital dominance on privacy, competition and openness are now clear for all the see."
The alternative, in Wheeler's view, is that state legislatures will pass their own rules — as lawmakers just did in California on privacy. And international regulators who are more wary of Silicon Valley's power will continue to pursue aggressive limits on the industry, as just occurred with the EU's General Data Protection Regulation.
"The uncertainty and confusion of contradictory international and domestic initiatives is bad for innovation, and for marketplace competition," Wheeler says. "And it need not exist."
It's the first paper for the Platform Accountability Project, which Wheeler is working with at the Kennedy School's Shorenstein Center for Media and Democracy. Joining him is Dipayan Ghosh, former technology advisor in the Obama administration and former Facebook staffer working on policy issues.
Flashback: Wheeler was a telecom industry lobbyist during the creation of the 1984 Cable Act, which applied federal rules to the then-rapidly growing cable industry, and for the young cellular industry's acceptance of regulation. While the industries initially resisted new regulatory frameworks, the resulting certainty ended up greatly benefiting those companies, he argues.
The big picture: There's a growing feeling among policymakers that they may have to act on concerns about the unregulated nature of the internet at large — and a similar sense among the companies that such regulation is coming.
Wheeler argues that regulation should apply to both digital services and the networks that deliver them.
While at the FCC, he spearheaded regulations (such as online privacy rules and net neutrality rules) that only applied to internet service providers like AT&T and Comcast, who blasted the rules for targeting only part of the internet ecosystem and giving online platforms an unfair business advantage. In the privacy debate, Wheeler argued that ISPs had access to more consumer data than platforms.
His arguments in the paper, however, bring him closer to ISPs, who want an even playing field.
Some platform companies, including Facebook, have indicated that they are open to certain types of regulation, particularly on privacy issues, and have simultaneously adjusted their own policies in the hopes of defusing harsher moves by lawmakers.
Lawmakers are also considering a wide range of ideas, as reflected in a recent policy memo produced by Sen. Mark Warner (D-Va.) that laid out 20 ways that they could address issues plaguing online platforms like Google, Facebook and Twitter.
Bottom line: Wheeler's paper reflects a broader reality for tech policy — the laws and agencies that govern the internet haven't been updated in any sweeping way in decades, while the industry rapidly evolves.
"The industry's failure to seize that opportunity leaves the field to be defined by yesterday's rules and yesterday's thinking — a potential negative impact on the industry's long-term commercial opportunities, and definitely an outcome that won't help consumers."
— Tom Wheeler
Editor's note: This story has been clarified to reflect Tom Wheeler's and Dipayan Ghosh's roles in the Platform Accountability Project.
Go deeper