Italy's anti-vaccine push could spread around the world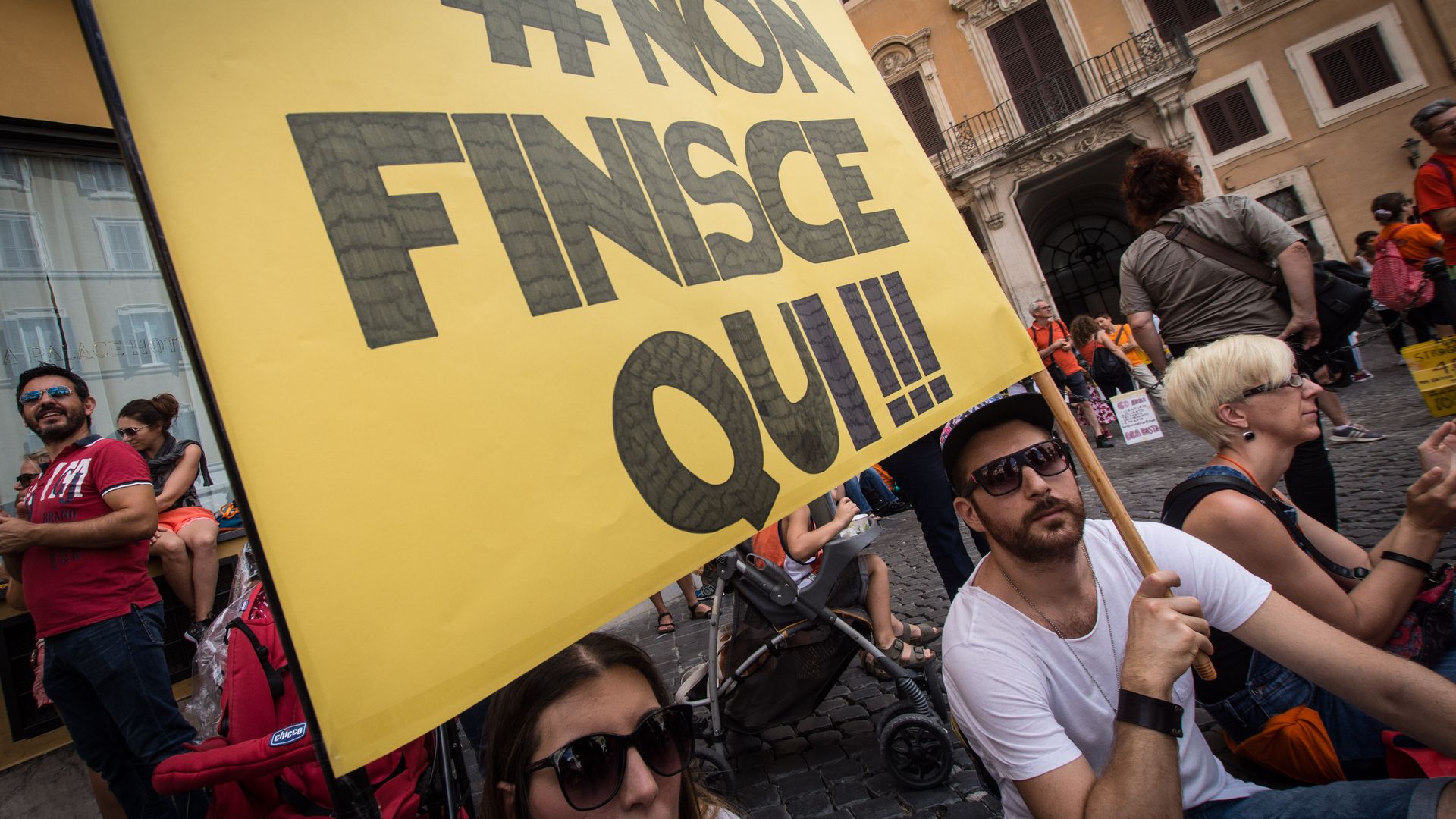 Experts worry that a bill to suspend compulsory vaccination of children in Italy could spread the anti-vaxx movement across borders, posing a serious global health threat. Pushed by Italy's populist government, the bill will become law if approved by the lower house of its parliament.
Why it matters: Vaccinations have helped to eradicate a dozen major childhood diseases and are praised as a key advance of the 20th century. But the anti-establishment wave in Europe and the U.S., plus the ability of social media to spread any opinion, have put new impetus behind the opposition to mandatory inoculation.
The backstory: The anti-vaxx movement in Italy and elsewhere goes back to the 1998 publication of a study in The Lancet on a 12-person trial that linked the measles vaccine (MMR) and autism.
The study was found to be fraudulent, was retracted by the journal, and Andrew Wakefield, its author, was stripped of his medical license.
But the damage was done.
Driving the news: Last week, Italy's upper house of parliament voted to suspend the mandatory inoculation of schoolchildren against 10 diseases. In addition to the influence of Wakefield's study, the anti-vaxx politics are in part driven by a 2012 Italian court ruling that a child's autism was caused by the MMR vaccine (the ruling was later overturned).
The bill attempts to reverse a law passed last year increasing the number of mandatory vaccinations after a measles outbreak infected nearly 5,000 people in Italy, killing four.
"What is concerning is the possibility that this might strengthen anti-vaccination sentiment elsewhere," said Naomi Smith, program leader in sociology at the Federation University Australia's School of Arts, Humanities and Social Science.
Smith says, "For example, anti-vaccination proponents might point to Italy and say, 'Well the Italians think vaccination shouldn't be mandatory, why don't we have fewer requirements around vaccination too?'"
"They interpret decisions like this as being about the science and safety of vaccinations and not about politics (which really drove this decision in Italy)."
Anthony Fauci, director of the U.S. National Institute of Allergy and Infectious Diseases, tells Axios that two misperceptions fuel the movement:
Because there's no disease out there, everyone is safe.
There are significant adverse effects that warrant not getting vaccinated.
The consequences: "I'm really concerned, obviously, about the move Italy made," Fauci says. "It's very ill-advised."
Recent outbreaks of measles in the U.S. include two in Disney parks in California and in the Somali community in Minnesota.
Pertussis, or whooping cough, is another disease on the rise, mostly because of vaccine refusal, per a JAMA meta-analysis of 50 studies.
In an Axios Expert Voices piece, Baylor College of Medicine's Peter Hotez discusses the revival of measles in Europe and the Americas.
How it's happening: Multiple studies have said that social media platforms have allowed the voice of relatively small groups like anti-vaxxers to expand globally.
A 2017 study of Italy in the journal Vaccine says "new media might have played a role in spreading misinformation."
It found a "significant inverse correlation" between MMR vaccination coverage and social network activity on the topic "autism and MMR vaccine."
Women are leading the movement. Another 2017 study, co-authored by Smith and published in Information, Communication & Society, also suggested that social media may help spread anti-vaccination ideas and make the movement durable on a global scale.
But, examining six popular anti-vaxx Facebook pages, it also found that the movement is primarily led by women, by a ratio of 3:1.
The study found that active Facebook users (the top 10% via number of comments and likes) show an even greater gender disparity. "Across the entire movement-level network, 21.9% of user activity is male, 71.4% is female, and 6.7% is not estimated (gender unknown)."
This may be because "women are still more likely than men to stay at home with children in their earlier years. This means that they will be the ones taking children to health appointments and making decisions about the treatments they do or don't receive," Smith says.
"Anti-vaccination sentiment is a serious problem with serious consequences. Facebook needs to be a little more proactive in ensuring the quality control of content shared on the public pages of its network — which is true across a range of issues Facebook is facing at the moment."
— Naomi Smith
A Facebook spokesperson tells Axios that the company's position in general is that removing provocative matter does not help build factual awareness or in different approaches to health.
"We have a set of Community Standards that outline what is and isn't allowed on Facebook. While we work hard to remove content that violates our policies, we also give our community tools to control what they see as well as use Facebook to speak up and share perspectives with the community around them. If the content they're posting crosses the line and violates our policies, we would remove the content as soon as we become aware of it."
Go deeper