The local TV consolidation race is here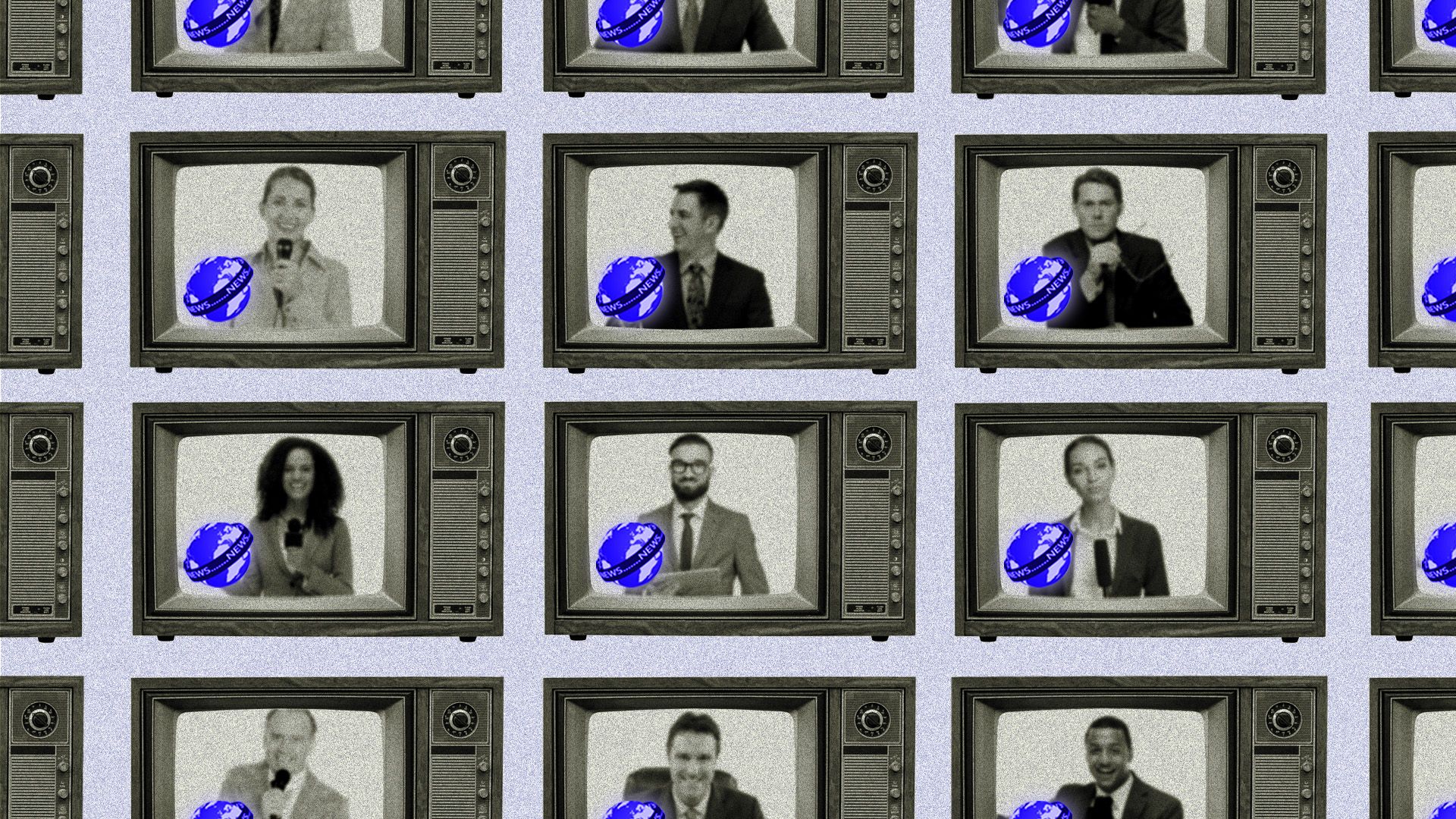 Changes in decades-old broadcasting rules, combined with new types of competition in news and entertainment, are creating a drama-filled free-for-all as local U.S. broadcasters consolidate.
Why it matters: Consolidation will inevitably mean that fewer voices reach more people, but some in the industry argue it's the only way local broadcasting will be able to compete with big tech.
What they're saying:
"Scale matters when we are competing against massive pay TV conglomerates, Facebook, Apple and Netflix. If you want a healthy broadcast business that keeps the Super Bowl on free TV, that encourages local investigative journalism and allows stations to go 24-7 live with California wildfire coverage, broadcasters can't be the only media barred from getting bigger."
— Dennis Wharton, executive vice president, communications, National Association of Broadcasters
Tribune Media announced Thursday that it has terminated its $3.9 billion merger agreement with Sinclair Broadcasting and that it has filed a lawsuit for breach of contract. The merger would have created the largest local broadcaster in America, but its collapse doesn't mean the industry will stop consolidating.
The back story: Many local broadcasters cite one key reason for their consolidation — The FCC's landmark decision last year to roll back old regulations that limited the ability of TV companies to own properties in the same market.
What's complicating many of these deals, however, is that the FCC has yet to determine the new limits on TV station ownership. Right now, there is a national cap limiting television groups (among all of their stations) to reaching no more than 39% of U.S. TV households.
Most sources Axios has spoken to believe that cap will be lifted above 50%, but they don't know what the exact limit will be, or when it will be passed and implemented. The FCC was supposed to vote on a new cap in July, but the vote has been pushed back, and will likely occur later this year.
The ownership rule will impact the entire local TV landscape, which is currently dominated by roughly a dozen companies.
The latest: Sinclair and Tribune are back to the drawing board.
Sinclair says it will likely pursue other deals to acquire more local stations, but analysts and industry experts say that its poor behavior could make it difficult to pursue other acquisitions.
Tribune will likely sell its stations to another local broadcaster, but its CEO said in an email to employees obtained by Axios that it is focusing on remaining "one of the preeminent broadcasting companies in America."
21st Century Fox was supposed to buy seven Tribune stations from Sinclair once the deal went through. They are likely to continue to look for other acquisitions.
Gray Television is buying Raycom in a deal valued at $3.6 billion. It likely wouldn't face regulatory hurdles as it is currently below the broadcast ownership cap of 39%.
Cox Enterprises says it plans to sell 14 TV stations across the country through mergers or a partnership with a large ownership group.
Scripps purchased Katz Broadcast networks, four targeted TV stations, in 2017 and recently sold its radio stations to focus on growing its TV business.
Nexstar, Meredith and Tegna would also be in the position to buy up other stations to expand their footprint.
Univision's business is in a complicated position following a failed IPO. Its new CEO says he wants to focus the Spanish broadcaster's efforts on investing in Univision's local stations, among other priorities.
The rush to consolidate isn't limited to local TV.
Newspapers have been consolidating into big national holding groups for years now, creating what experts call "news deserts" in local markets.
Radio ownership rules have not been changed since they were established in 1996. But a consumer trend towards on-demand streaming and internet radio is forcing many major radio broadcasters to either file for debt or consolidate.
The bigger picture: Of all TV news products, local television still has the largest audience by far compared to national and cable. But it's also been hit with the greatest decline among the three types of traditional TV. Many fear that a consolidation of local broadcast networks could reduce the diversity of news voices that are accessible to the majority of Americans.
What's next? The FCC is expected to partake in a quadrennial media review next year, where many of these issues will be revisited and deliberated.
Correction: This story has been updated to reflect that the national cap refers to what percentage of U.S. TV households a single company can reach, not the percentage of advertising. Also, radio stations are subject to ownership caps.
Go deeper