Go deeper: The prosecution in Manafort's trial has left no stone unturned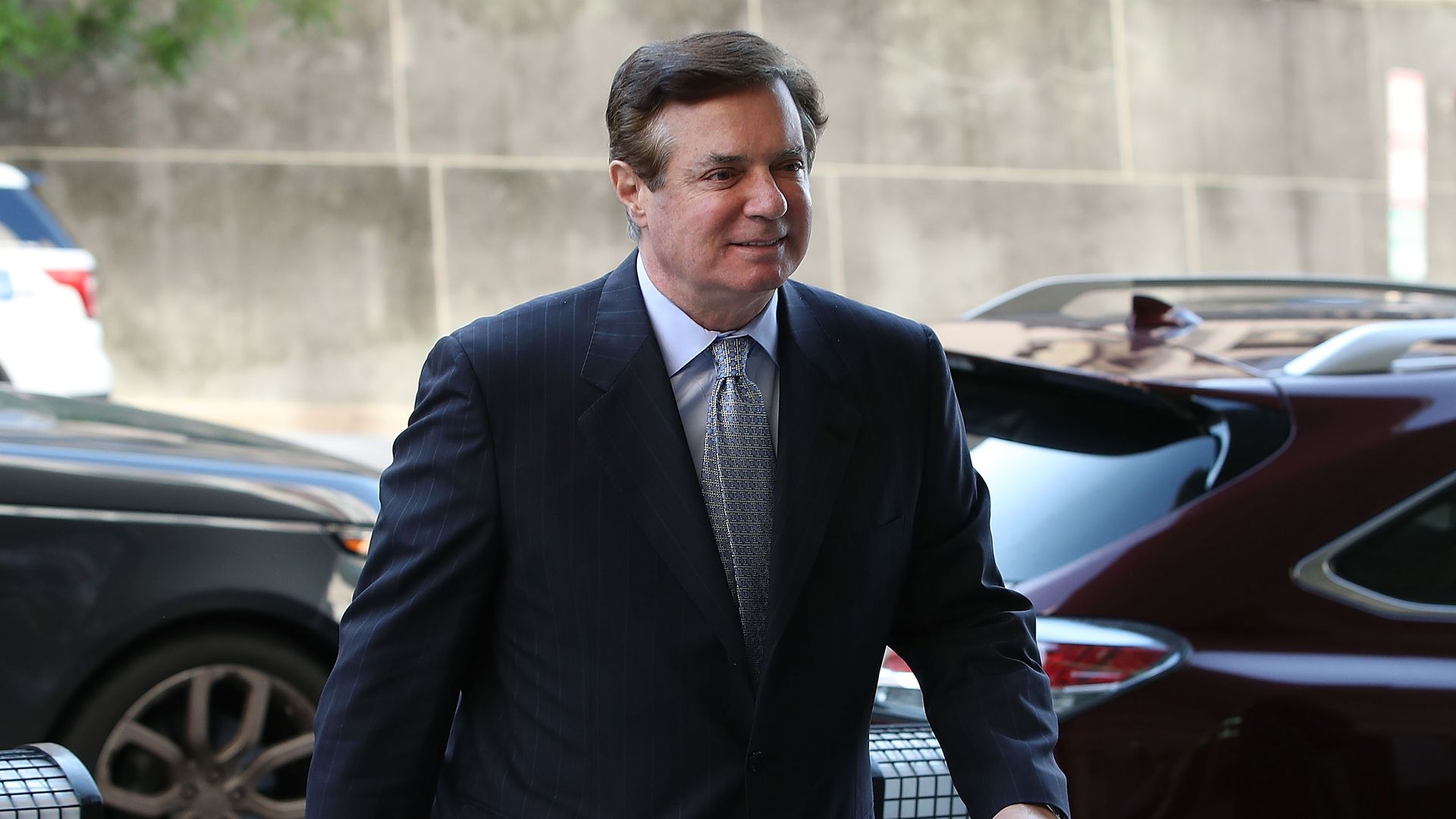 The financial fraud trial of President Trump's former campaign chairman Paul Manafort entered its eighth day on Thursday with the special counsel's team presenting witnesses and evidence to illustrate how Manafort orchestrated a scheme to obtain millions of dollars and avoid paying taxes.
The big picture: This trial marks the first case that Special Counsel Robert Mueller has brought to court as a result of his probe into the 2016 Russian election meddling. However, the federal tax and financial fraud charges in dispute are separate from Manafort's time as President Trump's campaign chairman. The proceeding is being closely watched by the president and his legal team as they negotiate a possible interview between Trump and Mueller.
Key moments
On Day 1, prosecutors painted Manafort as a "shrewd" liar, while Manafort's lawyers sought to lay the blame on Rick Gates — his longtime business partner and star witness against him.
Day 2 prompted a contentious debate about Manafort's expenditures. An executive and a manager of luxury menswear stores told jurors that Manafort spent hundreds of thousands of dollars on clothing and regularly paid with wire transfers from foreign bank accounts.
Manafort's bookkeeper testified the next day that she did not know of any offshore accounts.
Cindy Laporta, Manafort's accountant who has immunity to testify in the trial, said on the fourth day of the trial she may have committed a crime by filing tax returns for him that she thought contained false information.
In one case, she raised doubts about $2.4 million worth of funds Manafort had said was a loan from his international businesses. She said she was suspicious about whether they were actually a loan.
The fifth day of the trial brought a significant admission from Rick Gates, Manafort's former right-hand man: he said on Monday that he committed crimes with his boss.
And on Tuesday, Gates testified that both of them orchestrated an elaborate offshore tax-evasion and bank fraud scheme in Cyprus. According to the AP, Gates described the schemes as "documented as loans. In reality, it was basically money moving between accounts."
He also admitted to committing wrongdoing on his own — including embezzling hundreds of thousands of dollars without Manafort's knowledge.
Gates wrapped up his testimony on day 7 of the trial. Lawyers pointed to possible adulterous affairs with four women, according to the Washington Post. A former FBI accountant later testified that over four years, $60 million had crossed Manafort's bank accounts.
Judge T.S. Ellis, presiding over the case, began the eighth day of the trial with an apology for an outburst from the day prior.
"I was critical of counsel for… allowing an expert to remain in the courtroom... You may put that aside… I may well have been wrong." Ellis was referring to the scolding of prosecutors for calling on an IRS expert who had sat in on the trial the day prior — something Ellis allowed them to do.
Jurors heard from a Citizens Bank mortgage loan assistant later Thursday, who said Manafort had misrepresented a New York property to get a loan, per the AP. While considering a $3.4 million loan, it was found that the property was simultaneously available for rent on Airbnb for over a year. A matter the assistant said was questioned.
What's next: Prosecutors said they will rest their case on Friday. The remaining witnesses who may testify are bankers and people familiar with Manafort's debts and real estate portfolio, CNN reports. So far, 18 witnesses have testified. Manafort's defense team will then have a chance to present evidence and offer witnesses following the government's argument.
Go deeper