How movie theaters are surviving big tech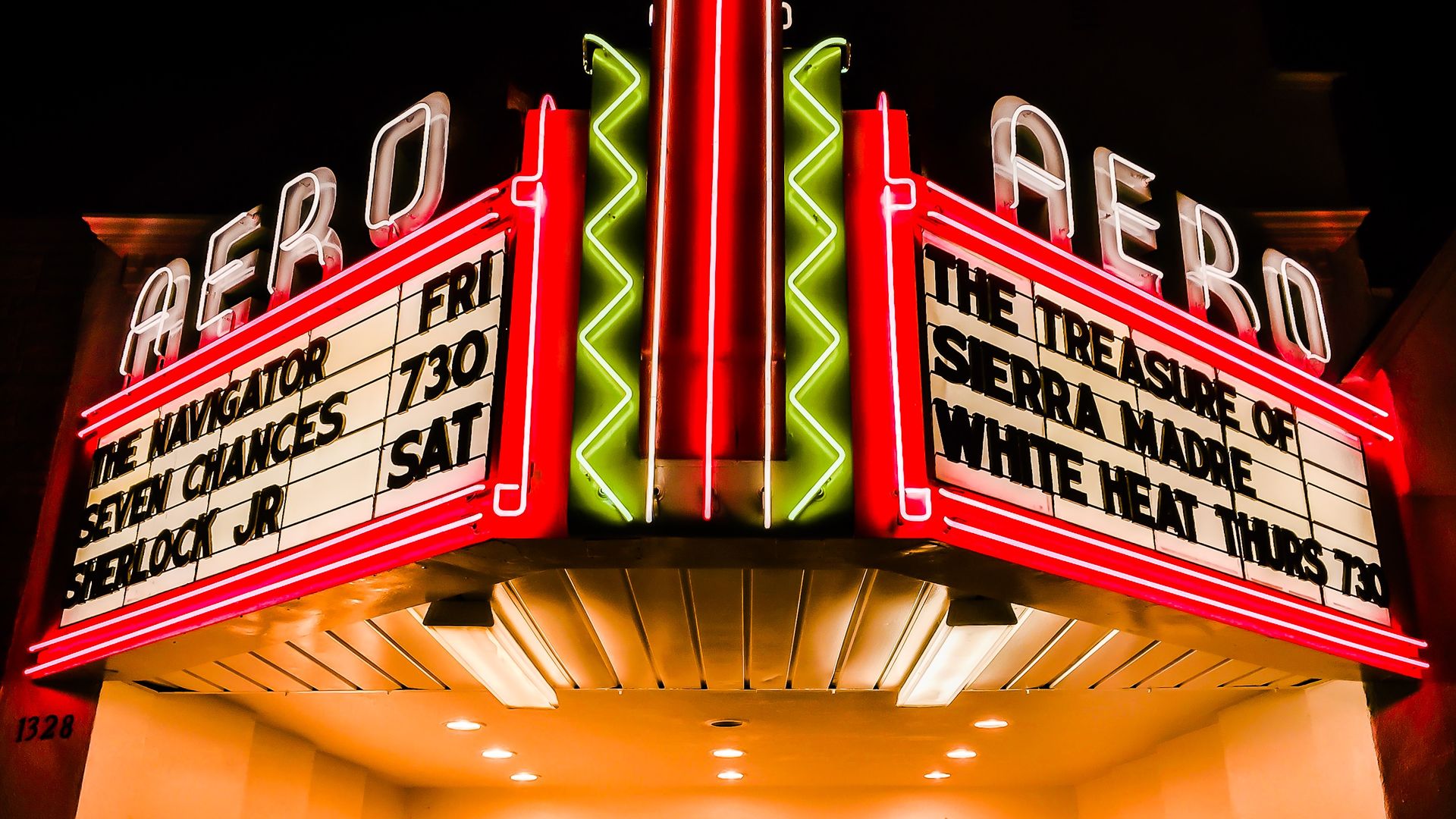 Technology companies are trying to disrupt the decades-old movie theater business, but unlike with other industries, they haven't entirely been able to crack the code.
Why it matters: Movie theater admissions have been relatively stable for the past three decades, despite the explosion of options technology has afforded consumers in entertainment. And those tech firms that are trying to break through the ticketing supply chain aren't having much luck.
MoviePass, the monthly subscription theater ticketing service with a beloved unlimited-ticket plan, has gone through a rough few months trying to develop a sustainable business model. And many analysts think it will be difficult for the startup to figure it out.
"MoviePass is going to be gone pretty soon. Up until the newest plan, unlimited tickets cost them $9.95. The average consumer watched three movies, so they spent a total of $25 and lost $15 ... It didn't make sense ... An exhibitor can offer that because it only has to pay the film rent."
— Michael Pachter, a research analyst at Wedbush Securities
MoviePass says it will survive. CEO Mitch Lowe said in an interview with Cheddar Wednesday the company will be profitable in 6-9 months, despite dragging shares for its parent company Helios and Matheson down by roughly 99 percent in the last year.
It recently introduced a new plan to limit monthly movie access to just three movies per month. Lowe says in one day "15% of our subscribers converted to 3-movie plan."
The problem for MoviePass, and other tech startups trying to disrupt the distribution landscape, like Sinemia, is that they will inevitably have higher costs than the theater companies themselves that are building competitive programs.
Cinemark announced Thursday that its subscription program Movie Club, which launched in December for $8.99 per month, reached 350,000 active members.
AMC announced last week that its subscription program "AMC Stubs A-list" has reached 182,275 members in five weeks.
To MoviePass' credit, Cinemark CEO Mark Zoradi told Deadline that MoviePass "has helped create awareness of subscription moviegoing," which could be what's helping boost theaters' programs.
Other big tech companies are investing in ticketing and theater ownership, but not for the purpose of competing directly with existing theaters.
Facebook brokered a partnership with AMC last month to help the theater chain sell tickets. Swapna Joshi, Facebook's product manager for movie ticketing, says it's "another way we're working to make going to the movies fun and easy." Facebook also has integrations with Fandango and Atom Tickets.
Netflix has considered buying movie theater chains in New York and Los Angeles, in an effort to gain an edge on Oscar nominations, per The Los Angeles Times. The company has said that it plans to release 80 original films this year.
Still, movie theaters need to innovate to capture consumers' shifting attention spans and to make sure their steady record of attendance doesn't slip.
Most are investing in new experiences to make the theater experience more dynamic, like fancier concessions and reclining seats.
They're also creating subscription programs that give customers more flexibility.
One area where tech is causing some concern, according to analysts, is the release window between studios and streamers.
Streaming platforms like Netflix, which are quickly approaching saturation in U.S. homes, often have rights to these movies within less than a year of theatrical debut.
This runs the risk of audiences getting used to waiting for content, rather than paying to see it in person. (Other rights releases for traditional television networks, Pay-per-view and DVR vary, but can be years-long.)
The window of release has caused a rift between studios and theaters for a while. Studios interested in cross-marketing want to get digital movies to viewers at home shortly after their release in theaters, but that makes theaters unhappy.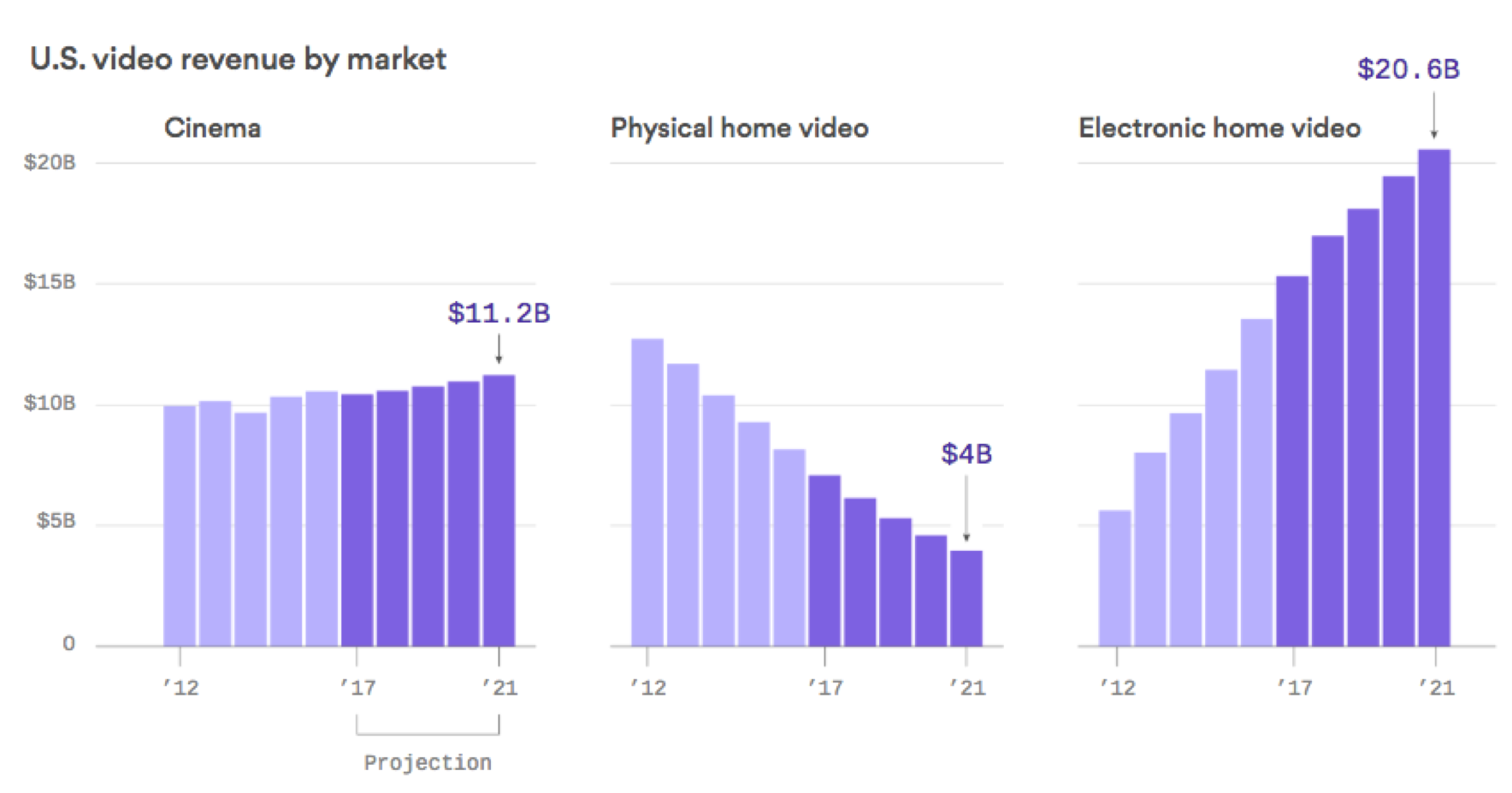 Bottom line: Americans still like to watch movies, but more options for accessing them are forcing theaters to adapt. Forecasts (like the one above) suggest that they will continue to adapt enough to grow revenues — at least slightly.
Go deeper