Big Tech ratchets up oversight on conspiracy theories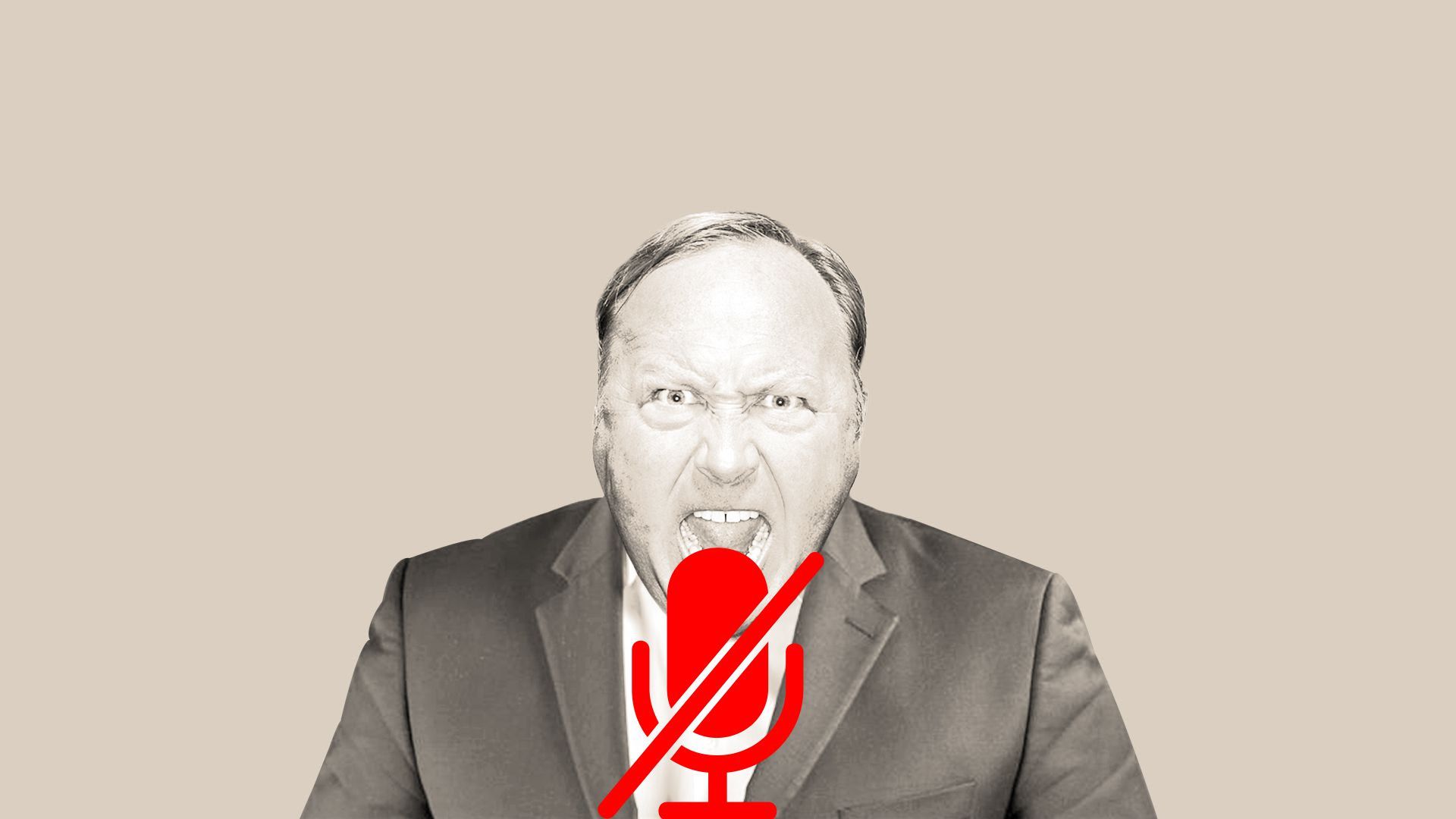 In less than a week, Spotify, Stitcher, Apple, Facebook, YouTube, LinkedIn and Pinterest have all taken action to either ban or crack down on InfoWars and its conspiratorial leader Alex Jones. The only platform exception so far has been Twitter, which says Jones has not violated its policies.
Why it matters: The sudden and collective boycott of Alex Jones is a significant tipping point for Big Tech, where values of openness and inclusivity have been tested for years by conspiracy theorists and bad actors.
Jones was ultimately banned from most of these platforms for hate speech, not misinformation, on which most tech platforms have a tougher time drawing a clear line.
The crackdown comes as Jones and Infowars currently face defamation lawsuits brought against them by Sandy Hook parents — due to his repeated false claims that the elementary school shooting is a hoax.
The big picture: This marks a milestone for organized boycotts on the left, which have included Jones for years on black lists that includes Breitbart News and Rush Limbaugh, per Axios' Mike Allen.
And it's a huge loss for fringe voices on the right that have for years taken advantage of the loose policies of open tech platforms to propagate conspiracy theories and other misinformation.
What's next? Jones has mostly been removed from having any major platform on the internet, with the exception of Twitter, his website, other less prominent platforms on the web (Gab, 4chan), and ... his apps.
Infowars launched a new app on July 9th, replacing its old app that was built in 2016. It has been downloaded about 93,000 times already and has logged more than 600,000 hours spent in-app by these users, according to Apptopia estimates.
It's currently ranked #4 in top free apps in the news category, ahead of those like MSNBC, BBC News, Fox News and the New York Times in the Apple App Store.
Go deeper