Go deeper: Big Tech's new push against Alex Jones and Infowars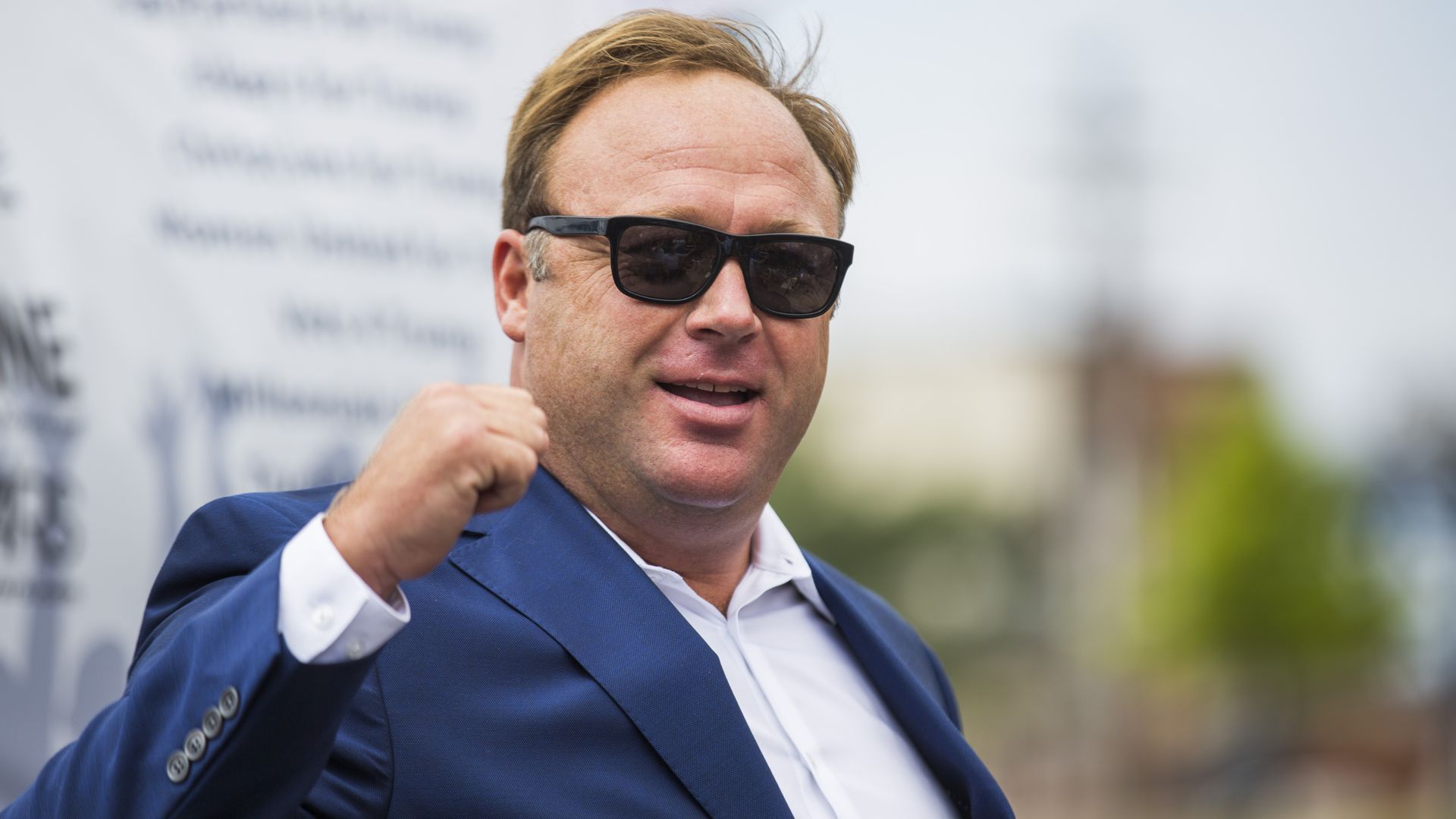 Pinterest has become the latest tech company to pull down Infowars leader Alex Jones' page, Mashable reports. YouTube said it terminated Jones' channel earlier Monday, just hours after Facebook removed four of his pages. Apple and Spotify have also removed Infowars content over the past week for violating their conduct policies.
The big picture: The rush of Big Tech action against Jones and his organization has occurred while he is embroiled in a defamation lawsuit brought against him by Sandy Hook parents — due to his repeated false claims that the elementary school shooting is a hoax — and as his brand of conspiracy theories hit the GOP mainstream last week.
YouTube had previously issued "strikes" against Jones' channel for violating its policies against hate speech, but his attempts to circumvent those penalties using other accounts led to his termination. The company issued a statement on its decision to CNBC:
"All users agree to comply with our Terms of Service and Community Guidelines when they sign up to use YouTube. When users violate these policies repeatedly, like our policies against hate speech and harassment or our terms prohibiting circumvention of our enforcement measures, we terminate their accounts."
Facebook finally took action Monday because it says the Infowars content broke its standards by "repeatedly" posting hate speech that "attacks or dehumanizes" others.
Facebook won't publicly say how many pieces of nefarious content a Page or person needs to post before being removed — out of fear that it could lead bad actors to abuse the system. Infowars, it seems, has met its threshold.
Facebook posted a blog post this morning explaining in more detail how it makes decisions around removal. Critics of the company's free speech policies argue that a lack of transparency around the exact threshold for removal causes confusion.
Tech's push against Infowars began in the podcasting sphere.
Apple took action Sunday night when it removed the majority of Infowars' library of content from its iTunes and podcast apps for violating its hate speech policies, per Buzzfeed News. As Axios' Zach Basu notes, Apple's move is one of the strongest yet by any tech company against Jones' conspiratorial content.
Spotify was the first company to remove Infowars' content, deleting several episodes of Jones' podcast last week. It has since removed all episodes of "The Alex Jones Show" from its platform.
Stitcher, another podcast platform, removed Jones' podcasts for posting content that allowed harassment of private individuals and organizations on multiple occasions, per Billboard.
The big picture: Tech companies that embrace openness and free speech as a part of their corporate values and business models are grappling with how to handle content that is deemed unacceptable to most people, but embraced by a small few.
Most draw the line at whether or not that speech leads to violence, but these recent actions show that tech companies are now willing to go a step further and include online harassment and hateful content as a part of that definition.
What's next? Look for an outcry from conservative groups arguing that Big Tech, which tends to lean progressive in its corporate social responsibility values, is trying to purposefully censor conservative voices.
Go deeper