Updated Aug 5, 2018 -

World
Inside Russia's invasion of the U.S. electric grid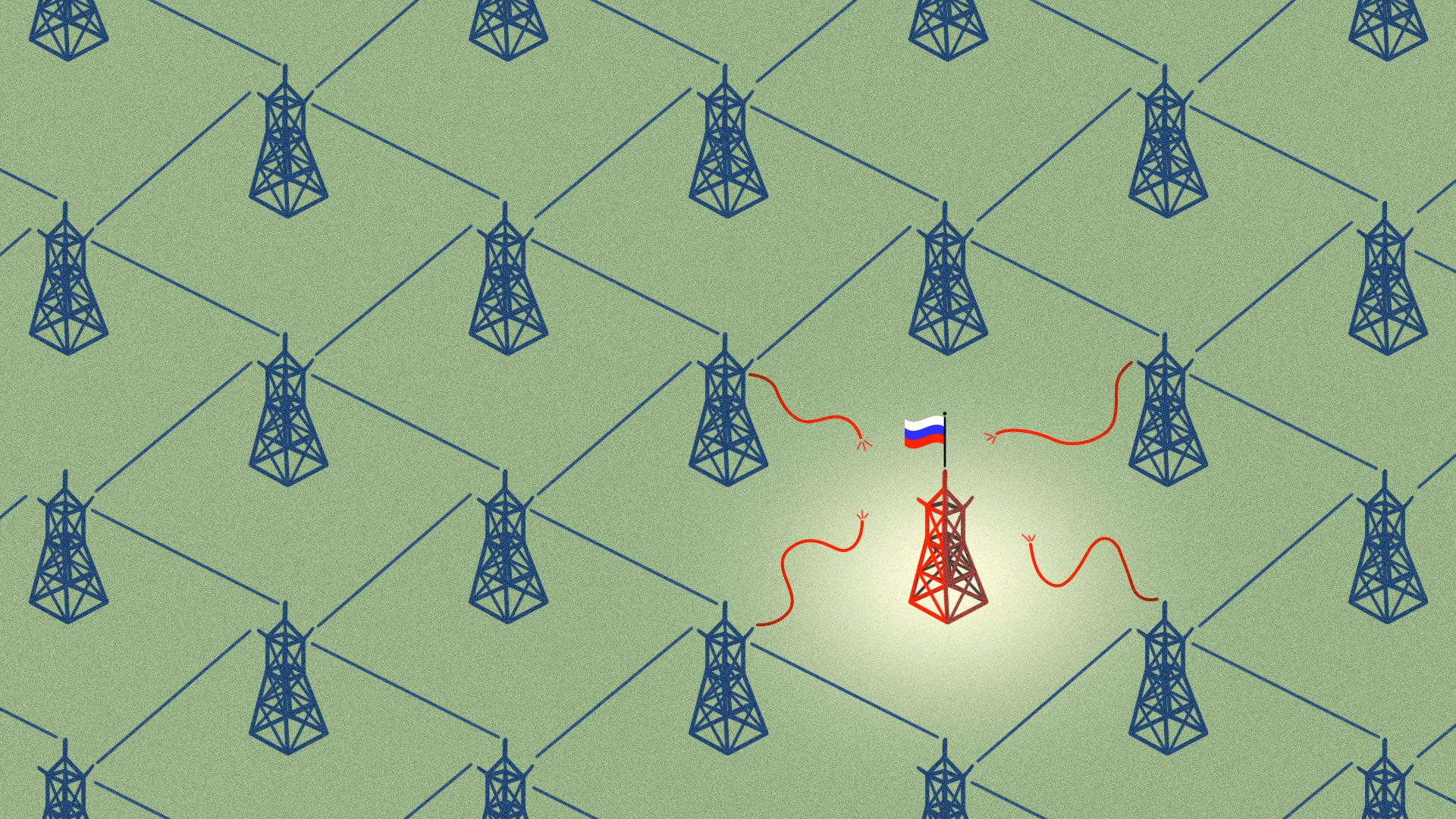 In the Cold War, the U.S. and Russia deterred any major attack by the other with existentially dangerous arsenals of nuclear-tipped missiles. Now, Russia has what it views as a potent new deterrent, experts say — cyber implants in the U.S. electric grid.
What's going on: Over the last year, Russian hackers have infiltrated power stations and other points on the U.S. grid — and now are inside hundreds, empowering them to create chaos with massive blackouts, U.S. officials say.
The big picture: Experts tell Axios that, rather than plotting an attack, the Kremlin is sending a deliberate message.
You guys better back up because look what we can do!
—
James Lewis, director of the technology program at the Center for Strategic and International Studies
In a special Axios report yesterday, current and former senior U.S. intelligence and security officials said a crippling cyberattack is the country's greatest threat. Security experts say a blackout, especially if prolonged, could create social and economic chaos — and possibly lead to civil violence.
U.S. officials are increasingly worried about the Russian breaches. On July 23, the Department of Homeland Security went public, describing the infiltrations by Kremlin-backed actors called Dragonfly or Energetic Bear, and it plans to ring the alarm in further briefings around the country.
In a way, the dynamic resembles the Cold War:
The U.S. and Moscow are eyeball to eyeball, each capable of taking down large parts of the other's infrastructure.
"Since 2015, the Russian government has been clear that it has wanted a nuclear-like deterrence in cyberspace," says Christopher Porter, a senior fellow at the Atlantic Council and chief intelligence strategist at FireEye, a cybersecurity firm. "The U.S. has shown 'shock and awe' in cyberspace, and Russia wants to show it can keep pace with the U.S."
That's why Russia has launched hundreds of incursions against the U.S. grid. There's no one main switch that can cause a massive nationwide blackout because the system itself is so decentralized.
But, unlike the depths of the Cold War, the two rivals have no treaty setting boundaries for weapons deployment and use. In both the Obama and Trump administrations, Russia has pushed for a cyber arms control agreement. But arms control experts say it will be extremely hard to formulate one that is verifiable and enforceable.
What's next: For now, experts say that, while Russia's grid attacks may seem aggressive, they have actually been comparatively restrained. In 2016, for instance, it attacked and took down a large part of Ukraine's electric grid, but did not use that as cover to send in tanks or capture more territory, Porter said. Instead, at this stage, in the U.S., Europe and elsewhere, Moscow seems to be signaling its capabilities.
Lewis added that, in the U.S. specifically: "There's been all this talk of doing something against Russia because of the election hacking. They want the option of doing something back."
Go deeper: The greatest threats facing the U.S., a special report from Axios.
Go deeper