California's "fire tornado" had 143 mile-per-hour winds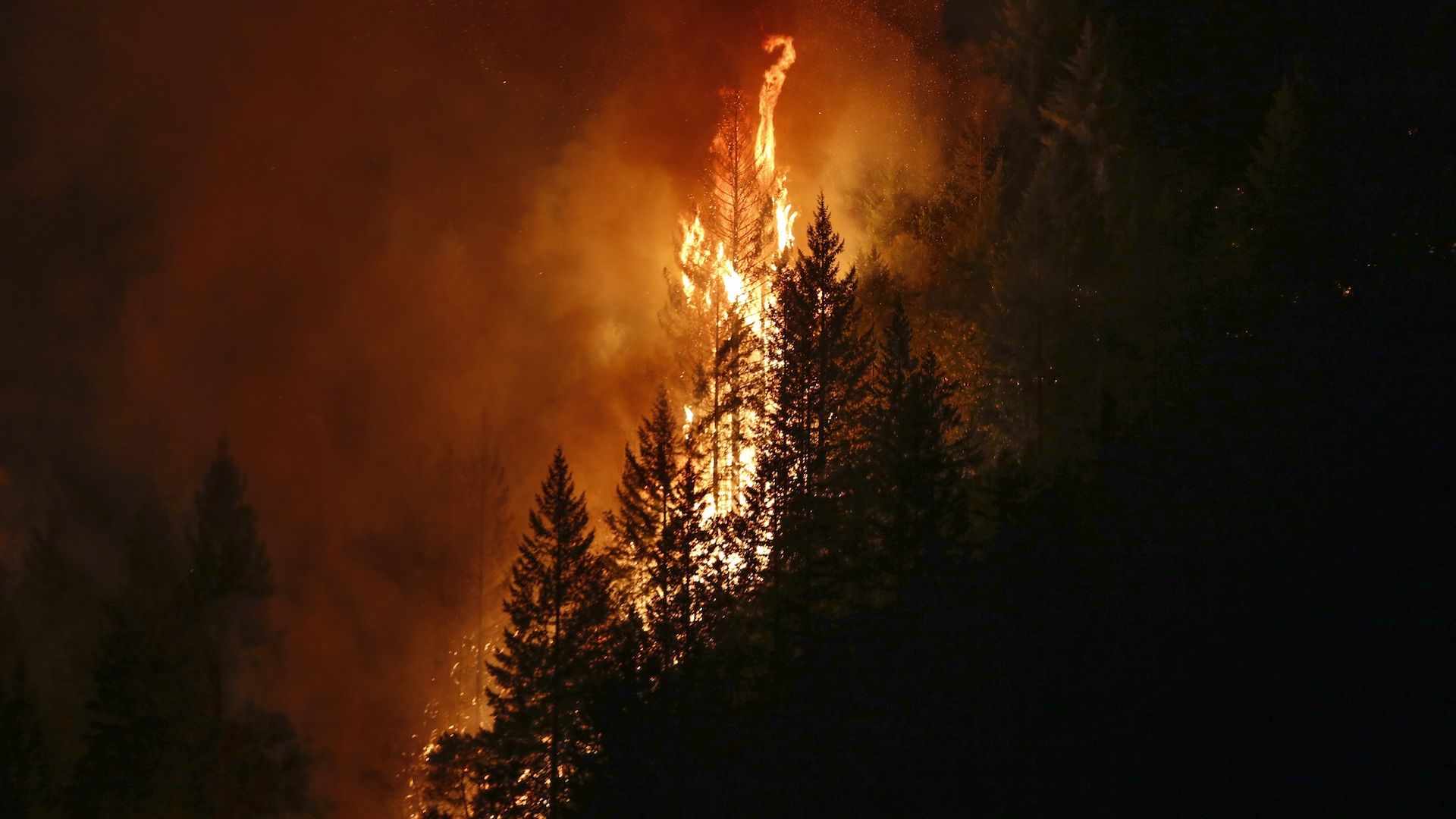 The fire whirl, or fire tornado, that swept into Redding, California on July 26, appears to have had winds as strong — if not stronger than — an EF-3 tornado, according to the National Weather Service.
Why it matters: The Carr Fire now ranks as one of the state's largest and most destructive wildfires on record. The extreme fire behavior exhibited on July 26 allowed the blaze to jump a natural fire break — the Sacramento River, and enter the city of Redding. So far, the fire has claimed at least 6 lives.
The National Weather Service typically conducts damage surveys after suspected torndadoes, and determines the strength of such an event based on the damage it causes. In this case, the Weather Service and CalFire are conducting a joint investigation.
So far, they've found evidence, including transformers that were twisted and thrown to the ground, of winds in excess of 143 miles per hour, according to a tweet from the Weather Service office in Sacramento.
"It was definitely a massive one, and that just speaks to how intense the heating was," National Weather Service meteorologist Mike Kochasic told the Los Angeles Times. "It created such a massive whirl that it looked like a tornado … and it takes an impressive amount of heating and local wind swirling up to create something like that. It was quite a monster."
Between the lines: While it's possible such events have occurred in the past and simply gone unmeasured, this does seem to be an extremely rare event.
Fire weather expert Neil Lareau of the University of Nevada at Reno told Axios earlier this week that the Carr Fire's rotating smoke plume acted as a chimney, venting heat and smoke away from the blaze, and sucking in air from surrounding areas.
Lareau said when the rotating part of the smoke plume intensified on the evening of the 26th, the top of the smoke plume suddenly ballooned from 18,000 feet high to 38,000 feet, a feat that might not have been possible otherwise.
This growth sucked more air into the fire, and indicates it was burning hotter.
"Once the rotation gets going, it sort of self-intensifies in that it further lowers the pressure, which draws in more air; it further increases the rate of rotation; further increases the updraft," Lareau said.
"And unfortunately in these fire cases, it usually increases the rate of combustion as well, and intensifies the fire, so it's kind of like a vicious cycle in that way."
— Neil Lareau
Go deeper: How the Carr Fire morphed into a towering, deadly "fire tornado"
Go deeper