A "pervasive" new worry for campaigns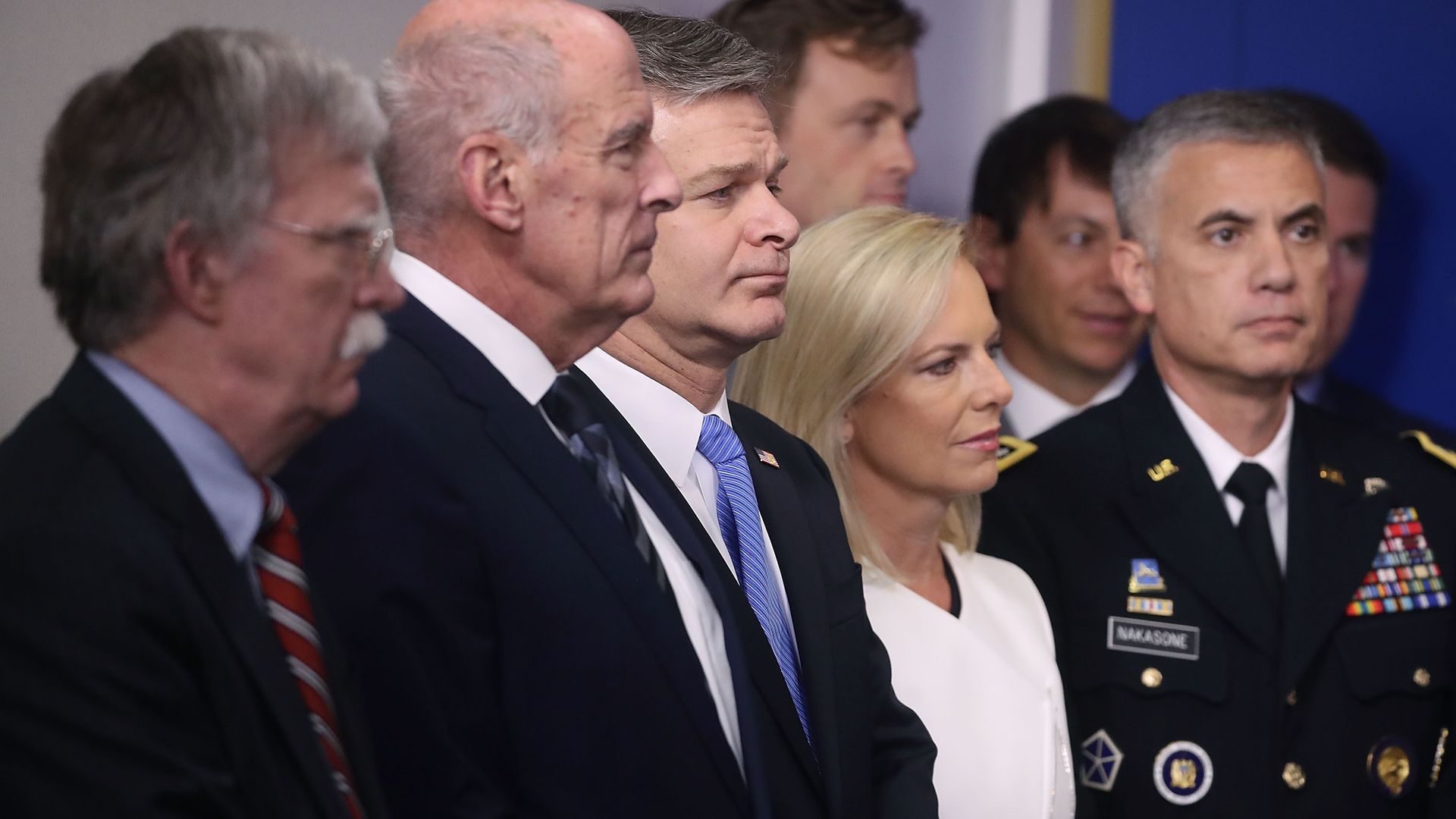 Social media misinformation campaigns are now a permanent fight for candidates and officeholders, and will just get worse with the AI-driven deepfake technologies, which make it easy to phony up images, audio and video.
Why it matters: Check out the photo above. Rarely do you publicly see this many national-security officials in one place. And it's even rarer for it to be in the White House briefing room, where most of the daily jousting is over inches.
Between the lines:
An aide to Sen. Kamala Harris (D-Calif.) tells AP that every month for the last 18 months, her office has discovered an average of three to five fake Facebook profiles pretending to be hers.
Some of that could just be political opponents or profiteers, but Sen. Claire McCaskill (D-Mo.) last week said Russian hackers tried unsuccessfully to attack her Senate computer network in 2017: "Putin is a thug and a bully."
The takeaway, from AP: "[C]ampaigns are largely on their own in the increasingly challenging task of protecting sensitive information and countering false or misleading content on social media."
Partly because of rising questions from Capitol Hill, the administration is trying to show that it's paying attention, despite contradictory signs and seeming nonchalance by President Trump.
The officials came together yesterday to warn anew about a hidden war by Russia on U.S. campaigns and elections, and to say that they're on it:
Director of National Intelligence Dan Coats: "In regards to Russian involvement in the midterm elections, we continue to see a pervasive messaging campaign by Russia to try to weaken and divide the United States."
Secretary of Homeland Security Kirstjen Nielsen: "Our democracy itself is in the crosshairs."
FBI Director Christopher Wray: "Just last week, ... we disseminated a list to our state and local law enforcement partners of various foreign influence indicators for them to be on the lookout for — things like malicious cyber activity, social abnormalities, and foreign propaganda activities."
National security adviser John Bolton: "We meet on this constantly, the senior staff here at the White House."
Russia isn't the only threat, Coats added: "We know there are others who have the capability and may be considering influence activities."
I asked a couple of Obama national-security alumni to read between the lines of this remarkable briefing:
Jeremy Bash, former chief of staff at the CIA and Pentagon: "The women and men who work in law enforcement, intelligence and the military expect their leadership to speak 'truth to power,' even if the President doesn't want to hear it. That's what happened today."
Matt Miller, former Justice Department spokesman: "It's pretty clear this press conference happened because the staff realized Trump did deep damage to his presidency in Helsinki and raised real doubts in people's minds about where his loyalties lie, and they convinced him they needed to signal to the American people that he is not actually in bed with the Russians."
Be smart, from Matt Miller: "You can't admit to Russian interference at the same time you are claiming the investigation that is holding Russians accountable is a witch hunt. ... So you will continue to see this dissonance."
Go deeper