Europe's all-time heat record could fall this weekend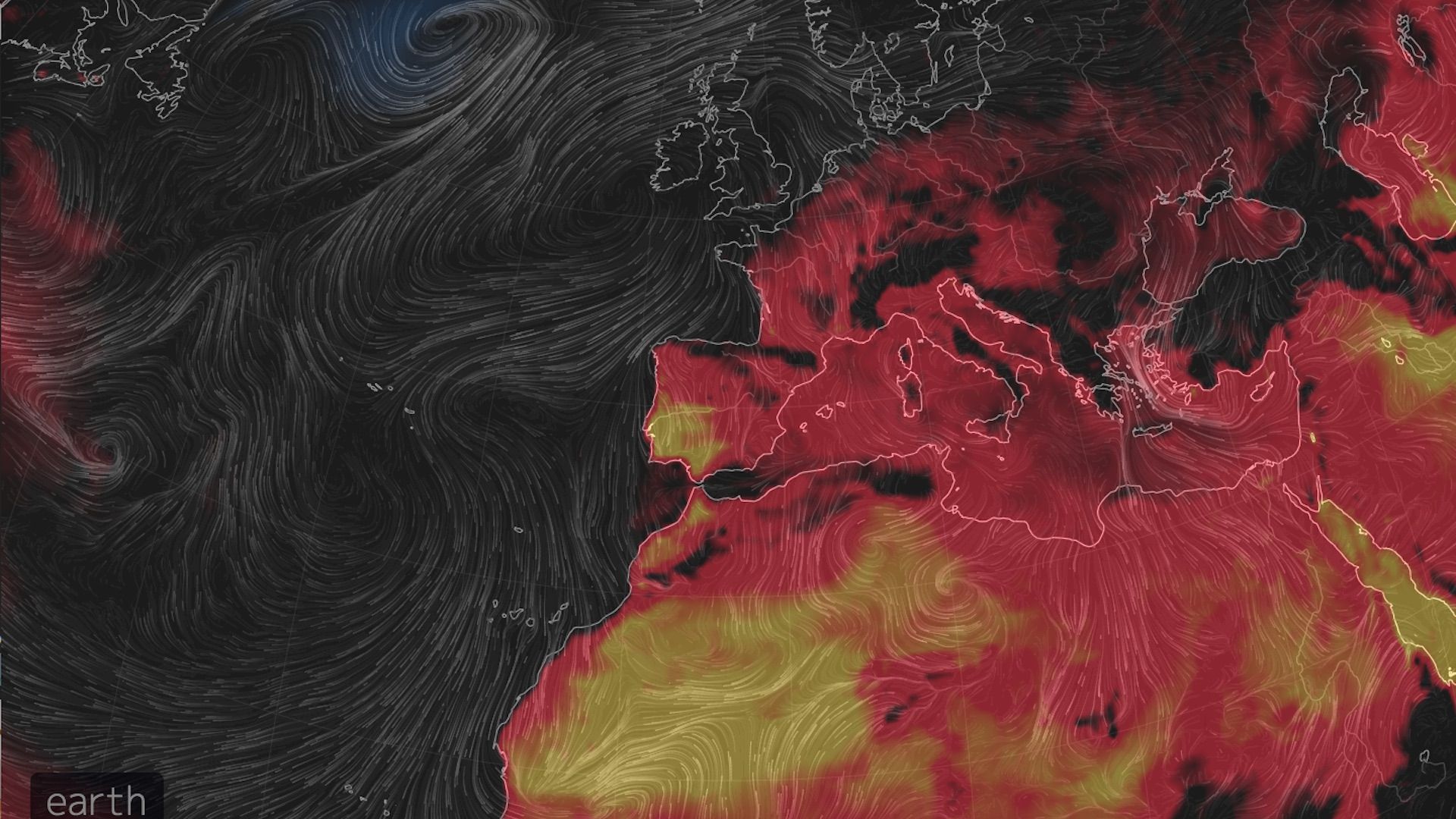 A building heat wave in Portugal and Spain threatens to topple national and all-time high temperature records in a continuation of a series of remarkable heat waves that have roasted the Northern Hemisphere this summer.
The big picture: The heat wave will be most intense in Portugal, Spain and parts of France, although the U.K. will also see above average temperatures for this time of year. In Spain and Portugal, the fire danger will climb to dangerous levels as temperatures soar, humidity levels plunge, and downslope winds increase.
A massive high pressure ridge, with a clockwise circulation of air around it, will pump hot, dry air filled with dust from the Sahara Desert into the Iberian Peninsula through the weekend. Already on Thursday, the high temperature in Alvega, Portugal reached 44.6°C, or about 112°F, according to the U.K. Met Office.
By the numbers: The heat is expected to crank up in coming days, with computer models projecting astonishing high temperatures of at least 118°F to 122°F, or 50°C, in southwest Spain and Portugal during the next few days. Models tend to have trouble projecting temperatures in such extreme situations, leaving open the question of what records will be broken.
According to Weather Underground meteorologist Bob Henson, the hottest temperature ever recorded in Portugal is 117.3°F, or 47.4°C, set in August 2003.
Spain's all-time high temperature record stands at 117.1°F, or 47.3°C, set on July 13, 2017. Both of these records may fall during the next few days.
According to the World Meteorological Organization, the all-time high for continental Europe stands at 118.4°F, or 48.0°C, set in Athens in 1977.
In addition to the heat, the wildfire danger will be extremely high in Spain and Portugal, as well as southern France, during the next few days. Portugal and Spain were hard hit by deadly fires last year.
The global picture: The latest heat wave comes in the wake of the hottest-ever day on the Korean Peninsula, hottest July in Finland, the hottest-ever month at any location in the U.S.
Some of the many other heat records that have fallen in the past few months include:
Several locations had their warmest all-time month in July, including the normally temperate Caribou, Maine. It was a top 5 warmest July in almost every observing station in the West, where deadly wildfires are burning.
In Europe: Unprecedented heat led to a rare wildfire outbreak in Scandinavia, and record highs have been set all the way above the Arctic Circle. According to the U.N., Sodankyla, Finland hit 89.2°F, or 31.8°C, on July 17, which was an all-time record for that location.
The ties between heat waves and climate change are robust, with climate scientists already tying the Scandinavian and U.K. heat waves to climate change.
Michael Wehner, a climate researcher at Lawrence Berkeley National Laboratory in California, called 2018 "an unusual year."
"While I expect that high temperature records will continue to be broken at abnormally high rates because of global warming, I would not have guessed that so many would be broken in the same year."
— Wehner to Axios via email earlier this week
Noah Diffenbaugh, a climate scientist at Stanford University, published a study last year that found a fingerprint of climate change in heat milestones worldwide. The study found that climate change has boosted the odds of record-breaking heat across more than 80% of the surface area of the globe for which reliable observations were available.
Go deeper: 2018's global heat wave is so pervasive it's surprising scientists
Go deeper