Manafort trial day two puts major purchases in the spotlight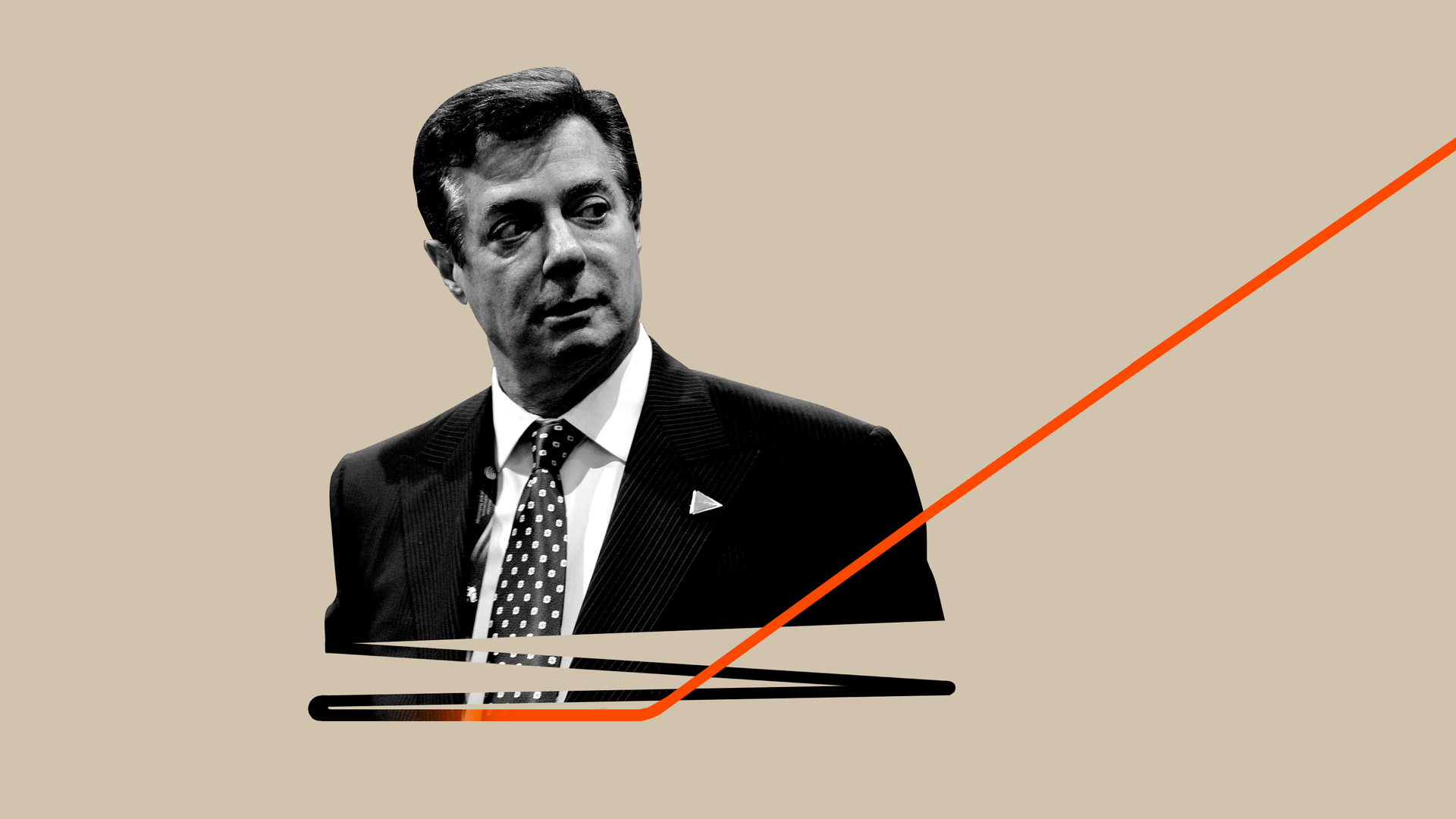 During the second day of Paul Manafort's trial, an executive and a manager of luxury menswear stores testified that Manafort spent hundreds of thousands of dollars on clothing, regularly paying with wire transfers from foreign bank accounts, according to the Washington Post.
Why it matters: Paul Manafort is facing charges of tax and bank fraud — specifically laundering $30 million in income, secretly keeping money in offshore accounts, acting as a foreign agent during his work with Ukraine, obstruction of justice and making false statements.
Other key takeaways:
10:26 a.m. Daniel Rabin, who also worked with Gates and Manafort, testified about their work creating political ads and aiding campaigns in Ukraine.
3:01 p.m. Ronald Wall, the Chief Financial Officer of House of Bijan in Beverly Hills, tallied up a two year bill for Manafort of $334,000. All of Manafort's purchases at House of Bijan were made via wire transfers, according to Wall's testimony, which he noted was unusual.
3:27 p.m. The prosecution is ahead of schedule, and told Judge T. S. Ellis that they could be done presenting their case next week. They went on to suggest Rick Gates — a close business partner who has also faced charges from Mueller — may not end up testifying. The trial was originally expected to last three weeks.
Manafort made other large purchases via wire transfer as well that the prosecution team honed in on.
He helped his daughter purchase a $1.9 million home in an all-cash transaction via a wire transfer according to testimony from the real estate agent they worked with.
A salesman at Mercedes Benz testified that Manafort's wife purchased a new SL550 in 2012 via a wire transfer from Lucicle Consultants Ltd. that cost $124,000.
The big picture: Manafort's trial is the first of special counsel Robert Mueller's investigation into the Trump Campaign and potential ties to Russia. Though Mueller's team likely won't make any reference to "Russians" or "collusion," it is expected the team will instead focus on alleged financial crimes by Manafort.
Go deeper with the highlights from day 1.
Go deeper