Go deeper: What Trump's latest changes mean for the ACA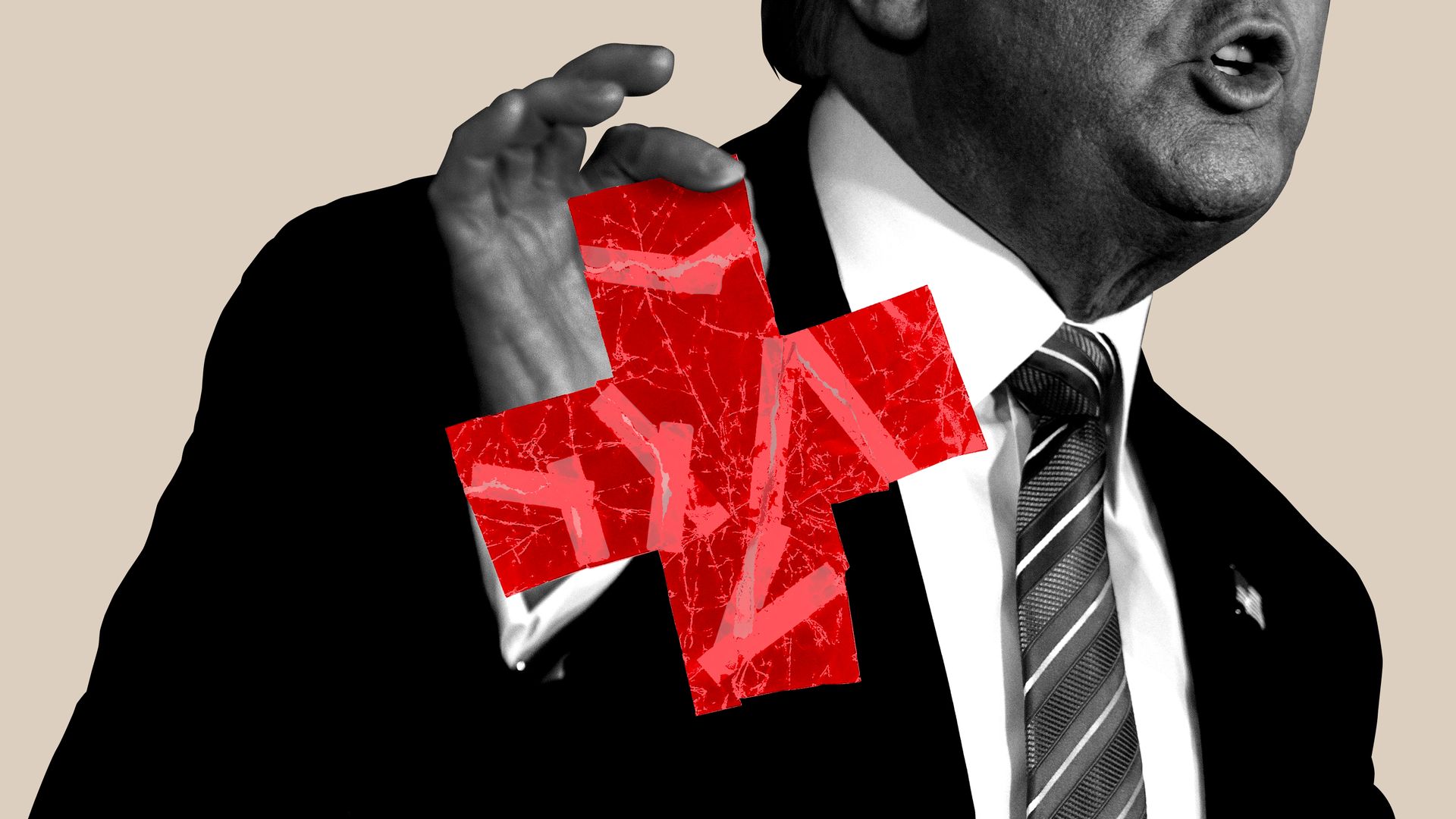 The Trump administration's expansion of so-called "short-term" insurance plans is the latest step — and one of the most significant steps — in a slow and steady march away from the basic tenets of the Affordable Care Act.
The big picture: Short-term plans are especially controversial because they challenge two fundamental parts of the ACA: its minimum standards for what insurance has to cover, and its goal of making those guarantees work by pulling in a mix of healthy people.
The details: The Department of Health and Human Services finalized regulations yesterday that will let people hang on to "short-term" plans for up to three years. The Obama administration had limited them to three months.
Short-term plans are often cheap — a lot cheaper than ACA coverage. Their premiums can be as low as $25-$55 per month, according to a Kaiser Family Foundation analysis, compared with more than $200 for the cheapest ACA plan.
They're cheap because they don't provide much coverage. None of the plans Kaiser surveyed covered maternity, and most didn't cover prescription drugs. Some won't cover hospital care on a weekend.
That means they're mainly attractive to people who are confident they won't need to use their insurance — the most desirable customers in any insurance market.
Between the lines: Short-term plans on their own probably would not make a big enough dent in ACA coverage to cause a panic.
But these rules are part of a trend: HHS has also expanded access to association health plans and slashed funding for enrollment outreach, and Congress nullified the ACA's individual mandate.
Taken together, all of that creates separate markets for healthy and sick people. Rather than trying to coax healthy consumers into the ACA's markets, using their premium dollars to help subsidize guaranteed coverage for the sick, the Trump administration is giving healthy people more options outside the ACA.
What they're saying: HHS Secretary Alex Azar said the new rules were not designed to undermine the ACA. Rising premiums already made its markets unworkable, he said.
Whether you think Trump is sabotaging the ACA or simply acknowledging a failure that already happened, the central truth is that it's not trying to improve the mix of healthy and sick consumers, as the Obama administration did. It's largely giving up on that goal.
"The Affordable Care Act is sabotaging itself."
— HHS Secretary Alex Azar
Winners:
UnitedHealthcare, which is the biggest provider of short-term plans in the country. (Incidentally, United's short-term plans paid out 43% of the premiums they collected last year on medical care. ACA plans have to pay out at least 80%.)
Insurance brokers like eHealth, which stand to make a lot of money as healthy people look outside HealthCare.gov. eHealth's shares were up more than 9% yesterday.
Healthy people who don't end up needing much coverage.
Losers:
People with pre-existing conditions or who need coverage for services like prescription drugs, but who make too much money to qualify for financial assistance under the ACA.
The ACA, at least to some extent. HHS estimates that only about 200,000 people will switch from ACA coverage to a short-term plan.
What's next: States can still impose additional regulations on short-term plans, and some of them surely will. That could include tighter limits on how long the policies can last, or benefit requirements.
Expect to see big discrepancies between red and blue states — a common refrain in health care.
Democratic attorneys general could also sue over the change, as is their wont.
Go deeper