Facebook sidesteps the Russia trap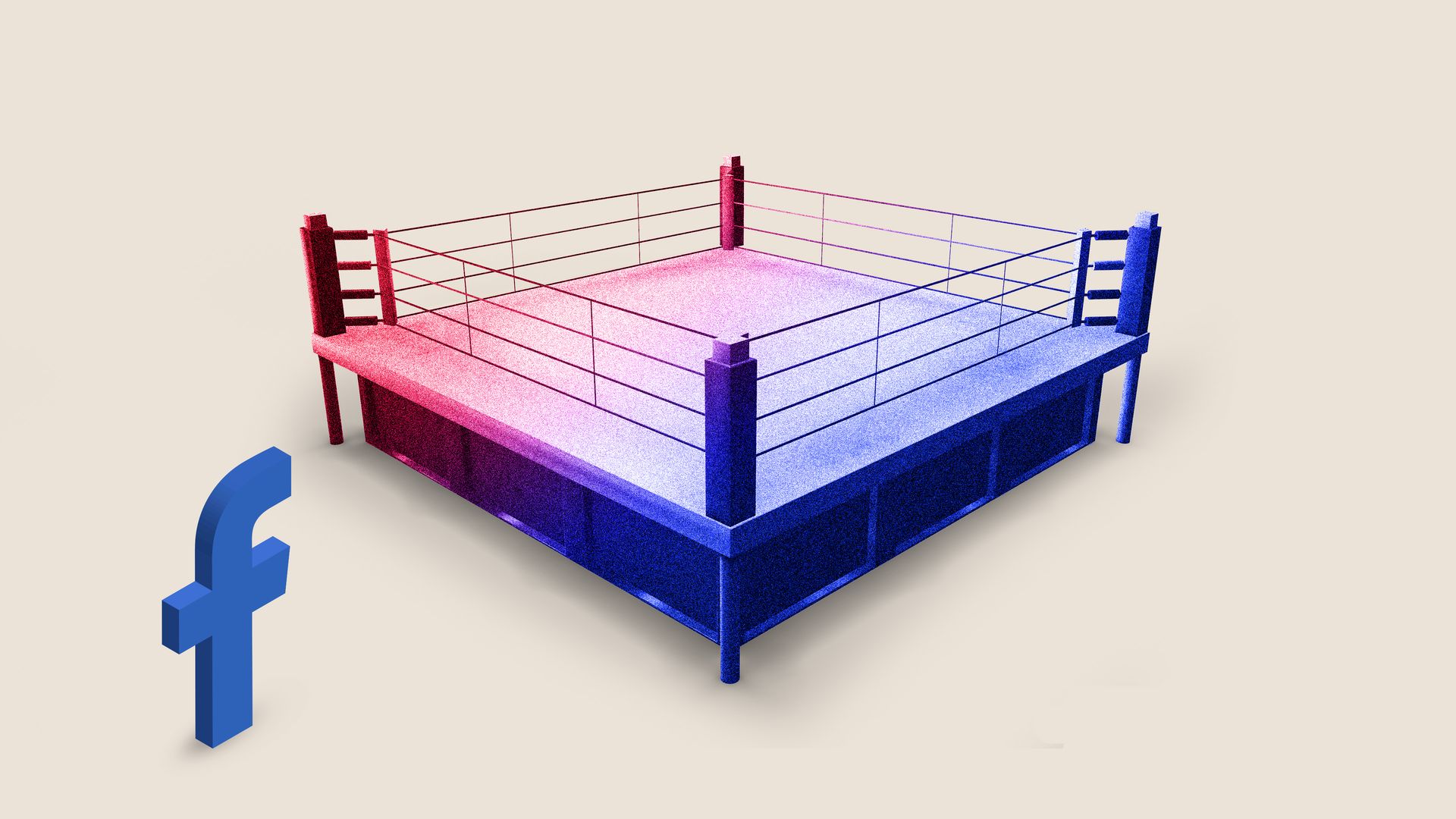 Facebook's discovery of a new political disinformation campaign — without publicly placing blame on a specific culprit — drew a line between what it can reasonably do to spot these operations and the government's role in determining their motives.
Why it matters: It ended up being a decent day for Facebook, which just dealt with a grueling week of negative press after its earnings face-plant. Facebook managed to avoid a fierce political battle over the disinformation campaign's motive while also getting credit for shutting it down.
How we got here: It's the federal intelligence community's responsibility to identify broad national security threats. Facebook and its social media peers, however, have taken much of the blame for allowing ads and propaganda placed by groups that they now realize had suspicious qualities — such as bot-like behaviors or using Russian currencies to pay for ads.
Yes, but: In a press call following its announcement, Facebook executives including Chief Operating Officer Sheryl Sandberg, made it clear that assigning blame for the disinformation campaign falls to Washington. "We briefed law enforcement, and we briefed the intelligence committee, so that they can sort of make those sorts of assessments," said Nathaniel Gleicher, the company's head of cybersecurity policy.
Facebook's Chief Security Officer Alex Stamos laid out why:
"Companies like ours don't have the necessary information to evaluate the relationship between political motivations that we infer about an adversary and the political goals of a nation state. As a result, we don't think it's appropriate for Facebook to give public commentary about the public motivations of a nation state."
— Alex Stamos
Facebook shared information about the accounts and pages with the Atlantic Council, a think tank, which published an analysis Tuesday evening of the content they produced but not their origins.
The other coast: Facebook would have walked into a political trap by assigning attribution to the root of the disinformation operation. Democratic lawmakers, joined by some Republicans, immediately said Russia was at fault, after Trump and his supporters have tried to cast doubt on the idea the Russians meddled in the 2016 election. (The intelligence community has found they did.)
Senate Intelligence Committee Vice Chairman Mark Warner immediately blamed the "Kremlin" for the campaign.
House Democratic Leader Nancy Pelosi said that Facebook's announcement confirms intelligence agencies' findings "that Russia is actively utilizing social media in a coordinated effort to sow discord among the American people and undermine our democracy."
President Trump's allies, meanwhile, were quick to paint the campaign as an effort to take him down.
Because some of the ads released as a part of the announcement seemed to be left-leaning, conservative social media personality Mike Cernovich immediately tweeted, "Those pages were all far left wing Mother Jones fans. Y'all are the ones being propped up by Russia."
The conservative Daily Caller wrote an article saying, "Facebook Says It Has Identified A Political Influence Campaign Aimed At Creating Left-Wing 'Resistance."
The big picture: This was the first announcement from any social platform about signs of a new coordinated disinformation campaign ahead of the 2018 elections. It was mostly well-received.
"We got a heads up they were going to take this action … we commend their leaning forward on this," said Christopher Krebs, undersecretary for the National Protection and Programs Directorate at the Department of Homeland Security, speaking to reporters at a security summit in New York Tuesday.

Krebs declined to attribute the campaign to specific actors, deferring to intelligence agencies. "What we work with social media companies on is broader trend analysis, not specific content," he added.

"I am glad to see that Facebook is taking a much-needed step toward limiting the use of their platform by foreign influence campaigns," said Senate Intelligence Committee Chairman Richard Burr.
Our thought bubble: If Facebook says its platform is being abused, it wouldn't be surprising if other platforms are being manipulated or facing threats, too.
Releasing information about its findings quickly also allowed Facebook to get out ahead of its competitors who were also entangled in the campaigns aimed at influencing the 2016 election.
Facebook, which has gotten the brunt of the heat for how Russian actors used its platform, now has the benefit of being seen as forthcoming and transparent — even without giving a full picture of who's behind the campaign it discovered.
Twitter declined to comment and Google didn't respond to requests for comment when asked if they had found similar suspicious activity on their platforms.
Go deeper:
Go deeper