Scoop: Yahoo Finance launching live video streaming network this year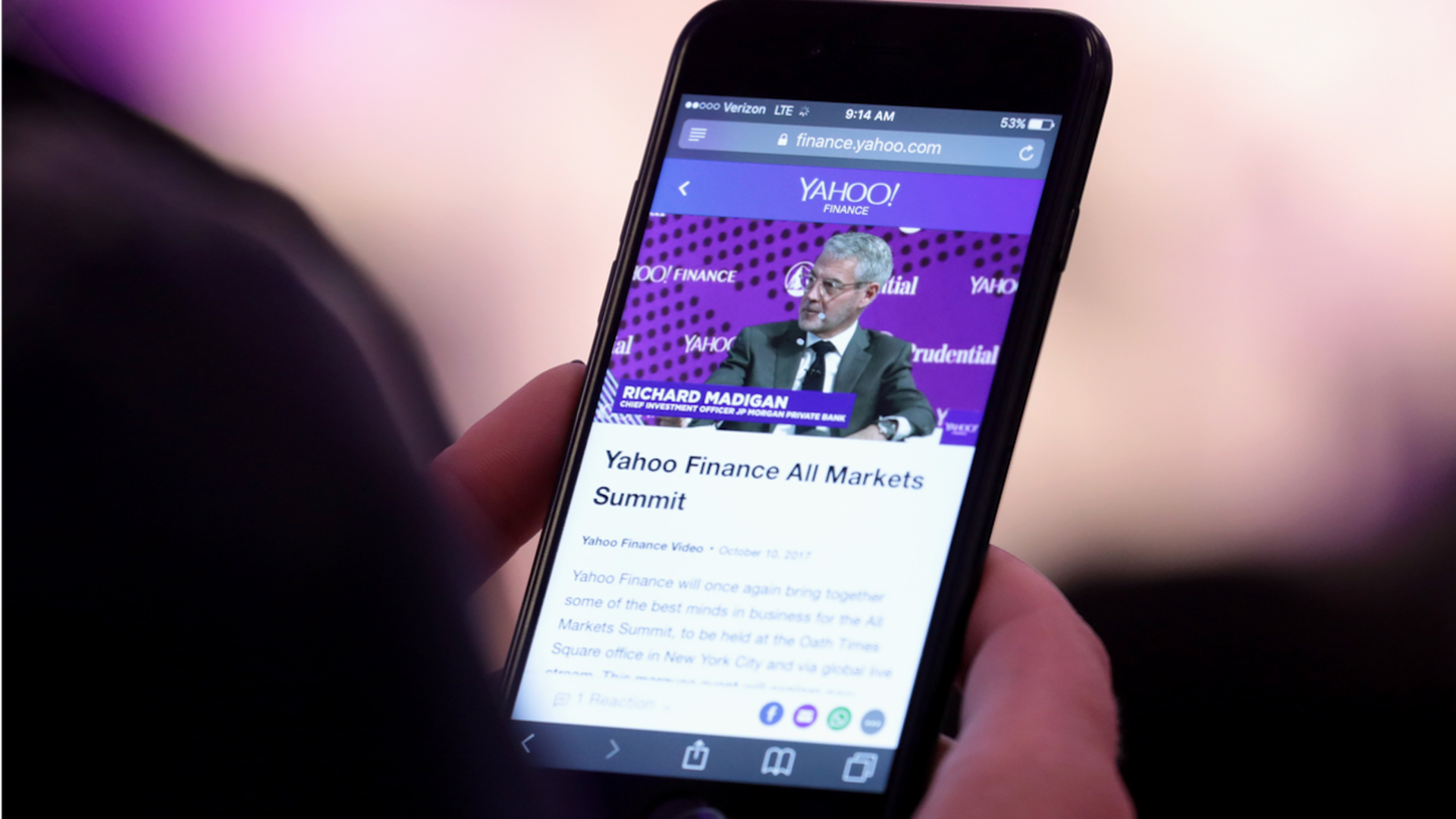 Yahoo Finance is launching a full-day live video streaming network by the end of the year, three sources familiar with the plans tell Axios.
Why it matters: It's the latest example of a digital-native news outlet getting into streaming news to capture more audience attention on mobile and to compete for television dollars.
The network will include 8-hours of live market and global financial news updates, which would make it a rival to the new digital streaming business network Cheddar and to an extent, CNBC, Fox Business and Bloomberg.
Sources say the company is in active discussion with OTT providers and bundles about getting the content on platforms other than its O&O channels.
Beginning in August, Yahoo Finance will begin to increase its roughly 1.5 hours - 2.5 hours of live programming a day to reach 8-hours of live, bell-to-bell coverage by the end of the year. 
The coverage will include Yahoo's Finance's three daily live shows – Market Movers, Midday Movers and The Final Round — as well as other content it's been testing on social media, such as Morning Meeting, its morning show that airs on Facebook.
Sources say Oath CEO Tim Armstrong and Joanna Lambert, GM of Finance & Tech, are the driving forces behind the expansion, which has been in the works for a long time. Andy Serwer, Editor in Chief of Yahoo Finance, will continue to oversee editorial direction and content.
"As a digitally native platform, innovation is in our DNA. Our unique video capabilities, combined with unrivaled access to financial data, editorial content and investing tools, truly differentiate Yahoo Finance from anyone else in the industry. We're continuing to push the boundaries by pioneering new formats that will reach audiences across all platforms and channels."
— Joanna Lambert, General Manager of Finance & Tech at Oath
The company is already staffing up big for the push, according to one source, and is going after editors, producers, and on-air reporters across the industry. Yahoo Finance has already begun posting jobs for on-air reporters to "to communicate ON AIR to a broad consumer audience."
There is a possibility that the content could eventually be accessed through a linear distribution deal with Verizon Fios, a fiber-optic cable operated television, internet and phone service that has roughly 5 million customers in the U.S.
Market Movers is already available on FiOS1.
The move is not totally surprising given Yahoo's existing investment in live digital programming, but a Fios partnership would be notable, given Verizon CEO Lowell C. McAdam's continual rejection of rumors about Verizon moving into linear TV programming.
"We made our bet several years ago before we bought AOL and Yahoo and combined them together to do Oath that we weren't going to be investing in the linear TV model ... I've said this a couple of times, I think the linear model is dead, it's just going to take a long time to die."
— McAdams at a conference in March
Go deeper