CEO take-home pay: The top 10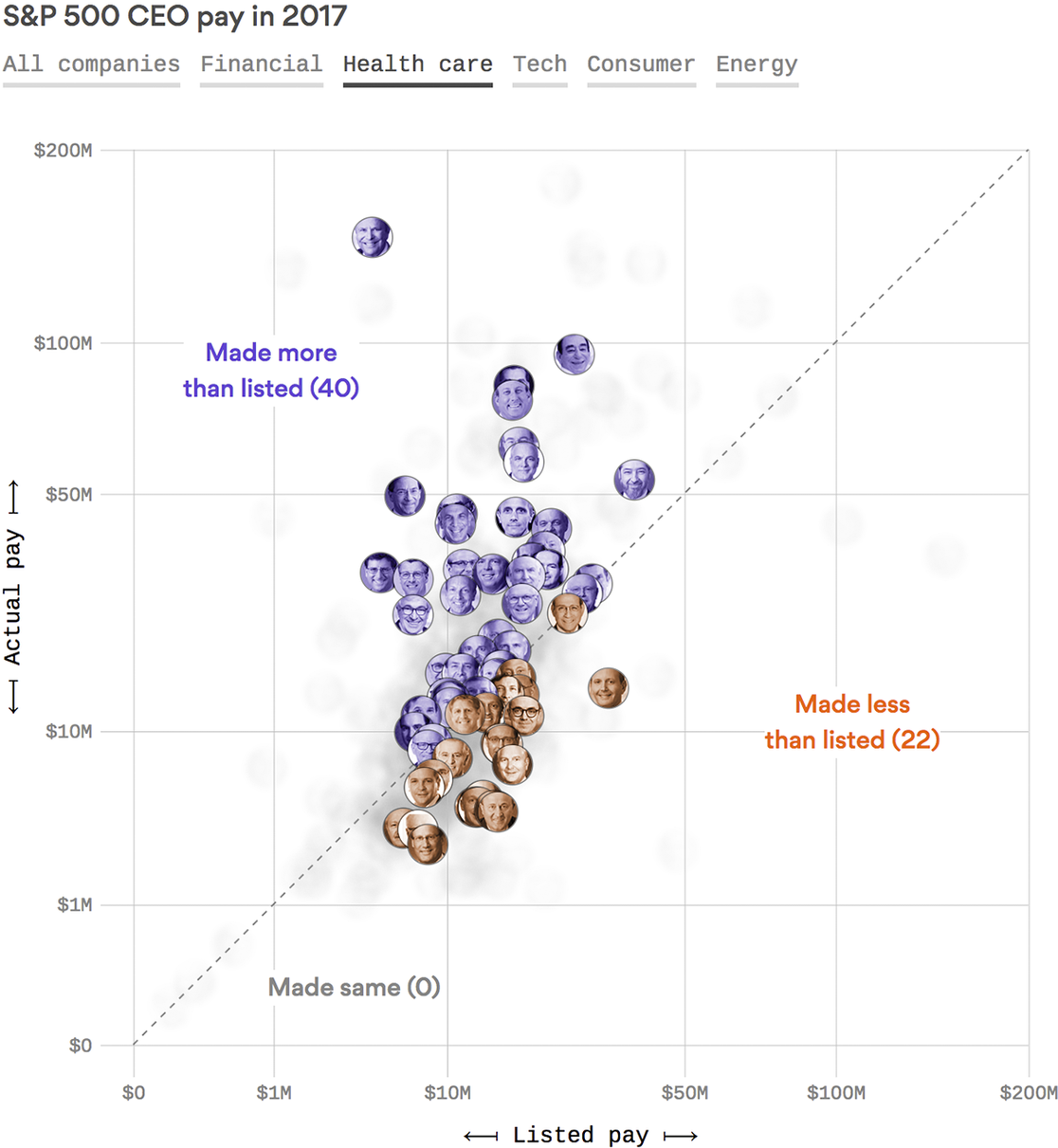 1. Reed Hastings - Netflix: Actual pay: $178,823,897 | Listed pay: $42,377,499
2. Neal Patterson* - Cerner: Actual pay: $148,608,815 | Listed pay: $4,611,510
3. Jamie Dimon - JP Morgan Chase: Actual pay: $141,406,941 | Listed pay: $28,320,175
4. Safra Catz - Oracle: Actual pay: $135,833,313 | Listed pay: $40,729,965
5. Robert Kotick - Activision Blizzard: Actual pay: $133,776,869 | Listed pay: $28,698,375
6. Sundar Pichai - Alphabet: Actual pay: $132,333,845 | Listed pay: $1,333,557
7. Marc Benioff -Salesforce: Actual pay: $116,268,714 | Listed pay: $4,653,362
8. Les Moonves - CBS: Actual pay: $114,909,266 | Listed pay: $69,351,540
9. Tim Cook - Apple: Actual pay: $102,016,266 | Listed pay: $12,825,066
10. Leonard Schleifer - Regeneron: Actual pay: $95,330,848 | Listed pay: $26,508,058
The CEOs running S&P 500 companies cumulatively took home $10 billion in 2017, an amount that is 44% higher than what is usually reported, according to an Axios analysis of Securities and Exchange Commission filings. The big reason: CEOs cashing in their stock.
Why it matters: Annual proxy filings bury the fact that many of America's top executives are sometimes paid even more than what headlines suggest, due almost entirely to the huge gains they reap from the stock market. Meanwhile, worker wages are stagnant, the average household is living on $59,000 a year, and income inequality has become one of the most visible political rallying cries.
Go deeper with Axios' Bob Herman's full visual graphic of the highest paid CEOs.
*Neal Patterson recently passed away at 67 from cancer, according to the Kansas City Star.
Go deeper