The big picture: Slack is more dominant than ever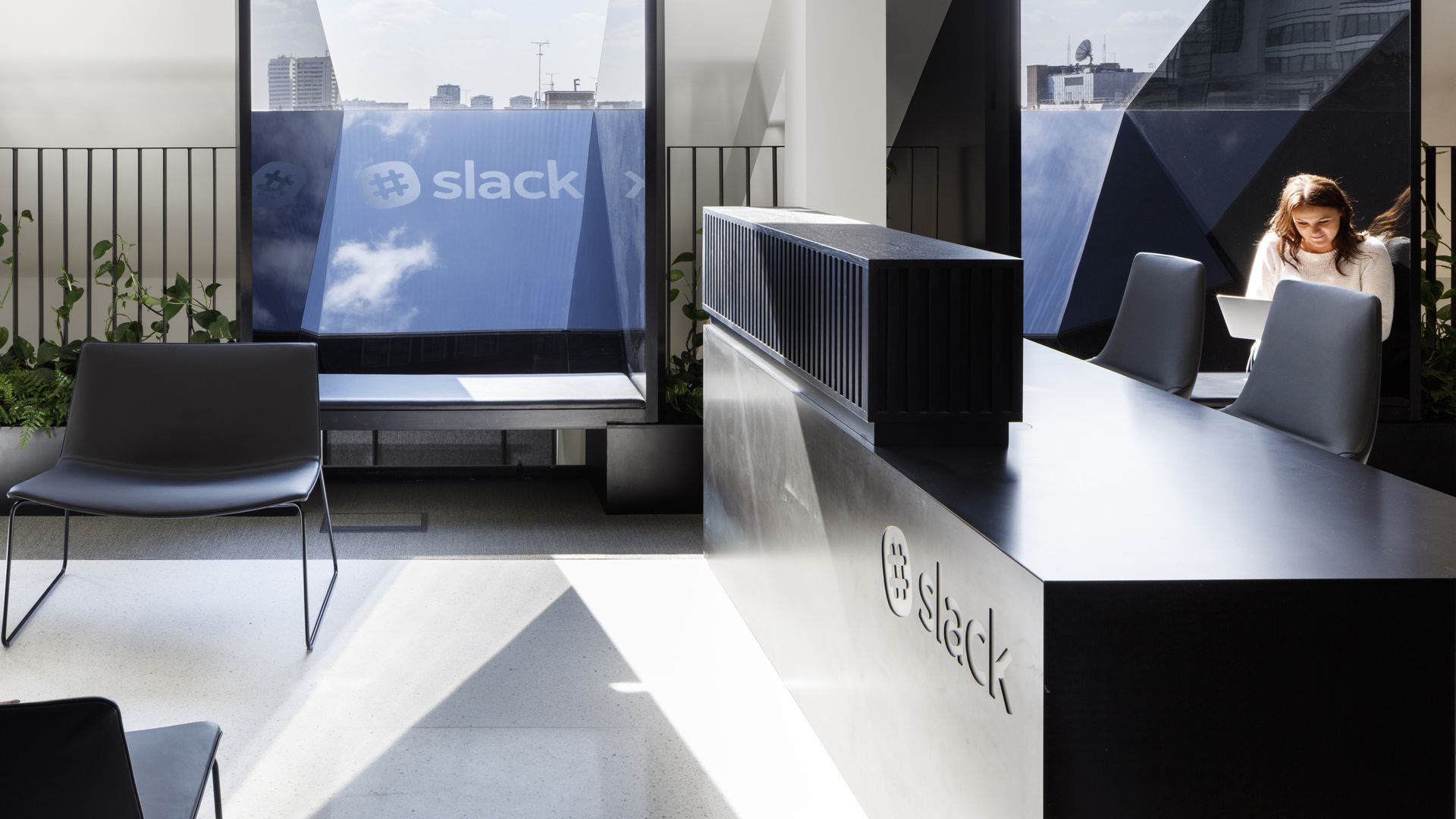 It may not have the traditional moat to fend off competition, but Slack has nonetheless managed to build quite the castle by out-executing its rivals.
Why it matters: Everyone in business software looks at Slack and says "I can do that." Yet most have flopped spectacularly, while Slack continues to power ahead even as Microsoft, Google and others remain in the hunt.
Between the lines:
Tech-industry business wisdom says successful companies need a moat — a way to keep competitors from easily seizing their markets and customers. Slack was often criticized as a castle without a moat, and thus ripe for plundering.
Yet rivals big and small have failed to conquer Slack. The latest evidence came in a deal Thursday, in which Atlassian announced it is shutting down rival business chat services Hipchat and Stride, selling the intellectual property to Slack, and investing in the company.
The Atlassian deal should help Slack on several levels, Constellation Research principal analyst Alan Lepofsky tells Axios. He says:
"Slack is making some smart moves. Since they don't have native business functionality of their own (ex: Sales, Marketing, Finance, ERP, etc.) they are focused on being a hub where business applications can be integrated. One of their original, and still core markets is technical teams (developers, engineers, etc.) so partnering with Atlassian (BitBucket, Jira, Confluence) makes a lot of sense. Many of the customers of those applications would not be interested in Microsoft Teams, so without Stride in the picture, Slack becomes the de facto choice for them."
The big picture: Slack started out without a big differentiator, but now it has two. First, its wide adoption has helped build a vast web of partnerships and integrations from other companies. Second, within organizations that use it, Slack has become the place where business gets done, supplanting email.
The other side: Rivals keep on coming. Facebook, which continues to harbor ambitions of being a larger presence inside businesses with a product known as Workplace, is buying Redkix, which combines email, calendar functions and messaging in a single app. The move is designed to improve Workplace's messaging capabilities, according to Recode, which had the scoop on the deal.
Market reaction: Slack is still private, but shares of Atlassian rose more than 18% following the news.
What they're saying:
Protocol Labs' Mikael Rogers: "Imagine winning a market so dramatically that your competitor shuts down their competing services, hands you their IP, and gives you money for the trouble."
Box CEO Aaron Levie: "The future of IT will be driven by best-of-breed products built by insanely focused companies. This move by Slack and Atlassian is super smart and lets them double down on their strengths."
Go deeper