Updated Jul 27, 2018 -

World
Iran and the U.S. trade barbs but hedge on strategy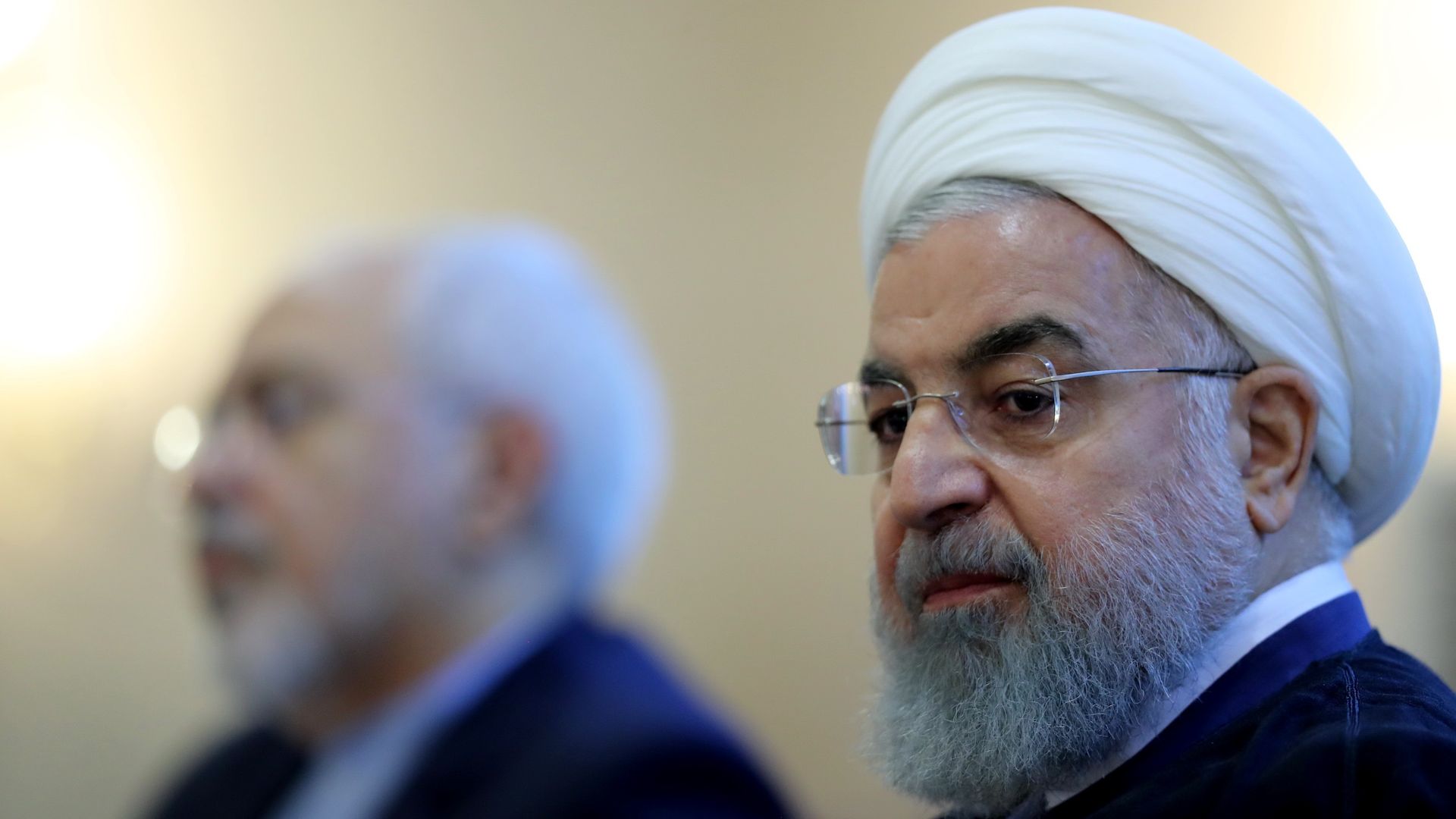 Major General Qassem Soleimani, Commander of Iran's Islamic Revolutionary Guard Corps' Quds Force, issued a forceful response to President Trump's recent tweet addressed to Iranian President Rouhani, the latest in a round of escalating rhetoric between the U.S. and Iran invoking war. "Gambler Trump! I alone will stand against you," he touted. "You may begin a war, but it is us who will end it."
The big picture: An ongoing challenge for Iranian security planners has been how to signal resolve without inviting military ruin. Gradual escalation against U.S. and allied interests as well as rhetorical bluster are therefore favorites of decision-makers in Tehran. What role misperception, miscalculation, ideological zeal and actual military action may play remains to be seen.
The background: Hours before U.S. Secretary of State Pompeo delivered an address on Iran policy to the Iranian American community on July 22, Rouhani threatened the U.S. in his own speech, claiming that a "war with Iran would be the mother of all wars." Since that comment, which prompted Trump's caps-lock rejoinder, Iranian officials have been lining up to defend Rouhani.
This outpouring, coupled with Soleimani's decision to up the ante, appears motivated by four goals:
Bolster Iranian deterrence vis-à-vis the U.S., which relies on a barrage of outlandish statements and a highly public display of the country's asymmetric military capabilities.
Diminish the will of the U.S. to enforce the heavy sanctions slated for renewal in August and November.
Present the international community with a united image of Iran at a time when protests by the regime's social base reveal it to be divided.
Score political points for daring to threaten the U.S. even after Trump signaled that he might respond to the next Iranian threat, rhetorical or otherwise.
The bottom line: Iranian officials are escalating their rhetoric against the U.S., especially in advance of impending sanctions. It is those penalties, whose collective weight Tehran fears more than tweets, that most stand to change the dynamic between the U.S. and Iran. For the U.S., whose key officials recently met to discuss Iran, detecting any genuine signal among the Iranian noise will be an ongoing challenge.
Behnam Ben Taleblu is a research fellow at the Foundation for Defense of Democracies.
Go deeper