Alzheimer's research yields some promising results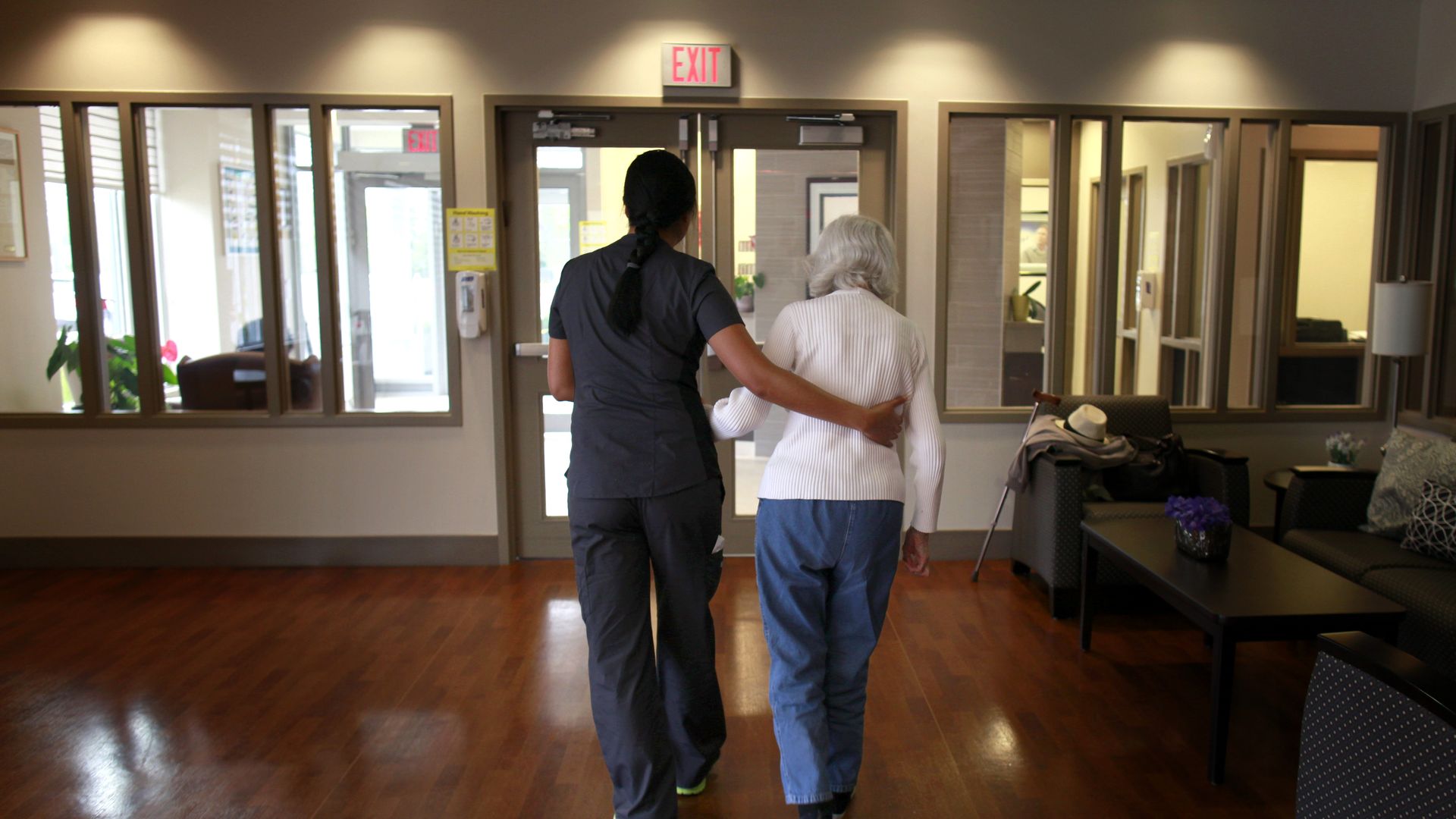 A sense of optimism prevailed from the myriad presentations at the Alzheimer's Association International Conference in Chicago July 22–26, particularly concerning a successful phase 2 drug trial.
The big picture: Researchers are chasing an elusive goal — understanding how and why Alzheimer's develops and what can be done to slow or halt the progressively degenerative disease.
Why it matters: There hasn't been a new Alzheimer's drug approved by the Food and Drug Administration for 15 years — despite the 5.7 million Americans living with the illness or dementia, costing the U.S. roughly $277 billion in 2018 alone.
But, Alzheimer's Association (AA) officials tell Axios there's reason for hope. "There's a tremendous good feeling of optimism here," says Keith Fargo, AA's director of scientific programs and outreach.
"Researchers now have some tools available to them they didn't have before," Fargo says, such as neuroimaging by MRI and PET scans of the tangled tau proteins and the amyloid plaques affecting the neurons.
Three key trends seen at AAIC18
1. Research into drug therapies: After multiple drug trials failed, such as the experimental drug intepirdine, some encouraging findings were welcomed. The biggest media buzz centered on the Wednesday announcement by Eisai and Biogen on their phase 2 study on BAN2401 for early Alzheimer's.
2. Examining the impact of reproductive life and lifestyle choices: Heather Snyder, AA's senior director of medical and scientific relations, says they're trying to figure out why two-thirds of Alzheimer's patients are women, especially since the old theory that it was simply due to women living longer is starting to be debunked.
Reproductive years: A large study presented at the meeting found that the longer the time between a woman's first menstrual period and her natural menopause, the lower the risk of developing Alzheimer's. Also, if a woman was pregnant three or more times, she has a lower chance of getting the disease, the study found. Scientists do not know yet what may be causing these trends, Fargo says.
Cardiovascular health link: Preliminary findings from a large, NIH-funded clinical trial (called SPRINT MIND) show a link between intensive lowering of blood pressure and reducing the risk of mild cognitive impairment by 19%. "You can definitely say, what's good for your heart is good for your brain," Snyder says.
Interaction of diet, microbiome and the brain: Four new studies were reported at the conference that looked at how the digestive system — diet, bacteria in the gut and lipid metabolism — may relate to brain changes, such as causing inflammation or promoting protein buildup. "We have to understand all the paths that lead to brain health," Snyder adds.
3. Trying to catch Alzheimer's at an early stage so preventative treatment could begin. Snyder says this is key to future research of the disease and treatment of the patient. In an effort to promote this, AA issued 20 guidelines for primary care doctors — the place where individuals are likely to turn first when noticing unusual symptoms.
A main thrust of the guidelines, she says, is that "individuals who self-report or their caretakers report [cognition issues] — they should be evaluated and not dismissed as natural age."
Go deeper