Jared and Ivanka dig in for the long haul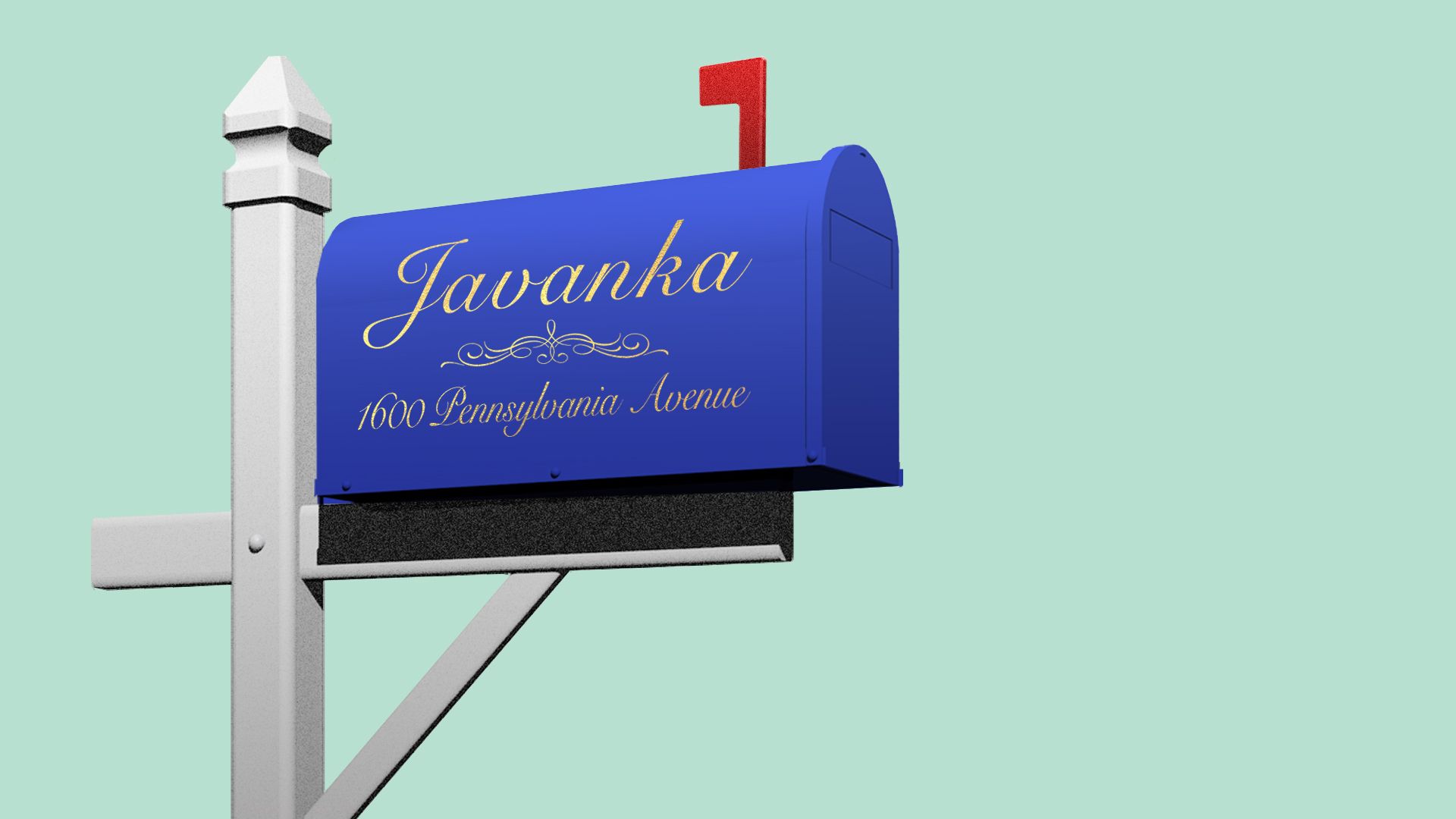 Friends of Jared Kushner and Ivanka Trump tell us they have the strong impression they are now preparing to stay in D.C. as long as the president does, meaning they'll outlast almost everyone in the West Wing.
What we're hearing: A White House official with direct knowledge of the situation told Axios that in recent months, Jared and Ivanka have spent a good deal of time with the president in the private dining room adjoining the Oval Office and in the residence.
West Wing watchers note that they weren't accompanied by White House Chief of Staff John Kelly, a rival power center to "Javanka."
Ivanka's announcement this week that she's shutting down her fashion brand — and the messaging that accompanied her decision — sent a clear signal they're not going anywhere.
These two children of real-estate moguls are liking Washington, according to friends.
And the president has become such a pariah in many Manhattan social circles that it's not as if a hero's welcome awaits them back home.
Why it matters: Javanka have had some epic internal fights — Steve Bannon and Rex Tillerson were their two most savage — but it's now clear it would take an event of extraordinarily damaging proportions to blow them out of this White House.
Jared getting his security clearance obviously helped. But it's also true that we in the media — in reporting their potential fates as a rollercoaster narrative — sometimes forgot perhaps the most stable truism of Trumpworld: It's a family business.
After a burst of publicity in the opening months of the administration, both have been working much more quietly on specific issues rather than serving as de facto Secretaries of Everything, as their rivals jabbed in the early days:
Jared wants to see through the Israeli-Palestinian deal and NAFTA negotiations, and is working on government tech modernization and prison reform.
Ivanka remains focused on promoting paid family leave and childcare development. She is an architect of workforce development plans, announced last week, that are designed to help employees and employers prepare for the coming wave of automation.
Given that the couple's policy passions include Democrat-friendly issues — especially prison reform and child care — the value of their portfolio could rise if voters choose divided government in November.
Both will also play roles in the midterms and 2020 presidential campaign:
Jared will continue his behind-the-scenes role working on politics with reelection campaign manager Brad Parscale, Republican National Committee Chair Ronna Romney McDaniel and Eric Trump.
Ivanka will likely be onstage at key moments and in strategic locations, such as the suburbs where Trump is vulnerable with college-educated women.
One thing about Jared and Ivanka that has deeply frustrated Kelly — as a general as well as chief of staff — is that they enjoy family privileges and live outside his chain of command, even though as staff they are technically under his authority.
Jared and Ivanka's internal opponents have largely either been fired (Bannon and former Secretary of State Tillerson being the prime examples), or have less sway these days (Kelly).
Javanka also have some powerful allies remaining in the administration's top ranks: Secretary of State Mike Pompeo, Treasury Secretary Steven Mnuchin, Agriculture Secretary Sonny Perdue and Commerce Secretary Wilbur Ross.
Be smart: Whenever Kelly departs, Javanka will be further empowered. They have outlived their enemies, and have a firmer grip on power than ever. No wonder friends say they are feeling emboldened, and aren't going anywhere.
Go deeper