Russia wants to push Iran 65 miles from Israel's border in Syria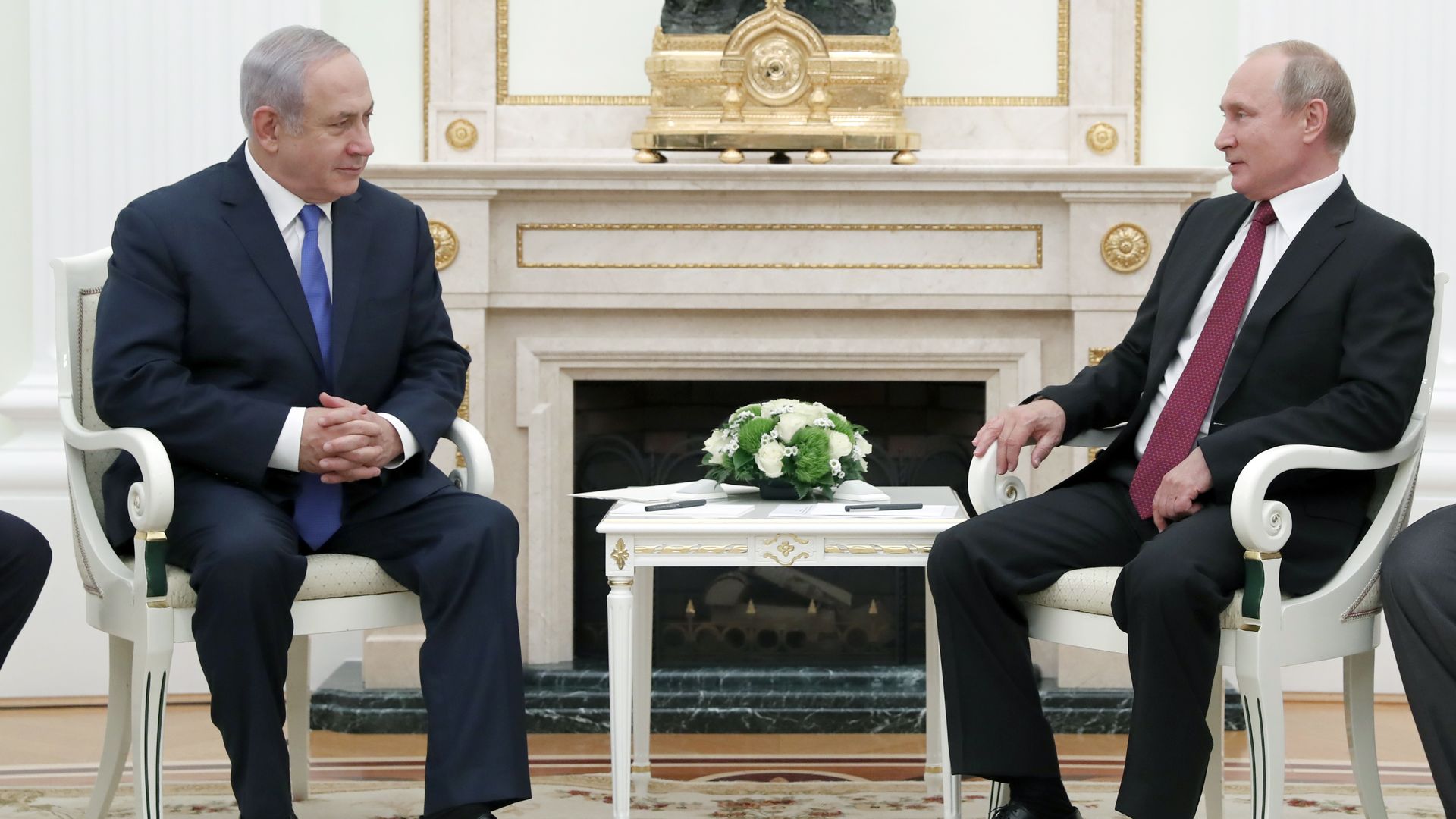 Russia wants to push Iranian forces, Hezbollah and Pro-Iranian Shiite militias 65 miles from the Syrian-Israeli border in the Golan Heights, a senior Israeli official said after a meeting today in Jerusalem between Prime Minister Netanyahu and Russian foreign minister Sergey Lavrov.
Why it matters: President Trump and Vladimir Putin discussed the security situation in southwest Syria last week in Helsinki, and Israel coordinated closely with both the U.S. and Russia before the summit. The Russians are helping the Assad regime to regain control over territory close to Israel and Jordan, but want to prevent an armed clash between Israel and Syria.
Netanyahu spoke to Trump two days before the summit and with Putin last Friday.
Netanyahu and Putin agreed that Lavrov and Russian army Chief of Staff General Valery Gerasimov would arrive in Israel today for more talks on Syria.
Netanyahu, Defense Minister Avigdor Lieberman and IDF Chief of Staff General Gadi Aizenkot met with the Russia delegation for more than two hours and presented them with maps and intelligence regarding the Iranian presence in the areas close to the border with Israel and in the rest of Syria.
The senior Israeli official said in a conference call with reporters that Israel's goal is to get all Iranian and pro-Iranian forces out of the entire Syrian territory, but the Russians want, in the first phase, to push the Iranians 65 miles from the Israeli border.
"This is fine, but eventually we need to get the Iranians from Syria completely. Netanyahu told Lavrov that Israel will not accept Iranian military entrenchment — not in the areas near the border with Israel and not in the rest of Syria."
— Senior Israeli official
According to the Israeli official, Netanyahu gave Lavrov a list of demands regarding Iranian military presence in Syria:
Iran needs to take all of its long range missiles and weapons out of Syria.
Iran needs to stop the production of precision munitions in Syria.
Iran needs to take all its air defense systems out of Syria.
The border crossings between Syria and Lebanon needs to be monitored to prevent arms smuggling to Hezbollah from Syria.
The border crossings between Iraq and Syria needs to be monitored to prevent infiltration of Shiite militias into Syria from Iraq.
The Israeli official added: "Netanyahu told Lavrov Israel will maintain freedom of operation against Iranian entrenchment in all of Syria and will see Assad responsible for any Iranian aggression against Israel from Syrian territory because Assad is the one hosting the Iranians".
Go deeper