German soccer star Mesut Özil quits over racism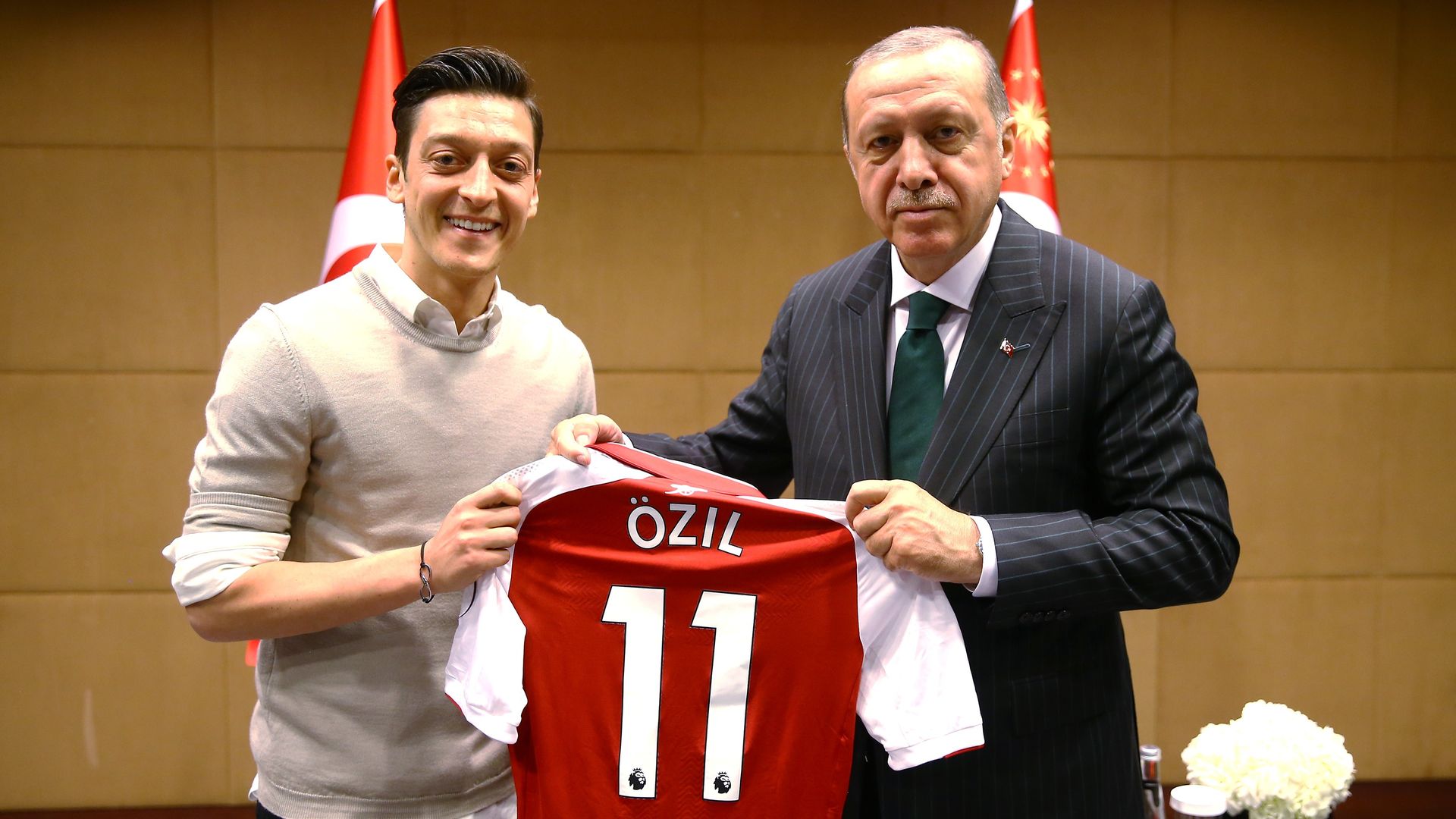 Star soccer player Mesut Özil posted a four-page statement to his social media accounts Sunday explaining his decision to quit playing for the German national team, citing racism over his Turkish heritage.
Why it matters: Özil's shock resignation comes just one week after France — a team where 12 of 23 players were of African heritage — won the World Cup, igniting discussion of celebrating diversity in the world's most popular sport.
The backdrop: Özil is a third-generation Turkish-German and a practicing Muslim. In May of this year, during the lead up to Turkey's general election, Özil met and posed for a photo with President Recep Tayyip Erdoğan. He received immediate backlash from critics who saw the meeting as an endorsement of Erdoğan's strongman politics.
After Germany's poor World Cup performance, which saw the tournament favorites crash out in the group stage, Özil said he received criticism not just for his play, but for his Muslim and Turkish heritage and the two-month-old picture with Erdoğan.
Özil explained that his mother raised him to never forget his roots and to respect public office. This, he said, is why he would have met with the president of either Turkey or Germany if the opportunity came up, regardless of whether he agreed with their politics.
He also accused the head of the German Football Association, Reinhard Grindel, of racism: "In 2004 whilst you were a German member of Parliament, you claimed that 'multiculturalism is in reality a myth [and] a lifelong lie' whilst you voted against legislation for dual-nationalities and punishments for bribery, as well as saying that Islamic culture has become too ingrained in many German cities."
In his statement, Özil referenced a line that has grown to become a shared grievance among footballers of immigrant stock throughout Europe:
"I am German when we win, but I am an immigrant when we lose."
What they're saying:
Turkish Justice Minister Abdulhamit Gul: "I congratulate Mesut Ozil, who by leaving the national team has scored the most beautiful goal against the virus of fascism."
Angela Merkel's spokesman: "The chancellor greatly appreciates Mesut Özil very much. Mesut Özil is a great football player who has done a lot for the national football team. He has now made a decision and it must be respected."
German foreign minister Heiko Maas: "I don't believe that the case of a multimillionaire living and working in England will give us any information on capacity to integrate in Germany."
German MP of Turkish heritage Cem Özdemir: "It is fatal when young German-Turks now get the impression that there isn't a place for them in the German national side. Strength lies in diversity, not homogeneity. That's how we won the World Cup in 2014, and France did this year."
Worthy of your time: The Daily Show's Trevor Noah on the African-ness of France's World Cup team
Go deeper