Trump's "America First" becomes a global reality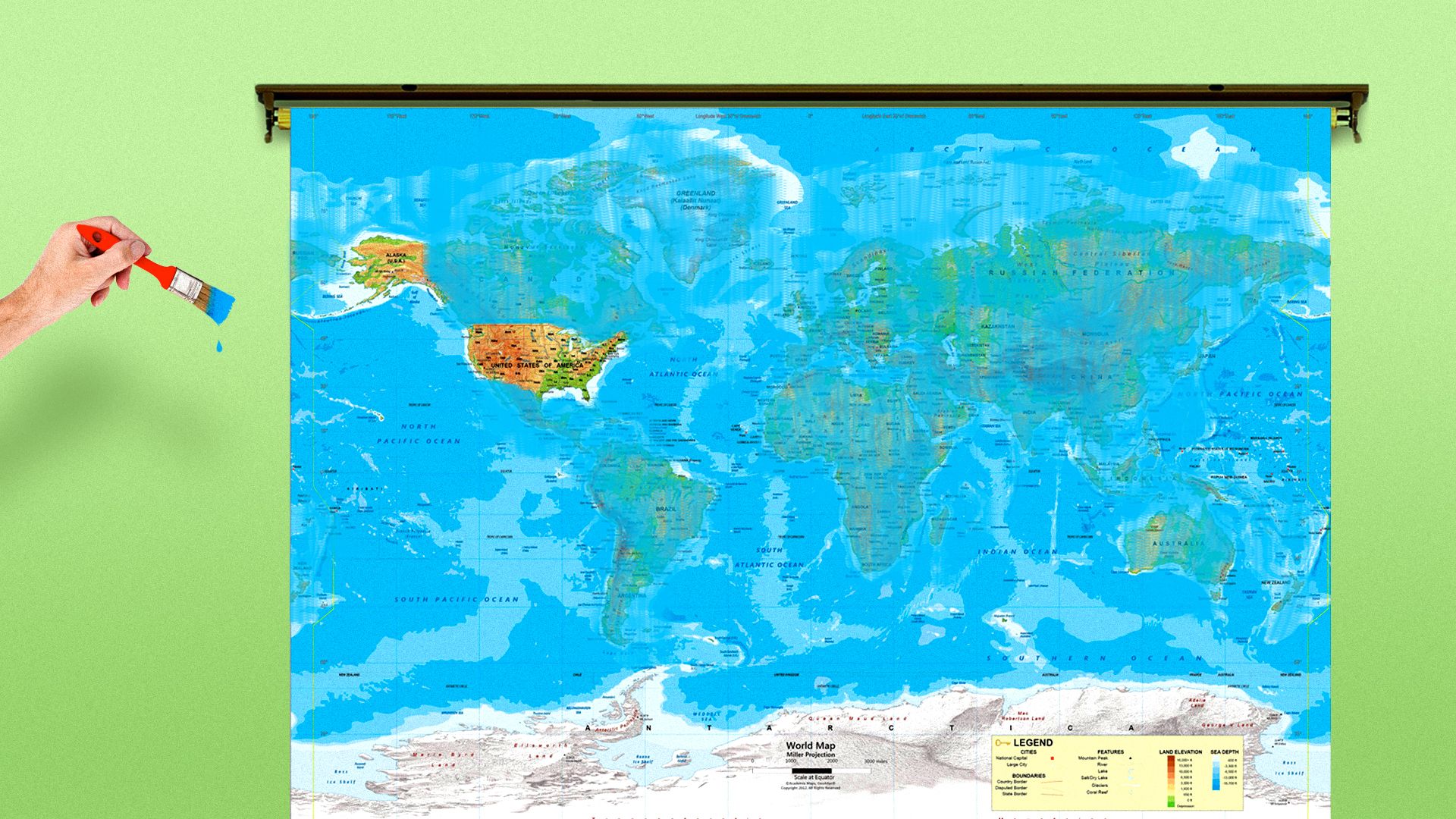 President Trump loves to brag of doing the biggest, best, most never-been-before acts in history.
The big picture: In 35 days — through five meetings, from Singapore to Helsinki  — Trump has rattled and reordered the world, throwing decades of order and common assumptions into chaos.  
In a typographical reflection of his diplomacy, Trump tweeted last night, responding to Iran's threat of "the mother of all wars" (Drudge banner: "TRUMP TWEET BOMB"): "To Iranian President Rouhani: NEVER, EVER THREATEN THE UNITED STATES AGAIN OR YOU WILL SUFFER CONSEQUENCES THE LIKES OF WHICH FEW THROUGHOUT HISTORY HAVE EVER SUFFERED BEFORE. WE ARE NO LONGER A COUNTRY THAT WILL STAND FOR YOUR DEMENTED WORDS OF VIOLENCE & DEATH. BE CAUTIOUS!"
"America First is now as much a reality as it is a slogan." CFR President Richard Haass tells me. As a memorable freeze-frame of these historic, consequential days, check out Haass' catalog of our upside-down, looking-glass world:
"Allies are adversaries and adversaries are friends."
"Autocrats are preferred to democrats."
"Unstructured summits with foes go more smoothly than organized summits with friends."
"A vague promise to get rid of North Korea's nuclear weapons is acceptable while a specific agreement that precludes Iran's nuclear weapons is not."
"It is acceptable for others to interfere with the politics of America's democracy, as the president is increasingly prepared to interfere in the politics of other democracies."
"Protectionism has replaced free trade."
"Unilateralism is favored over multilateralism."
And, when it comes to style:
"Diplomacy is about personal relationships."
"The president is at once his own chief of staff, spokesman, national security adviser and top diplomat."
Why it matters, from Haass, whose book has the prescient title, "A World in Disarray":
"What is clear above all is that the 45th president values little of his global inheritance; less clear is that he has anything to take its place other than non-stop disruption."
Be smart ... Ian Bremmer, Eurasia Group founder and president, tells me Trump has succeeded in one way: He's in everybody's head; all anyone talks about is Trump.
But Bremmer added, with his trademark punctuation: "internationally the united states is becoming weaker and less relevant by the day."
Trump "isn't personally responsible for that — u.s. influence globally has been eroding for decades. but the president is doing his best to speed that process up."
And "god forbid there's a serious crisis on his watch. with institutions and alliances as weak as he's helped make them, some are going to break."
P.S. "Global economic leaders are pushing back against ... Trump's latest rants on global trade and currencies, speaking out against higher tariffs while backing central bank independence," Bloomberg reports:
"Officials from Germany to Japan and South Africa at the Group of 20 meeting of finance ministers in Buenos Aires rejected Trump's unilateral stance."
Go deeper