Medicare option is popular but vague among Democrats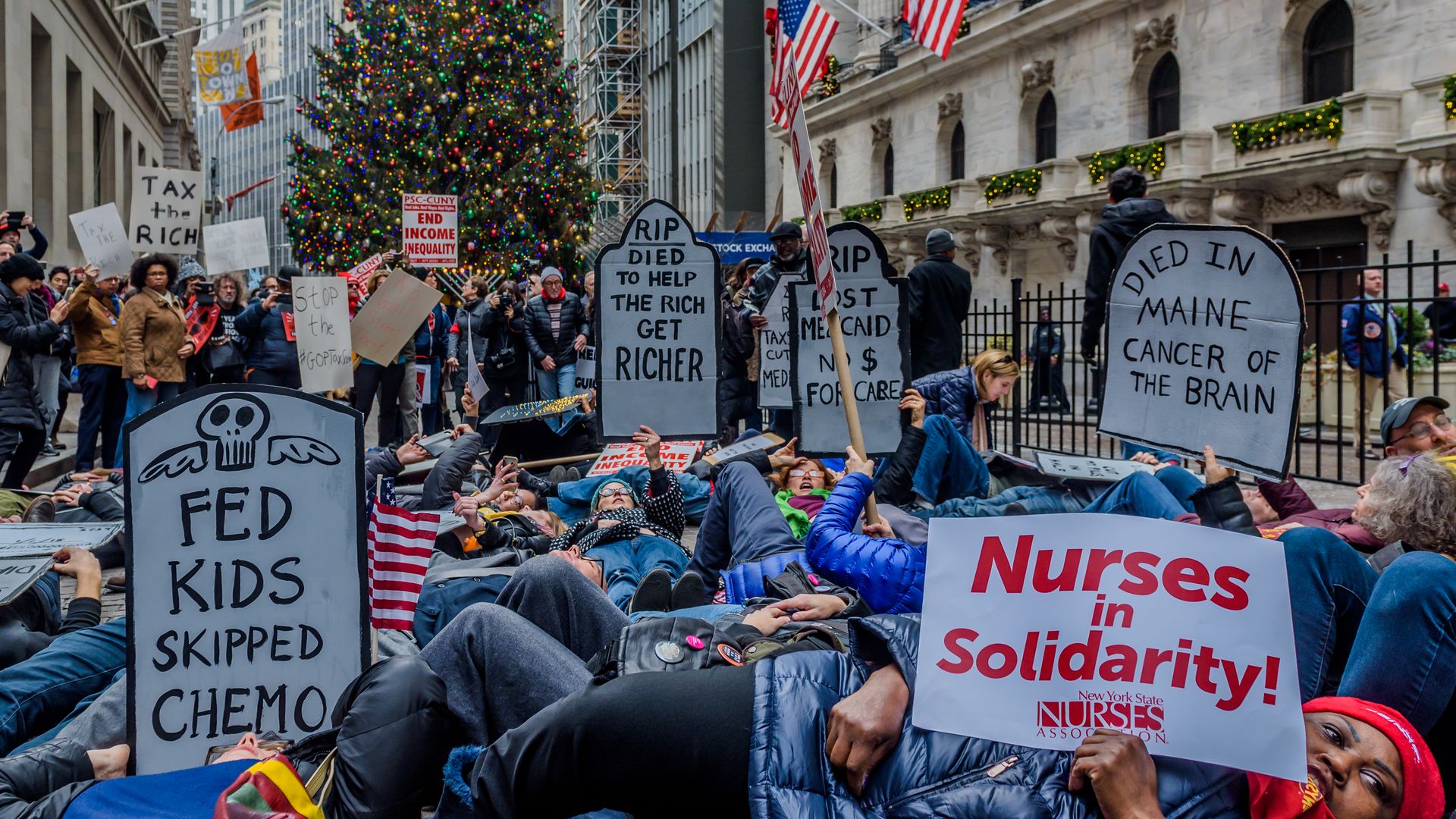 A public health care plan — once deemed too liberal to make it into the Affordable Care Act — is now the more moderate position for many Democrats who are uncomfortable with the party's rapid embrace of "Medicare for All."
Yes, but: Democrats haven't decided yet what a public option should look like.
"In some ways, a public option or buy in to Medicare or Medicaid has become a place for Democrats uncomfortable with single payer to land."
— Larry Levitt, Kaiser Family Foundation
Driving the news: Members of Congress have now introduced at least five bills expanding government involvement in health care, as Vox has reported. A public option is also coming up frequently on the campaign trail, either as a step toward "Medicare for All" or as a policy goal in and of itself.
In Iowa's third district, which is rated as a toss-up, Democrat Cindy Axne is running on a public option "that allows Americans to choose between Medicare or Medicaid."
In New Jersey's seventh district, another toss-up, Democrat Tom Malinowski supports creating a universal Medicare option that people could buy into.
"I think the much more plausible path to a single payer health care system is through a public option. I just don't know that the country is ready to support a bill that outlaws private insurance," said Sen. Chris Murphy, a sponsor of one of the public option plans.
Flashback: A public option for the individual market was almost included in the Affordable Care Act, but former Sen. Joe Lieberman blocked it.
"It was too liberal for Joe Lieberman" — not for the entire party — back in 2009, Democratic Minority Whip Dick Durbin told me. "We had 60 votes and he said he wouldn't vote for it. That was the end of that."
"You may have more people today supporting single payer, Medicare for All than 10 years ago, but I'm not sure that the floor has moved as much as the ceiling has," Murphy said.
The big question: Some Democrats want a public option to be offered in the employer market in addition to the individual market.
"Now, a public option for just the individual market would likely be unsatisfying to single payer supporters, providing no relief from health care costs for the much larger number of people with employer coverage," Levitt said.
The details: A central tenet of adopting a public option is using the government's purchasing power to bring down underlying health care prices.
"The common denominator of all Democrats is that they want more affordable options for people, and how broadly you apply the tool depends on how broadly you define the problem right now," said Chris Jennings, a Democratic health care consultant.
"Lurking behind the public option discussion is really the issue of health care prices. A public option of any kind would use the leverage and regulatory power of the government to get lower prices for health care," Levitt said.
But determining how far to go would be tricky and comes with risk.
"There is some room to put some downward pressure on provider prices without having significant adverse consequences on access to care or quality of care, but the big question is how much," said Aviva Aron-Dine of the left-leaning Center on Budget and Policy Priorities.
Correction: An earlier version of this article misstated the district where Tom Malinowski is running. It is New Jersey's seventh district.
Go deeper