China using Russian strategy in trade war with America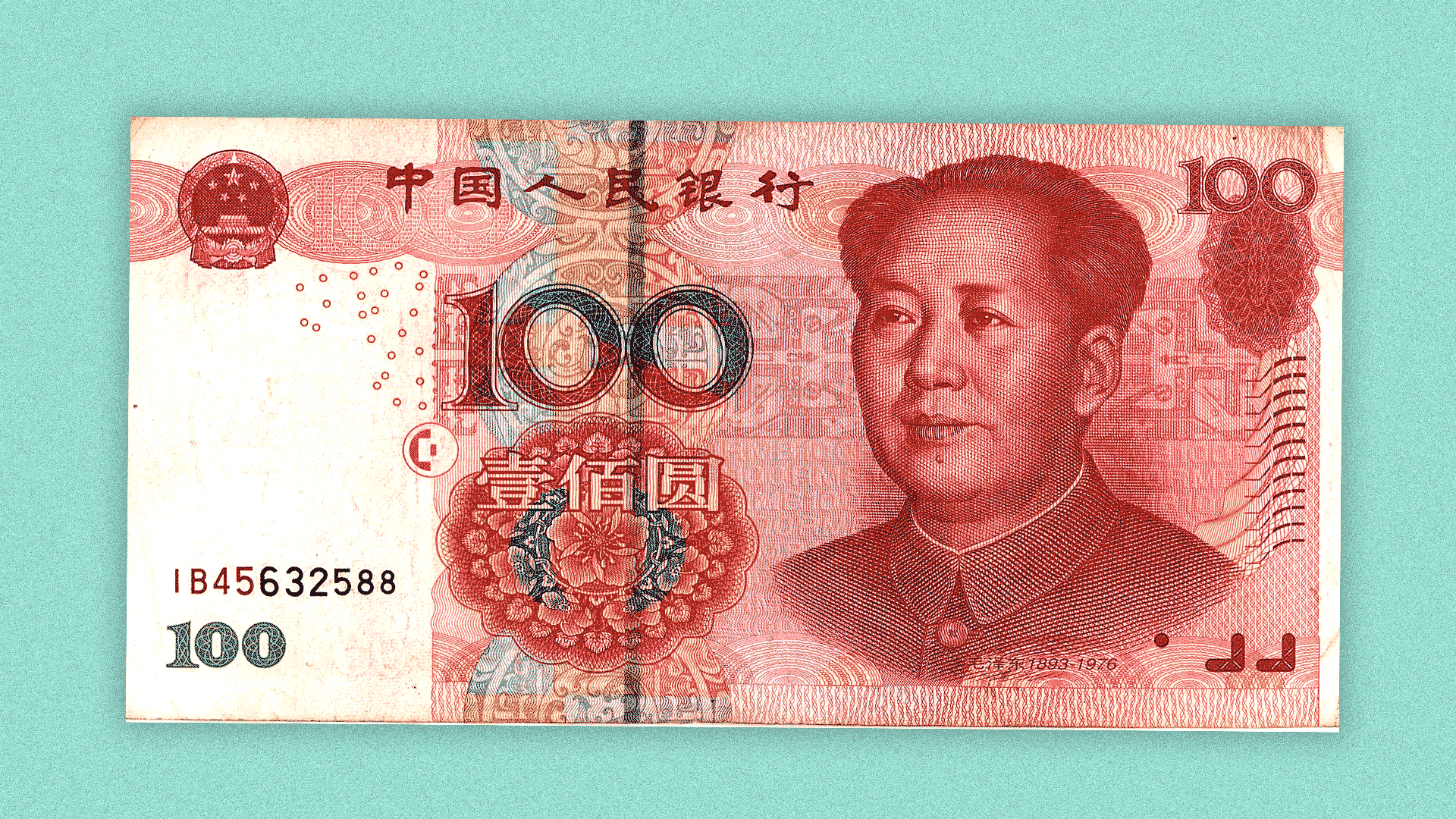 A big Chinese trade counter-assault may be on its way: a deliberate devaluation of the yuan, with the aim of offsetting the impact of U.S. tariffs, experts tell Axios.
If they are right, China will be mimicking an ultra-successful stratagem used by Russia to weather four years of withering western sanctions over its invasion of Ukraine.
What's going on: The yuan has plunged by 4.5% in value against the dollar over the last month, making Chinese goods cheaper in the U.S. and American products more expensive in China.
That's the opposite of President Trump's aim in lashing China with tariffs, which are meant to squeeze Beijing so it lowers its trade deficit with the U.S., stops forcing U.S. companies to surrender tech advances, and halts thefts of U.S. commercial secrets.
In response, Trump is accusing Beijing of currency manipulation and threatening to slap tariffs on the entirety of about $500 billion in annual Chinese trade with the U.S.
China has not officially responded to the latest threats.
As of now, the drop in the yuan's value appears to reflect a selloff by traders watching China's economy weakening, reports the WSJ's Saumya Vaishampayan. But, with both sides digging in their heels and the prospect of a protracted trade war, a determined devaluation appears to be the strongest tool in China's toolbox, economists tell Axios.
"If they want to minimize the effect of the tariffs on their exporters, this is about the only option."
— Joseph Gagnon, a former Fed official now with the Peterson Institute for International Economics
Such a strategy would be a strong antidote, while resulting in a hit to some Chinese commercial actors, Gagnon tells Axios. "They could fully offset the macro effect of the tariffs," he said, "but there would still be a lot of micro distortions as some firms gain and others lose."
A Chinese currency play would somewhat resemble how Russia finally withstood steadily escalating sanctions slapped on it and key Russian leaders in retaliation for the country's 2014 invasion of eastern Ukraine.
After a plunge in the ruble's value and a clampdown on almost any new banking or other strategic commercial deals with Russia, Moscow chose what for it was a nuclear option: it floated the ruble, a step it had avoided through the Soviet and early post-Soviet period.
Russia also tightened spending, began paying off debt, and and enforced a halt to the import of many agricultural and other products, thus boosting Russian industry and halting the flow of dollars out of the country.
But the main thing was that, from then on, Russia was earning dollars for its sale of oil and gas, but spending devalued rubles for salaries and other government programs at home. The economy shrunk and went into recession before recovering, but President Vladimir Putin — determined to withstand the pressure, and igniting a nationalistic anti-American propaganda campaign at the same time — retained wild public support.
In China, the to-and-fro and blood on the floor could end up looking like a similar war of attrition, even if China is less belligerent about it..
Brad Setser, a former Treasury Department official now at the Council on Foreign Relations, said a Chinese currency move would be risky at this stage because it could trigger capital flight. But should Trump escalate as he has threatened, there is a probability that "China does ultimately respond in part by letting the yuan weaken," he said.
"The problem is that the Trump administration appears to be waiting … for China to buckle under the tariff pressure and come crawling back with a series of big unilateral concessions," Edward Alden, also at CFR, tells Axios. "I do not believe that will happen, which unfortunately may set the stage for further escalation."
Go deeper