Heat records fall in the Arctic as fires erupt in Sweden and Siberia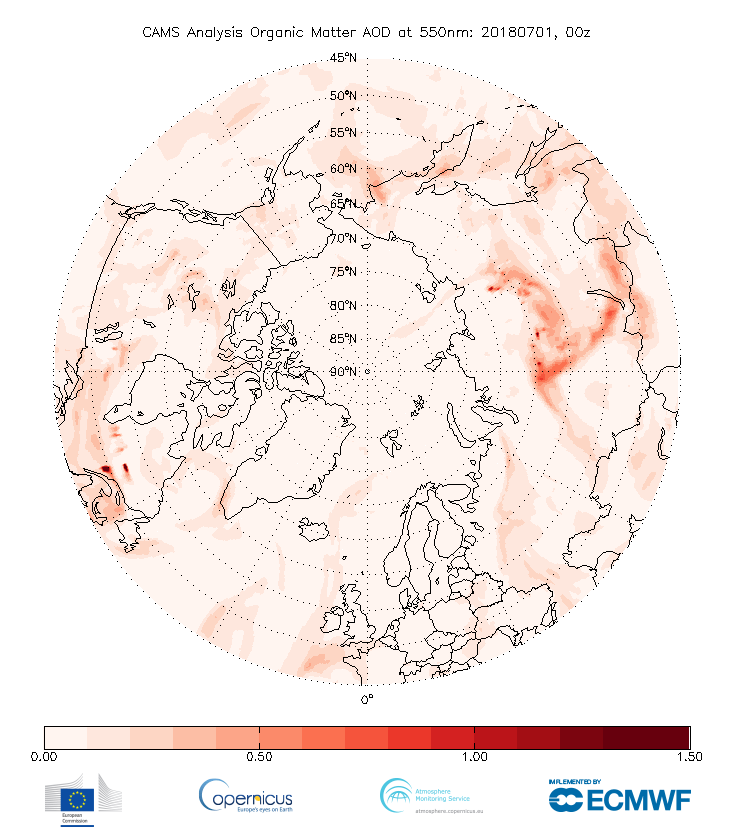 A scorching heat wave has swept across Scandinavia, breaking all-time heat records into the Arctic Circle. Meanwhile, Sweden is facing a major wildfire outbreak, and the forests of Siberia are ablaze after weeks of extreme heat.
Why it matters: The heat wave and wildfires are causing evacuations and threatening communities in Sweden, where the area burned already exceeds that of the average fire season by thousands of acres, per the Copernicus Emergency Management Service. Plus, the wildfire smoke is hitching a ride on mid-to-upper atmospheric winds to as far away as the U.S.
Temperatures climbed into the 90s Fahrenheit above the Arctic Circle on Tuesday and Wednesday, and remained unusually high again on Thursday. The overnight low temperature in Makkaur, Finland on Thursday morning was a balmy 25.2°C, or 77.3°F. According to meteorologist Etienne Kapikian, this may be a new record for the Arctic.
The wildfires burning across Sweden during this stretch of hot, dry weather is unprecedented in modern times, according to The Weather Channel. In Sweden, many have been evacuated due to the fires. Thousands more acres have gone up in smoke so far this summer compared to an average year, with satellite maps showing dozens of hotspots indicating active blazes.
All-time high temperature records have fallen in Finland, Norway, and Sweden this week.
Evenes, Norway, hit 32.2°C, or 90°F, on Wednesday.
Katterjokk, Sweden, hit 29.3°C, or 84.7°F, according to records compiled by Weather Underground.
Rovaniemi, Finland, set its all-time highest temperature on record both Tuesday and Wednesday, at 32.2°C, or 90.0°F.
The big picture: The heat wave gripping Scandinavia is the latest in a series of heat domes that have dominated weather across the Northern Hemisphere this spring and summer, shattering temperature milestones. It's already resulted in the hottest overnight minimum temperature ever recorded on Earth.
In northern Siberia, temperatures have also soared into the 90s, resulting in a more active wildfire season than normal. According to NASA, the smoke plumes from these fires has traveled thousands of miles, resulting in red-tinged sunsets in Canada and the U.S. On July 3, 2018, NASA scientists tracked smoke from a cluster of fires in Sakha Province as it travelled more than 5,000 miles in just 11 days.
According to Hiren Jethva, an atmospheric scientist at NASA's Goddard Space Flight Center, Russia's summer fires have been more intense this year than in the past. Satellite data shows that Central Russia saw 7,200 fires during the first half of July, about four times as many fires as detected during the same period between 2013 and 2017.
Be smart: The extreme heat and wildfire outbreaks are consistent with what scientists expect from a combination of natural variability and human-caused global warming. The Arctic has been warming at more than twice the rate of the rest of the world.
Go deeper